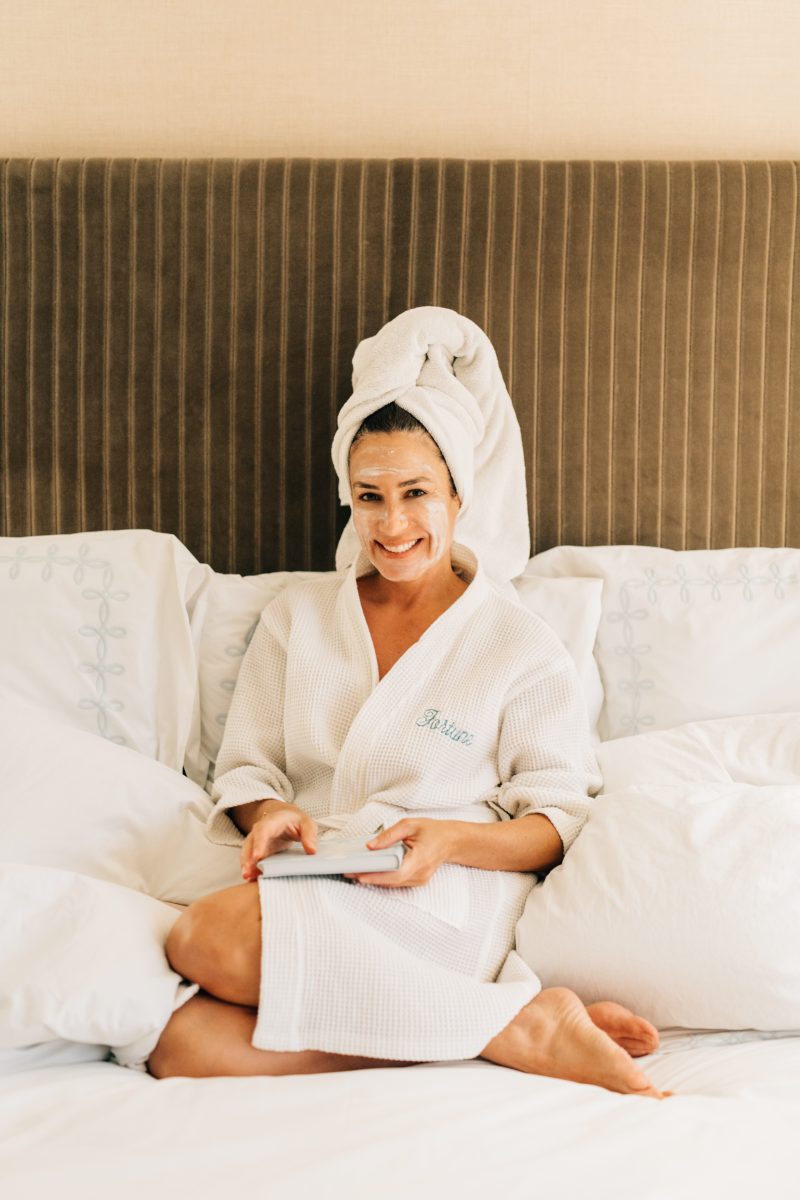 People often comment on the clarity of my skin (might as well own it while it lasts!) and ask me what my skin care routine is, so I thought I'd dedicate a post to this topic. Let me introduce you to a few of my go-to skincare tips.
I have been blessed with pretty clear skin most of my life – no major breakouts, no dermatological issues. During my adolescent years, I actually wished for pimples. I was an extremely late bloomer so I needed some sort of sign I was developing like all the other girls my age. Then age 37 hit and I developed adult acne (G-d sent me the sign a little too late). I went on and off antibiotics for a bunch of years until a friend of mine advised me to see her aunt, Dr. Erika Schwartz, a leader and pioneer in the field of preventive medicine, anti aging and hormones.
Dr. Schwartz recommended I take Milk Thistle daily. Milk Thistle is a vitamin used to support liver, kidney and gallbladder health. Some claim a side benefit is clear skin. Let me just say this is a miracle vitamin and probably one of my favorite skincare tips.. Since I began taking it, I've had minimal breakouts (ask your doctor before using). Of course there are other steps I take to care for my skin – actually, a lot of steps.
I drink hot water with lemon and honey each morning which is said to act as a detoxifier, aid in digestion, and also rid the skin of acne, just to name a few.
Up until a couple of years ago, I used to get facials at least 6 times a year but I didn't really see any notable change besides a little afterglow the day of. Instead, I visit one of my dermatologists, Dr. Carin Gribetz, every 3 weeks for a skin cleaning. It's more effective and a definite time saver. When it comes to my personal skin care tips, I believe that less is more.
I drink shit loads of water and never leave my house without a 24 oz bottle. It's my drink of choice and a must for healthy looking skin.
A cardinal rule of mine is to NEVER go to bed with make up on. I use Bioderma which works wonders as a make up remover.
A few months ago, I visited Cap Beauty in my quest to switch over to all natural skin care. One of the sales people suggested I only wash my face with a cleanser in the evenings as it strips the face of its natural oils. During the day I cleanse my face with water except on days I sweat at the gym. Botox and filler never hurt no one. I visit Dr. Jodi Levine for Botox 3 to 4 times per year and get fillers twice per year.
I began using True Botanical Skin Care "Acne Clear Collection" which I am loving. It's an all natural line of skin care products which I appreciate as a it is a way to honor my skin. I have their facial cleanser which I use in the shower and it has a divine scent. Their toner is made from kombucha, which smells like vinegar but no matter, because I finish off with their oil which smells like a zen spa. A few nights a week I add their serum and booster to my regimen.
While masks are all the rage, I don't do these as often as I should to see real benefits but my daughter Sonia swears by Glossier's Mega Green Galaxy Mask. I typically use the paper disposable type for my face and the silicone or paper under eye masks.
For a little extra glow on the glow, I recommend these products:
Victoria Bekham Aura Gloss
Clinique Chubby Stick Sculpting Highlight
Nars Copacabana Highlighter
Edward Bess All Over Seduction Highlighter
Tatcha Luminous Dewy Skin Mist
When I was younger, I ignorantly believed aging did not apply to moi but such is not the case. You wear your face every day so take the time to invest in it!
What are your go-to skincare tips? Dying to try any of the ones listed above? Comment below!
Shop the post here: