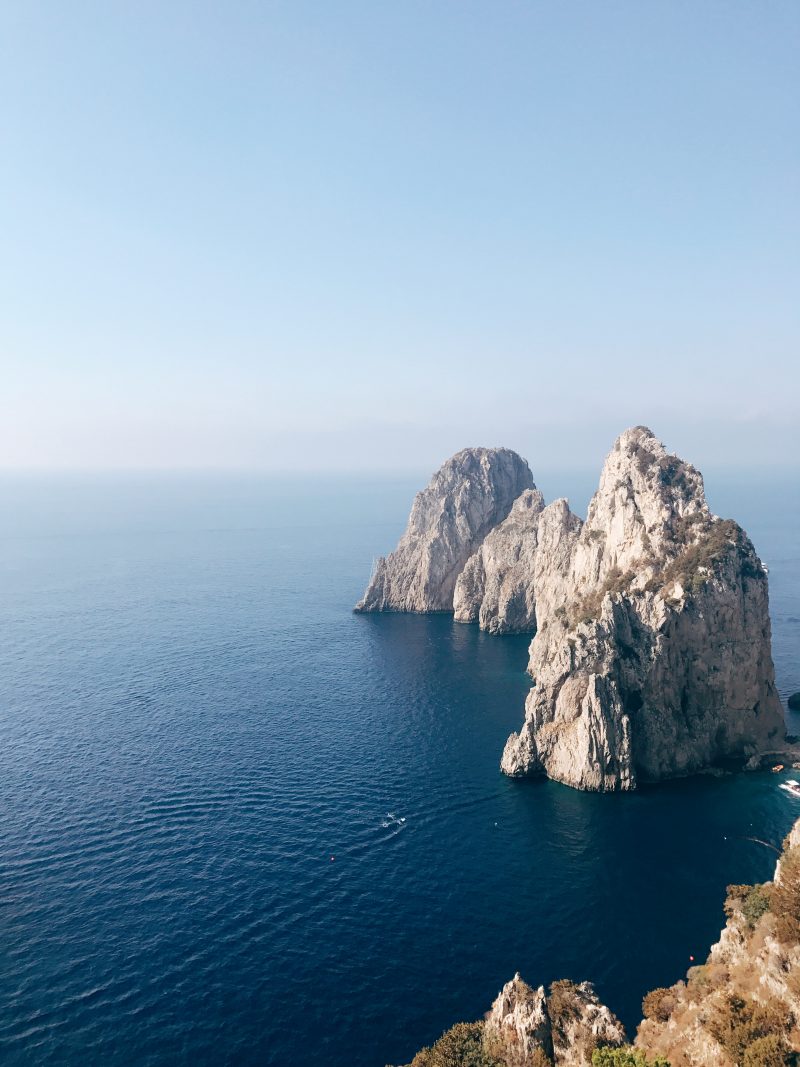 Last June, my husband and I celebrated our 20th anniversary in Capri. I was forever charmed by this magical island and as soon as we had returned home, I was already dreaming about my next visit which took place this past week.
Capri offers magnificent views, delectable food and fabulous shopping. I love that the restaurants, beaches and boutiques are a walk away. There is simply an old world charm that draws you in and the Italians themselves are so friendly and gregarious. They have a wonderful sense of humor which I always appreciate. Let us not forget about their innate fashion sense…they just have it! That includes the taxi drivers and the shop keepers as well – each one more stylish than the next.
We stayed at our favorite hotel, Scalinatella, located just a few minutes walk from town.
What makes this hotel so special is the intimate setting with its elegant Italian decor, breathtaking seaside views, impeccable service and a lovely staff.
Our trip consisted of equal parts sun, sea, food and wine. We lived by the rules, "Rose all day" and "eat to your hearts content" and this proved quite successful.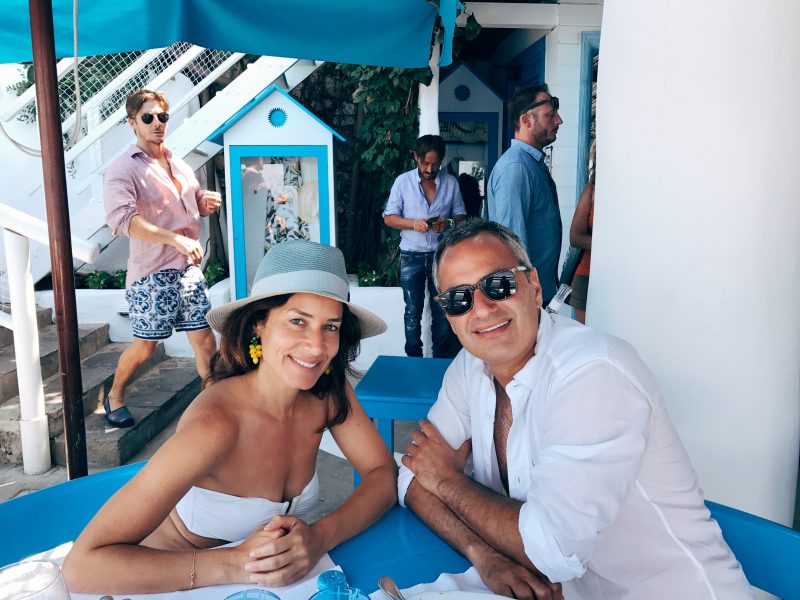 We indulged in mouth watering pastas, scrumptious pizzas, decadent desserts and Sgroppino al Limone, a frothy lemon sorbet cocktail. My favorite pasta is the island specialty – Spaghetti alla Nerrano (spaghetti with zucchini). Their eggplant parmigiana is bellisimo, and their pizza is perfection. I also enjoyed an Italian specialty dessert, baba which is a cake saturated in syrup and hard liquor. (Is it me or is the shape of this dessert a bit phallic?) Its seriously impossible to have a bad meal!
My favorite places to dine in Capri:
Lunch:
Fontalina Beach Club  – seaside lounging with delicious Italian fare and amazing antipasto buffet
Il Riccio – located in Ana Capri – beautiful setting but our least favorite meal
Conca Del Sogno – My absolute favorite. A boat ride away but well worth it!
Dinner:
Da Giorgio – Cozy and intimate restaurant overlooking the city of Capri.
Aurora – Al Fresco dining – best truffle spaghetti.
Villa Verde – Best pizza on the island.
Da Paolino (Lemon Tree) – A romantic setting amidst a sea of lemon trees.
I did manage to get in some morning hikes which was the perfect way to begin the day. The views were glorious and the workout intense enough to make this gluttonous week a bit less guilt ridden.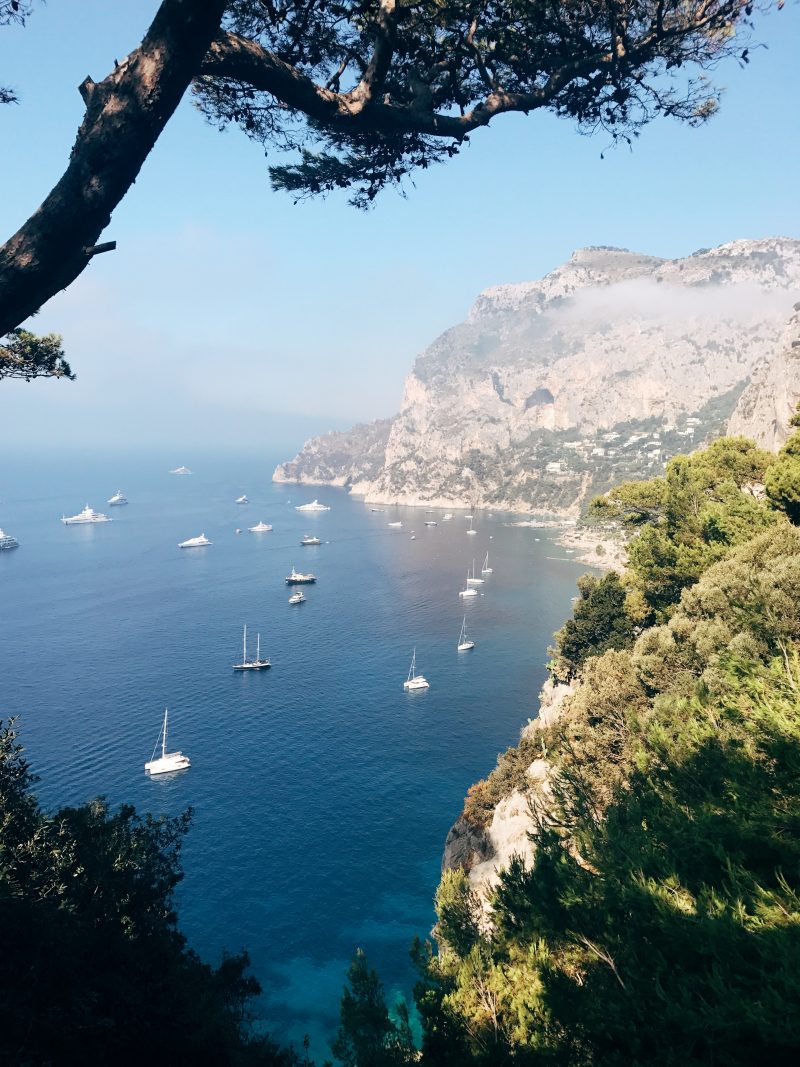 One day we rented a boat which took us around the island and other days were spent lounging in the sun, taking refreshing dips in the Mediterranean and then some more dips in the sea as the weather was super hot. For this reason, I would recommend not traveling during the month of August if possible.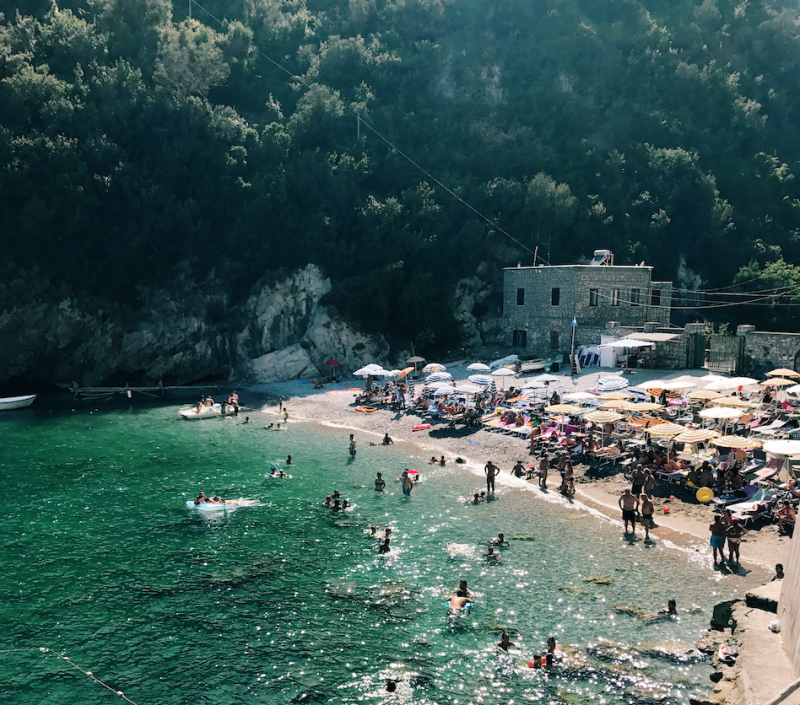 At night, it was al fresco dining in romantic settings. Though we had every intention of going to a local club one evening, the sun got the best of us and went straight to sleep instead.
Timed seemed to escape us as the days rolled into nights and nights into days. It was a wonderful vacation with all the right elements and the perfect company of course.
Until next time Capri~