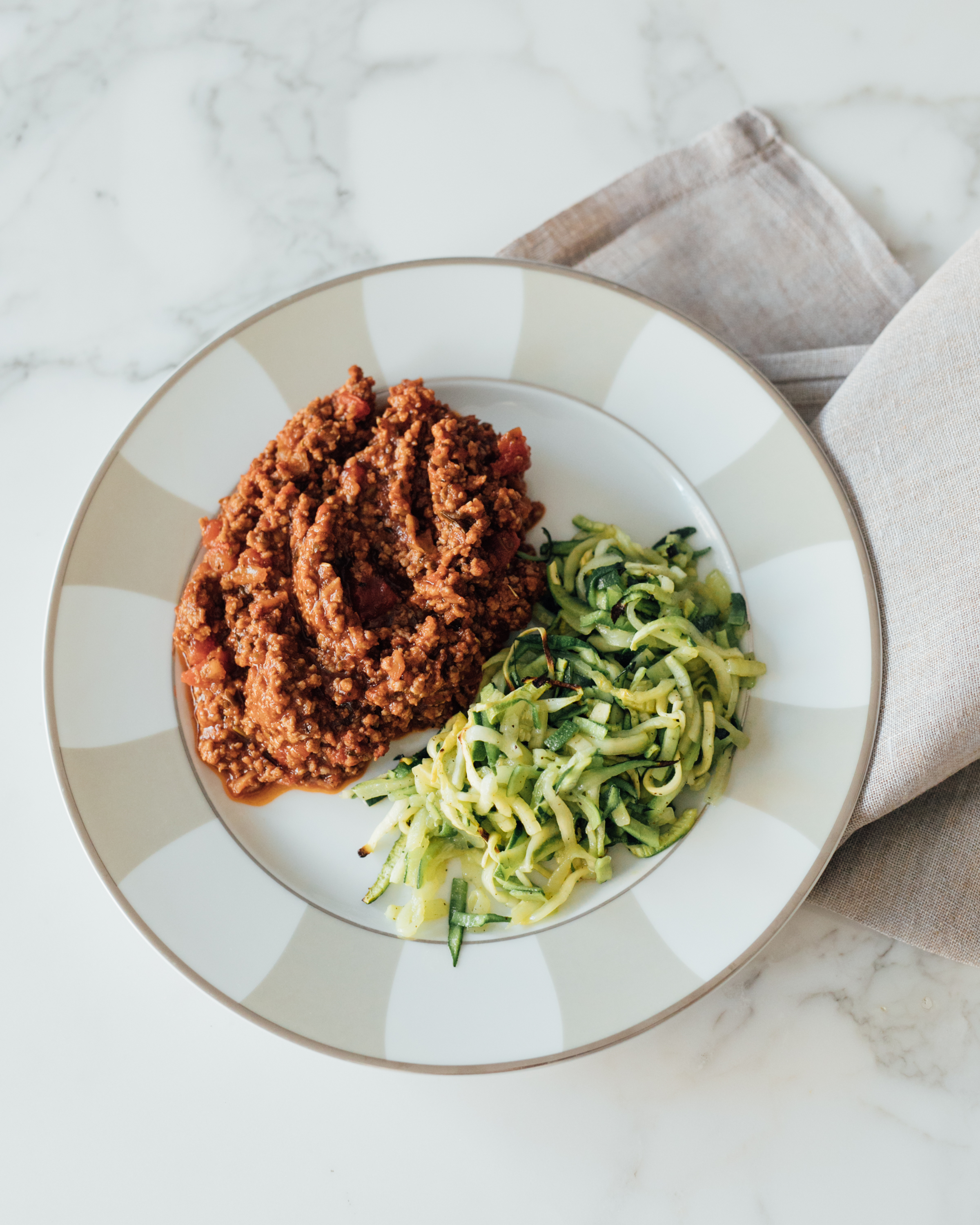 When I first got married I had a few friends I'd rely on for recipes. Good thing I had a few friends because I had zero recipes of my own and could barely boil water. One of my go to's was Shirley Franco who still happens to be one of the best cooks (and friend) I know. Her Italian Bolognese Sauce recipe that she shared 22 years ago is still in my repertoire and remains my daughter's favorite. 
This bolognese sauce recipe is so easy to prepare and a crowd pleaser which was my inspiration for sharing. The only change I've made over the years is serving this sauce over zucchini noodles instead of good ole Barilla spaghetti #8. 
One must-have tool if you don't already own it, is the ChopStir Original Ground Meat Chopper. This gadget minces the meat super finely and is a game changer for creating a smooth textured sauce sans clumps. 
Ok, so now for the bolognese sauce recipe…
Ingredients:
3 tbsp. extra virgin olive oil
1 small onion
1 lb. of ground beef
1/2 tsp. cinnamon
1/2 tsp. all spice
1/2 tsp. white pepper
1 jar of marinara sauce
1/2 tsp. garlic powder
1/2 tsp. Italian seasoning
1/2 tsp. oregano
Salt to taste
Note: These spice measurements are approximate. Feel free to alter in accordance with your lovely taste buds.
Directions:
1. Sautée finely chopped onion in olive oil until lightly browned.
2. Add chopped meat and break up finely with the ChopStir until the meat is completely brown.
3. Add all the spices and the marinara sauce into the meat pan and let simmer for 10 minutes.
4. A great add on for this meal is some sautéed spinach or broccoli rabe. My mother always adds garlic bread when serving her rendition of this dish.
Bon Appétit!