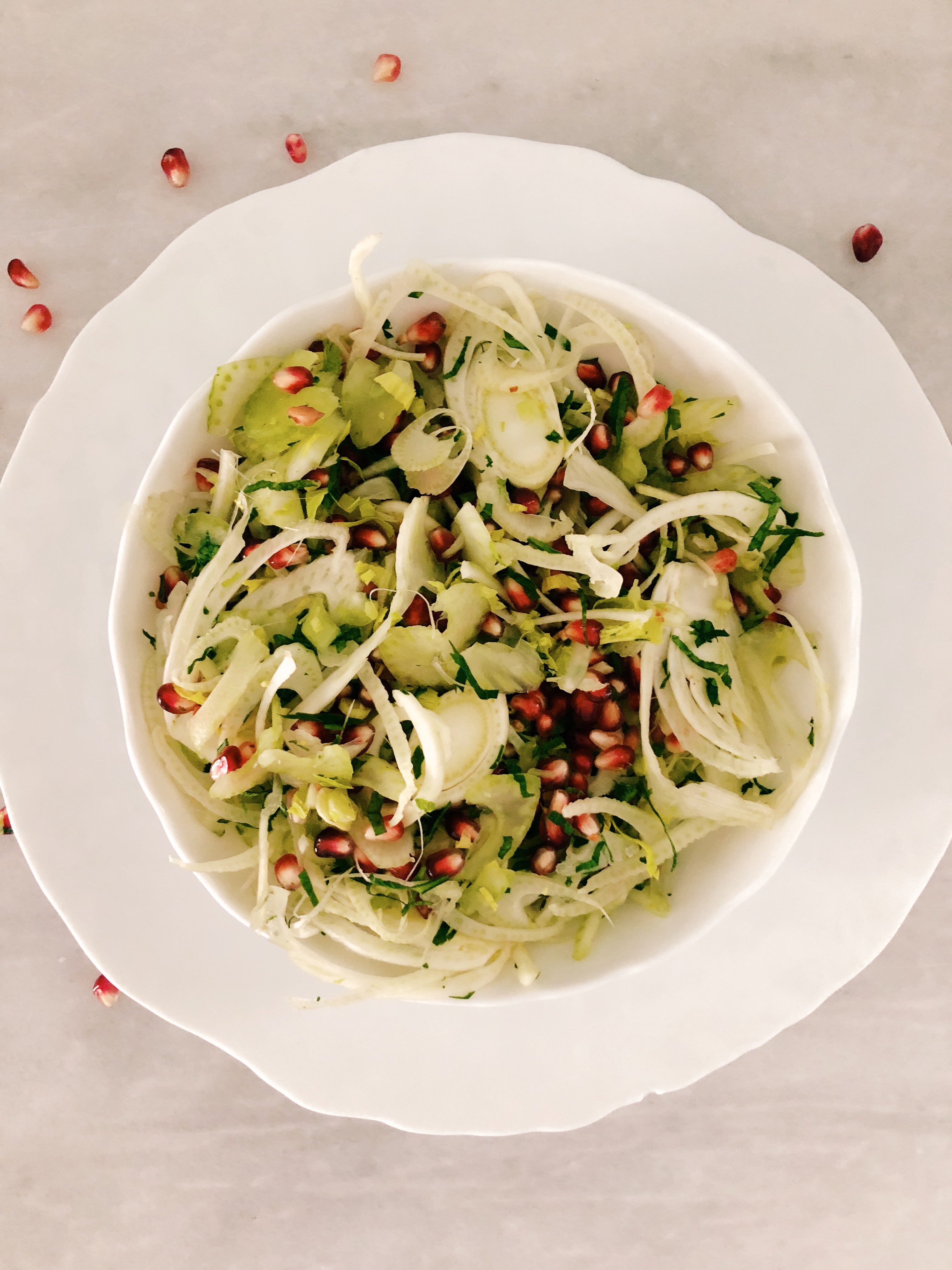 With the Jewish New Year around the corner, my mind is focused on holiday inspired recipes. One of the traditional Jewish New Year fruits is the pomegranate. I happen to love snacking on these sweet red jewels year round but on the New Year, the pomegranate takes on a symbolic meaning. A pomegranate is said to have the capacity to produce 613 seeds which corresponds to the 613 Jewish commandments. The multiple seeds are said to represent the multiple good merits which we aspire to in the coming year. For those looking for more earthly symbolism, the pomegranate is linked to sexual desire (mom, please don't read this, #awkward). "In ancient times the pomegranate fruit was said to drive men and women mad with desire for each other." I wonder how many pomegranates it took achieve this? Perhaps there will be a run on pomegranates after this post?
Whichever version you subscribe to, below are some delightful pomegranate salads to add to your fall recipe repertoire.
This first recipe is by my ultra chic and dear friend Kim Kushner – uber talented cookbook author. I was so fortunate that Kim shared a new colorful salad recipe from her highly anticipated 3rd cookbook,
I Heart Kosher, which you can pre-order on Amazon here.
Sexy Red Kale with Red Beets, Pomegranate & Fresh Dill in Meyer Lemon Vinaigrette
Makes 6-8 large servings
Ingredients:
4-6 cups red kale leaves, cleaned and dried, roughly chopped
2 endives, cleaned and leaves peeled off whole
1 red beet, peeled and sliced thin
1 cup shelled frozen edamame (soy beans), thawed and rinsed
1 cup roughly chopped fresh dill
seeds from a pomegranate
juice from 3 meyer lemons
½ teaspoon whole mustard seeds
½ teaspoon crushed dried rose petals
1 tablespoon honey
¼ cup extra virgin olive oil
splash balsalmic vinegar
kosher salt
black pepper
Directions:
Place the kale, beet, endive leaves, edamame, dill and pomegranate seeds in a large bowl or platter. Toss all together. Pour the lemon juice into a glass jar, add the mustard, rose petals (if using), honey, vinegar, salt and pepper. Shake well.
Spoon the vinaigrette over the salad just before serving.
The next pomegranate salad is a go to of mine which is a staple in our household. I came across this recipe on one of my favorite health and wellness food blogs, Bonberi.
Pomegranate Kale Salad
Makes 6-8 servings
Salad Ingredients:
2 cups of chopped Italian kale, stems removed
2 cups of chopped curly kale, stems removed
1 cup of chopped endives
3 tablespoons of pomegranate seeds
3 tablespoons chopped raw walnuts
Touch of minced jalapeño
4 tablespoons of chopped sweet onion
Salad Dressing Ingredients:
4 tablespoons of cold pressed organic olive oil
2 tablespoons of fresh juiced organic lemon
2 tablespoons of chopped shallots
2 teaspoons of Dijon mustard
4 tablespoons of apple cider vinegar
Sea salt/pepper to taste
Directions:
Combine all salad ingredients in one bowl. Separately mix the salad dressing and then massage the dressing into the kale using your hands. Before serving, top with additional pomegranate seeds and raw walnuts.
I found this pomegranate salad recipe on the allrecipes.com site and adapted it a bit. It combines fruit and vegetables and makes for a visual appealing platter.
Fig and Arugula Salad Recipe
Makes 4-6 servings
Ingredients:
4 cups arugula
8 fresh figs, quartered
The seeds one pomegranate
2 tablespoons toasted pine nuts
2 tablespoons balsamic vinegar
2 tablespoons honey
2 tablespoons extra virgin olive oil
Shaved parmesan (optional)
Directions:
Toss arugula, figs, pomegranates, parmesan cheese, and pine nuts together in a large bowl.
Drizzle honey, balsamic vinegar and olive oil over salad before serving.
Last but not least, this pomegranate salad has been a part of my recipe collection for quite sometime. I love the crunch factor and there is something fresh and light about the dressing. This also happens to be one of my husband's favorites.
Fennel, Celery, and Pomegranate Salad
Makes 8 Servings
Ingredients:
3 small fennel bulbs, thinly sliced
6 celery stalks, thinly sliced on a diagonal
1 medium shallot, thinly sliced into rings
½ cup fresh flat-leaf parsley, very coarsely chopped
¼ cup celery leaves, very coarsely chopped (optional)
½ cup pomegranate seeds, divided
¼ cup fresh lime juice
¼ cup olive oil
Kosher salt and freshly ground black pepper

Directions:
Toss fennel, celery, shallot, parsley, celery leaves, if using, and half of pomegranate seeds in a large bowl. Drizzle with lime juice and oil and toss to coat; season with salt and pepper.
Serve topped with remaining pomegranate seeds.

Are there any pomegranate salads you swear by? Comment below – I can't wait to try!