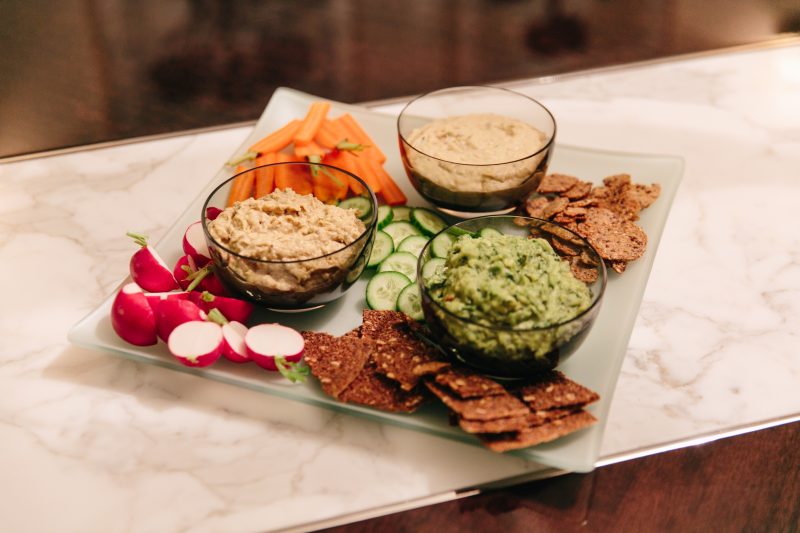 I always appreciate a deliciously creamy, hearty and of course, healthy dip. They are definitely my go to when entertaining. Dips are pretty easy and quick to make, 2 criteria that are essential when creating a menu for family or friends. In addition, most dip recipes require few ingredients making for an uncomplicated indulgence.
I love eating food with my bare hands. I find it to be a fun and casual eating experience and most dips require no utensils, just a side of tortillas, pita chips, crackers, or in my case an artistic arrangement of crudite.
Here are some current favorites to inspire for your next gathering or if you are hosting for super bowl night next month. And bonus points: they're all secretly vegan – and can totally be served year round.
Guacamole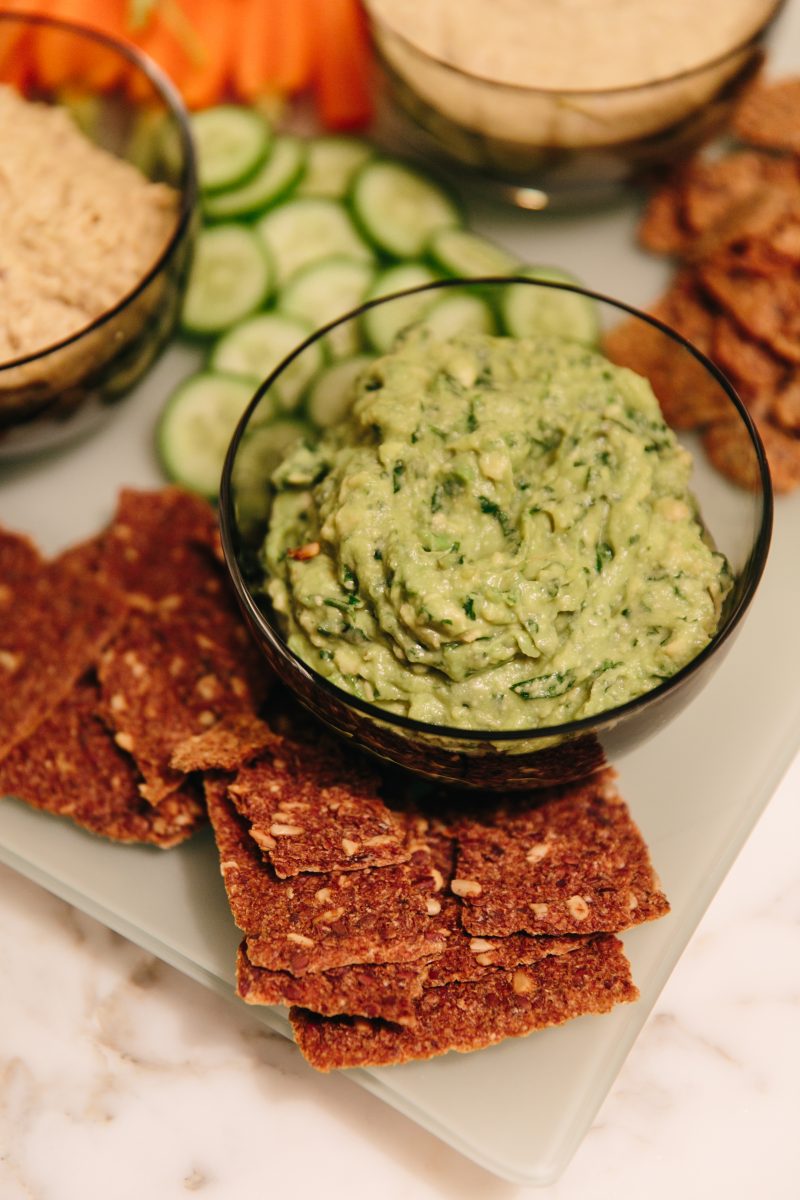 No need to wait till Cinco de Mayo to have some guacamole. This go to dip is definitely a family favorite and a part of our weekly meal rotation. Whether I serve it on a Friday night with carrots and cucumbers or mid-week on taco night, you can be sure to find an abundance of avocados waiting to be cored, smashed and spiced. Here is my recipe for this Mexican favorite of mine.
Ingredients:
2 avocados
1 jalapeno minced
2/3 cup cilantro
3 tablespoons of lime juice
Salt to taste
Preparation:
1. Using a fork, roughly mash the avocado. Add jalapeño, cilantro, lime juice and salt and continue to mash.
2. Cover with plastic and refrigerate for 1 hour to blend flavors.
Baba Ghanooj: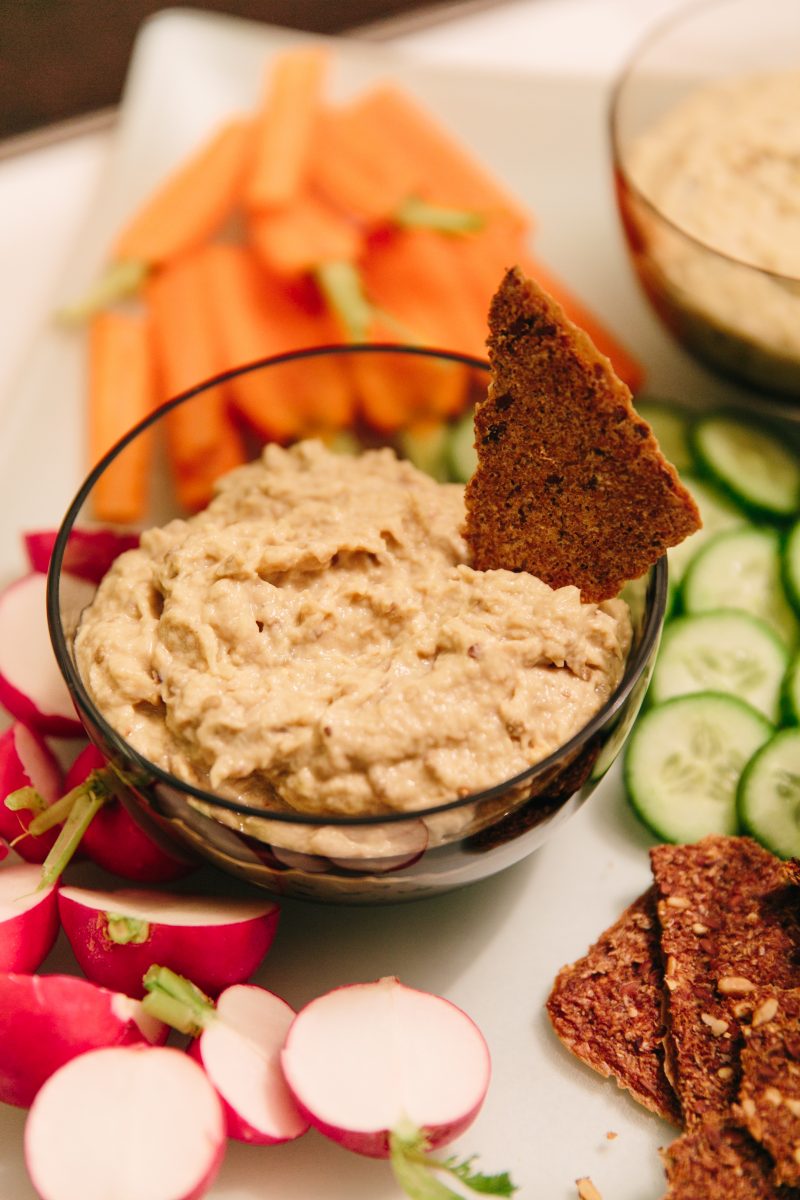 Another delectable dip option is Baba Ghanooj, a Mediterranean inspired side with eggplant and tahini as the main ingredients.
After a recent trip to Israel, I was inspired to make this at home . While I typically don't cook with eggplant at home as my husband is allergic, I was seriously craving this smoky, savory side. Needless to say, this was a hit with my girls. Baba Ghanooj can be eaten on its own and also a great option to serve with your main course – think grilled chicken, salads, and grilled fish.
This recipe was taken from my all time favorite Middle Eastern cookbook, Aromas of Aleppo.
Ingredients:
3 medium eggplants
2-4 garlic cloves
1 tablespoon kosher salt
1/2 cup tahini combined with 1 tablespoon water
Juice of three lemons (about 9 tablespoons)
1/2 teaspoon ground cumin
1/2 teaspoon Aleppo pepper or 1/4 teaspoon crushed red pepper (optional)
Preparation:
1. Roast eggplants over medium high heat on the stove top directly over the flame for 10-30 minutes, or until the skin blackens and looks blistered.
2. Once the eggplants are roasted, cut them in half lengthwise and discard any large seed pockets. This will reduce your yield , but the seeds are bitter and add an unpleasant texture.
3. Peel the eggplants. Press the eggplant flesh firmly against the surface of a colander to extract excess liquid.
4. Pound the garlic with the salt with a mortar and pestle, or gently blend in a mini food processor or blender.
5. Mash the eggplant with a fork in a large bowl, add the garlic mixture, and continue mashing until it begins to look creamy. Add the tahini, lemon juice, cumin, and pepper, if using, and blend thoroughly into the eggplant mixture. Garnish with parsley.
Creamy White Bean Dip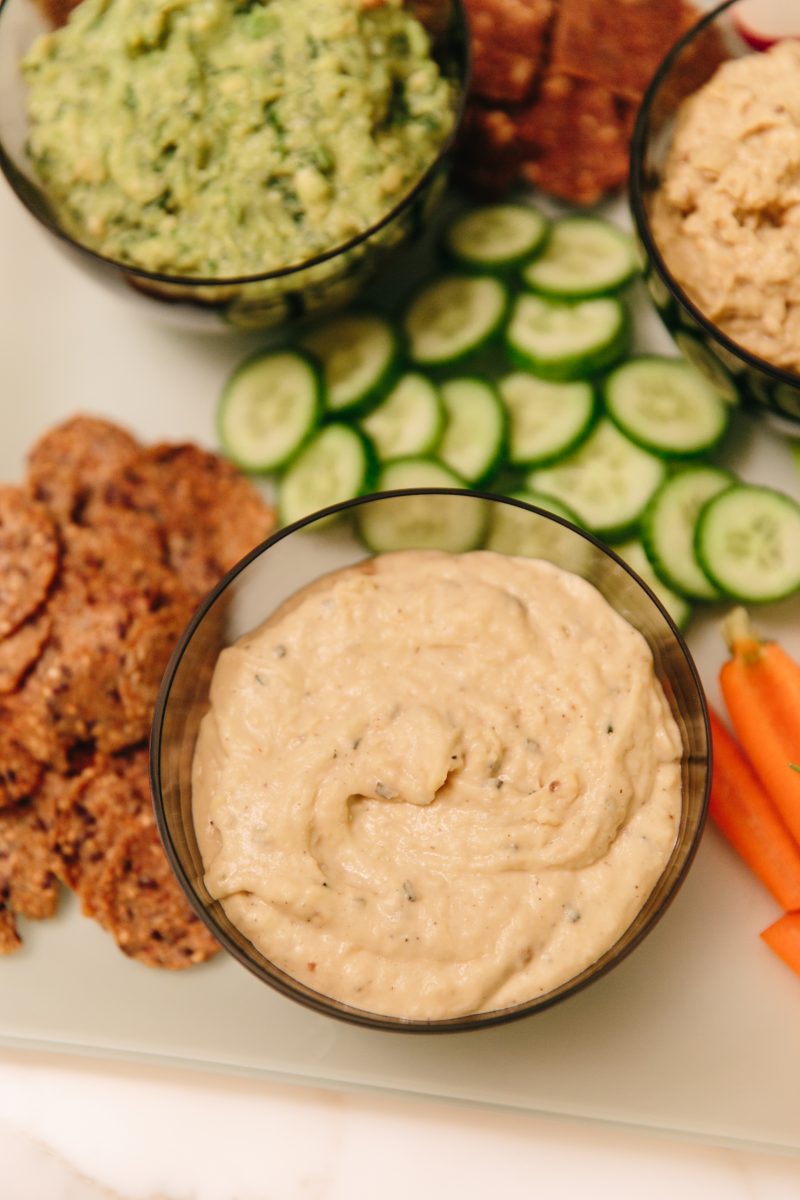 This last White Bean Dip is the heartiest of them all, yet still made with healthy ingredients. How I love a creamy texture. The roasted garlic gives it an extra kick and rosemary in any dish is absolutely heavenly.
Taken from Goop.com.
Ingredients:
1 head of garlic, unpeeled to roast or 1 large clove raw garlic, peeled
2 cups cooked white beans, such as cannellini or Great Northern, drained and rinsed, if canned
¼ cup cold-pressed, unrefined extra-virgin olive oil
2 tablespoons freshly squeezed lemon juice
1 teaspoon minced fresh rosemary
several dashes hot sauce
½ teaspoon sea salt
a few grinds finely ground black pepper
Preparation:
1. Roast the garlic: preheat oven to 350 degrees. Slice off the top fifth of the head of unpeeled garlic. Add a drop of olive oil. Replace the top. Wrap with parchment paper and then aluminum foil. Bake for 1 hour. Discard foil and parchment.
2. Take the top off of the garlic and squeeze the softened garlic out of the skins into the bowl of a food processor fitted with the metal blade. Add remaining ingredients and process until smooth and creamy. Can be made a day ahead and kept covered and refrigerated.
I have to confess: I am a close double dipper, but can you blame me with these tasty dips? Don't worry, I am absolutely mindful not to when I am a guest at someone's home.
What are your favorite dips?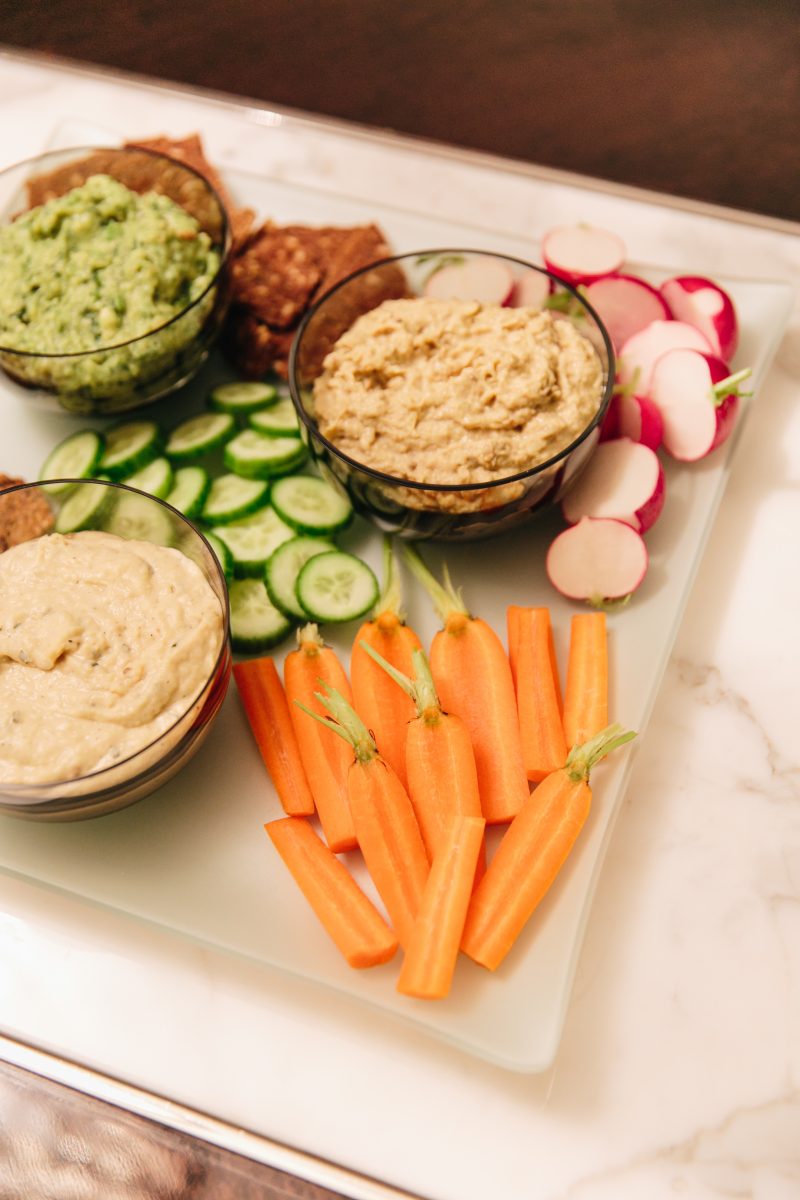 Shop products here: