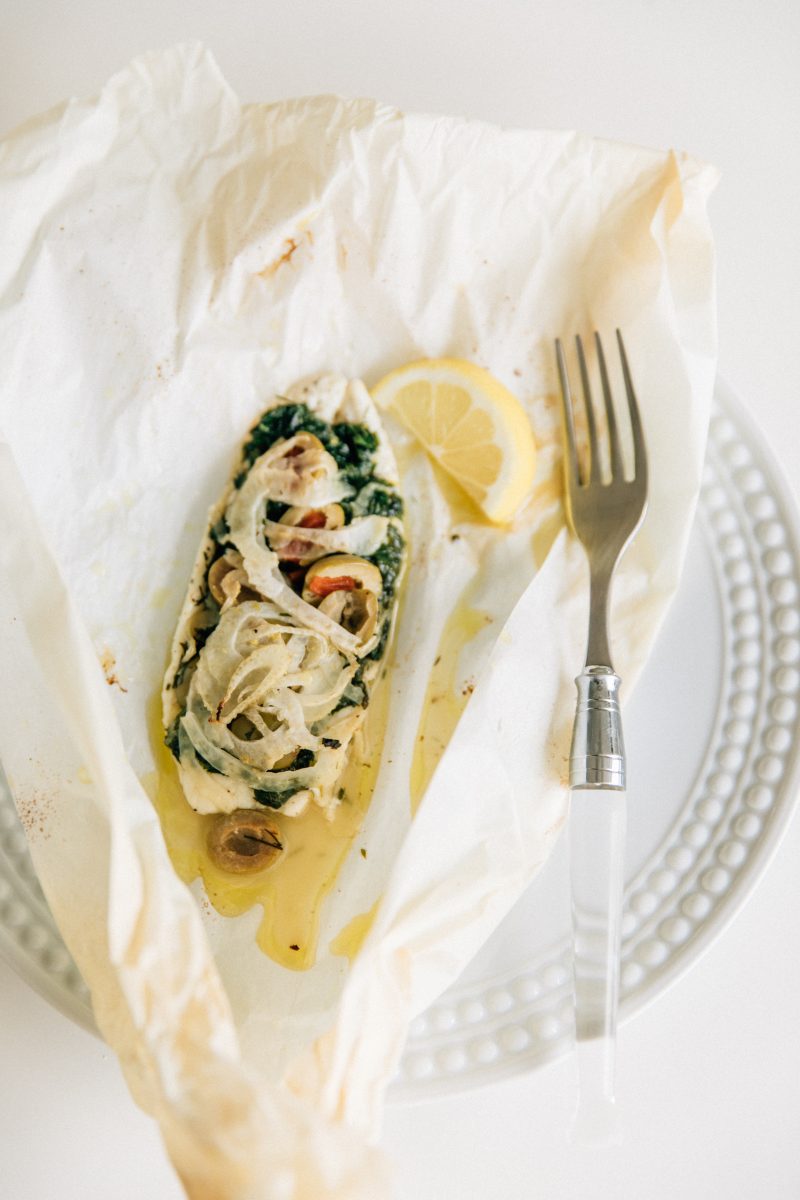 If you think there's something fishy going on with this post, you're right on. Nothing like a little bit of cheese on a Monday morning.
I'm always on the lookout for tasty and easy to follow fish recipes. I gravitate towards ones that incorporate ingredients that are staples in my pantry and simple enough for me to pronounce.
A couple of weeks ago I made a Fish in Parchment with Herb Sauce from the Cherry Bombe cookbook (see cookbook post here and here) that was absolute perfection. The combination of fresh herbs, olives and lemon appealed to all my taste buds. This clean and healthy dish was exciting to eat and will make its way into my regular rotation. The recipe works well with a variety of fish which is a bonus.
My kids always love Asian inspired sushi-type fish recipes. I came across this Tuna Tartar Poke Bowl with Wasabi Avocado on the IV Greenhouse blog and it was a winner. Like the previous dish, most ingredients are staples in my pantry and the prep was easy. Just be sure to ask your fishmonger to finely chop the tuna as my monger left the mongering up to me. It was the perfect sushi dish minus the rice, and can be prepared at home which is fun. This dish is a great idea for a plated appetizer or can be served on mini crackers.
The girls in my house love salmon but the boys don't…sorry but majority rules so salmon it is. I'm sure they must feel like a salmon swimming upstream so I'll prepare an alternative for them.
I haven't tried this recipe yet but it came highly recommended from a friend of mine who makes this on repeat. While she barbecues it on cedar planks, I will plan to roast it in my oven. Ok, so onto the details…this is a Moroccan Grilled Salmon which is super healthy. As you know, salmon is high in Omega 3's, a great source of protein and high in vitamins. The fish is marinated in yogurt and herbs for 20 to 30 minutes et voila.
What are your favorite fish recipes? Check out my favorites below and leave your top picks in the comments!
Fish in Parchment with Herb Sauce
Ingredients:
1 cup soft green herbs, finely chopped (see Tip Below)
Kosher salt
¾ cup olive oil
4 6- to 8-ounce boneless fish fillets (such as flounder, salmon, sole, or arctic char)
Freshly ground black pepper
Zest and juice of 1 lemon
Pitted olives, optional
Directions:
Preheat the oven to 400ºF.
Mix the herbs, ½ teaspoon salt, and the olive oil in a bowl and set aside so the flavors can develop.
Cut four 20-inch-long sheets of parchment paper and fold each in half.
Unfold the first parchment sheet.
Place a fish fillet about 1 inch to the right of the fold and season with salt and pepper.
Sprinkle the fillet with 1 teaspoon of the lemon zest and 1½ teaspoons of the lemon juice.
Top with 2 tablespoons of the herb sauce and some olives (if using).
Fold the parchment paper loosely over the fish and make ¼-inch folds around the edges to create a half-moon shape.
Be sure to press and crimp the perimeter while folding to seal the packets well. Repeat with the remaining fish fillets.
Place the sealed packets on a baking sheet and bake for 10 to 15 minutes, depending on the thickness of the fish. The packets will be slightly browned and puffed up.
To serve, place each packet on a plate and make sure each guest has a sharp knife to cut his or her packet open.
Tip: Any combination of fresh parsley, dill, fennel fronds, cilantro, chives, tarragon, chervil, marjoram, thyme, and basil works for this recipe. Use the leaves and thin, tender stems, discarding any thick stems.
Tuna Tartar Poke Bowl with Wasabi Avocado
Ingredients:
For the Wasabi Avocado
2 Ripe Avocados
1 Tbsp. Wasabi Paste
1 Lime – Juiced
For the Tuna
1 lb. Fresh Tuna – diced
2 Jalepenos – super small dice
1 Thumb sized piece of ginger – super small dice
4 inch piece of (hothouse) cucumber – super small dice (tip below)
1/8 cup sesame oil
1/4 cup toasted sesame oil
1/4 cup soy sauce
1/2 a lime – juiced
Optional
1 tbsp. black sesame seeds
1 tbsp. white sesame seeds
Directions:
For the Avocado
Remove skins and pits from Avocados and place in a bowl
Squeeze lime juice into the bowl
Add your wasabi paste
Mash together with a potato masher until a smooth consistency is formed
Set Aside
For the Tuna
Dice your Tuna and add to a medium sized bowl
Finely Dice your ginger & jalepeno and add to the tuna
To finely dice your cucumber use a julienne peeler and then slice the opposite way with your knife. Add to the bowl.
Add all liquids and stir to combine
Set Aside
To serve and for the Garnish
Put some wasabi avocado on the bottom of your bowl, top with a large spoonful of your tuna mixture.
Top with black and white sesame seeds and Serve!
Notes
If you replace soy sauce with coconut aminos you will need to add some salt as it is a sweeter substitute!
Moroccan Grilled Salmon
Ingredients:
1/2 cup plain yogurt
Juice of 1 lemon, plus lemon wedges for garnish
1 tablespoon extra-virgin olive oil, plus more for the grill
2 to 3 cloves garlic, smashed
1 1/2 teaspoons ground coriander
1 1/2 teaspoons ground cumin
Kosher salt and freshly ground pepper
4 6-ounce skinless center-cut salmon fillets
1/4 cup chopped fresh cilantro or parsley, for garnish
Directions:
Stir together the yogurt, lemon juice, olive oil, garlic, coriander, cumin, 1/4 teaspoon salt, and pepper to taste in a small bowl.
Pour half of the sauce into a large resealable plastic bag; cover and refrigerate the remaining sauce.
Add the salmon to the bag and turn to coat with the marinade.
Refrigerate for 20 to 30 minutes, turning the bag over once.
Preheat a grill to medium-high.
Remove the salmon from the marinade and blot off excess yogurt with paper towels.
Lightly oil the grill and add the salmon; cook, turning once, until browned on the outside and opaque in the center, 4 to 6 minutes per side, depending on the thickness.
Serve with the reserved yogurt sauce and garnish with the herbs and lemon wedges.
Shop the post here: