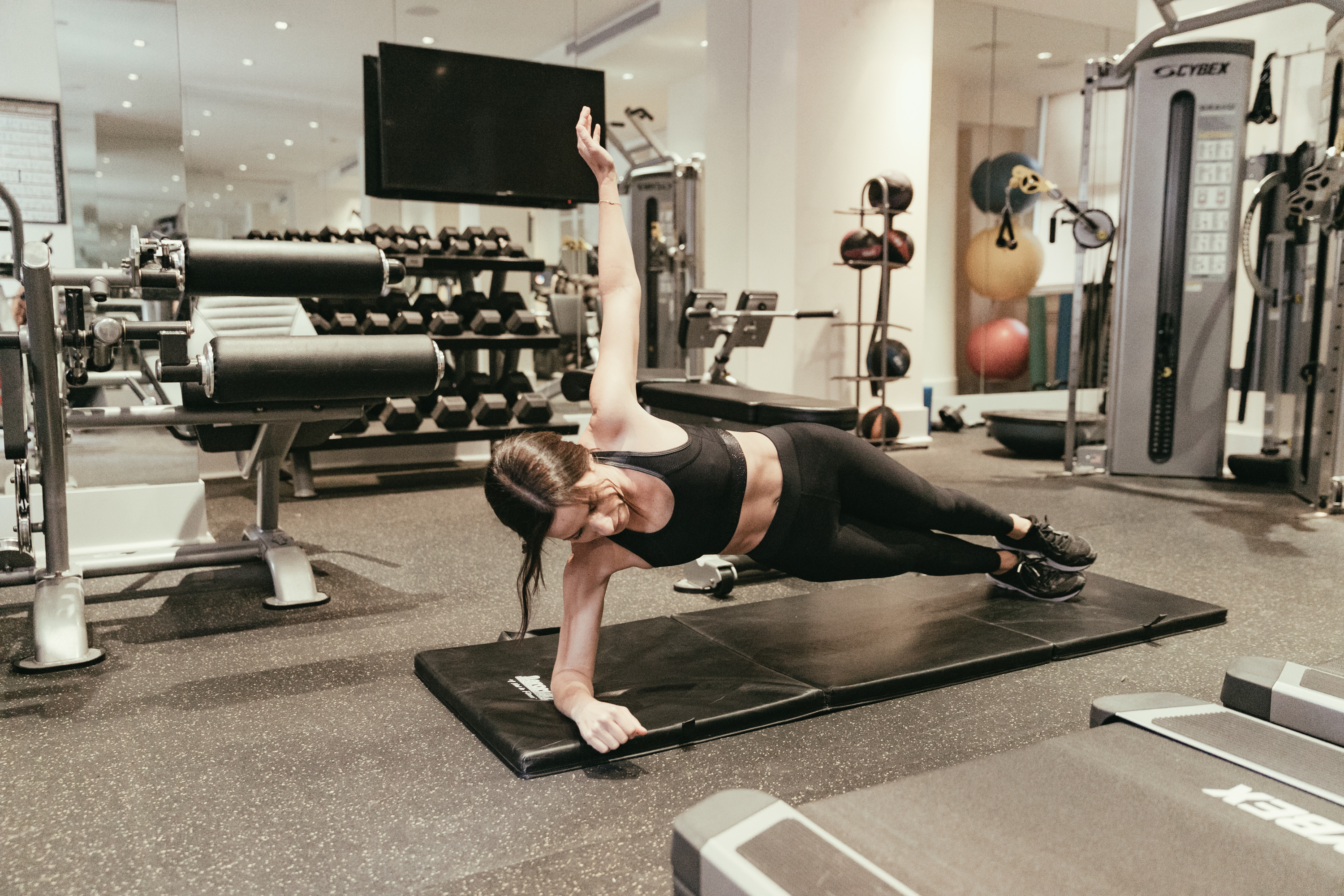 I've come a long way baby…
I'll never forget when the flagship Nike store opened on 57th Street years ago. I considered this the Bergdorf's of workout wear and as there weren't many fashion-forward fitness brands available, I was doing it with Nike.
Fast forward to 2019 and I'm doing it with many fitness brands and am excited about all the different options and trends out there.
While I don't necessarily wear my workout gear outside of the gym, dressing the part is a great motivator. I love to have fun with my workout wear and play with the many colors and prints.
I recently came across these red and blue plaid leggings by Ultracor at the Bandier boutique and as you may know by now, I'm mad for plaid, so they instantly joined my workout wear wardrobe. The silky smooth fabric is "ultra" comfortable and they are quite flattering. While I typically don't purchase fitness wear sets, I went for the matching bra top because it was less bra and more top. This style also comes in a blue/green color way. Same thing with this matching set here by up and coming luxe Belgian brand, Nunu.
On my wish list are these camo leggings by Koral. These will be a seriously edgy upgrade to my basic cotton ones from this brand. The Upside also carries a variety of cool camo prints that are definitely  worth checking out.
I'm really into the color combo on these Alo yoga leggings. They do read more spring but I have no plan to wait until March to purchase them.
Shop leggings here:


Without getting into it too much, I don't typically wear crop tops to the gym but I do find them aspirational and am in the process of working towards this goal.
The crop tops that I'm drawn to most, are the boxy ones – I'm just not the fitted type. Though I haven't yet tried them, these crop tops (see here and here) by LNA look like the perfect fit.
Shop tops here:

I rarely leave my house without a sweatshirt, regardless of the season.
This sherpa sweatshirt by Alala is a must have for the weather we've been enduring. How cozy?
I'm loving this perfect shade of yellow pullover by Frank & Eileen. This will keep things sunny winter, spring, summer and fall.
For those who like a longer sweatshirt silhouette, this one by Alo is soft enough to have you buttering it on toast, I'm obsessed and have been wearing it on repeat. Koral has another option with slide slits as well.
Shop sweatshirts here:

In case you haven't noticed, bike shorts are trending in and out of the gym so worth checking out these styles below. Neons are also having a moment come spring, if you want to see and be seen, here and here are some vibrant pieces.
Shop bike shorts here:

What are your favorite workout wear pieces to sport at the gym?
Shop sets here: