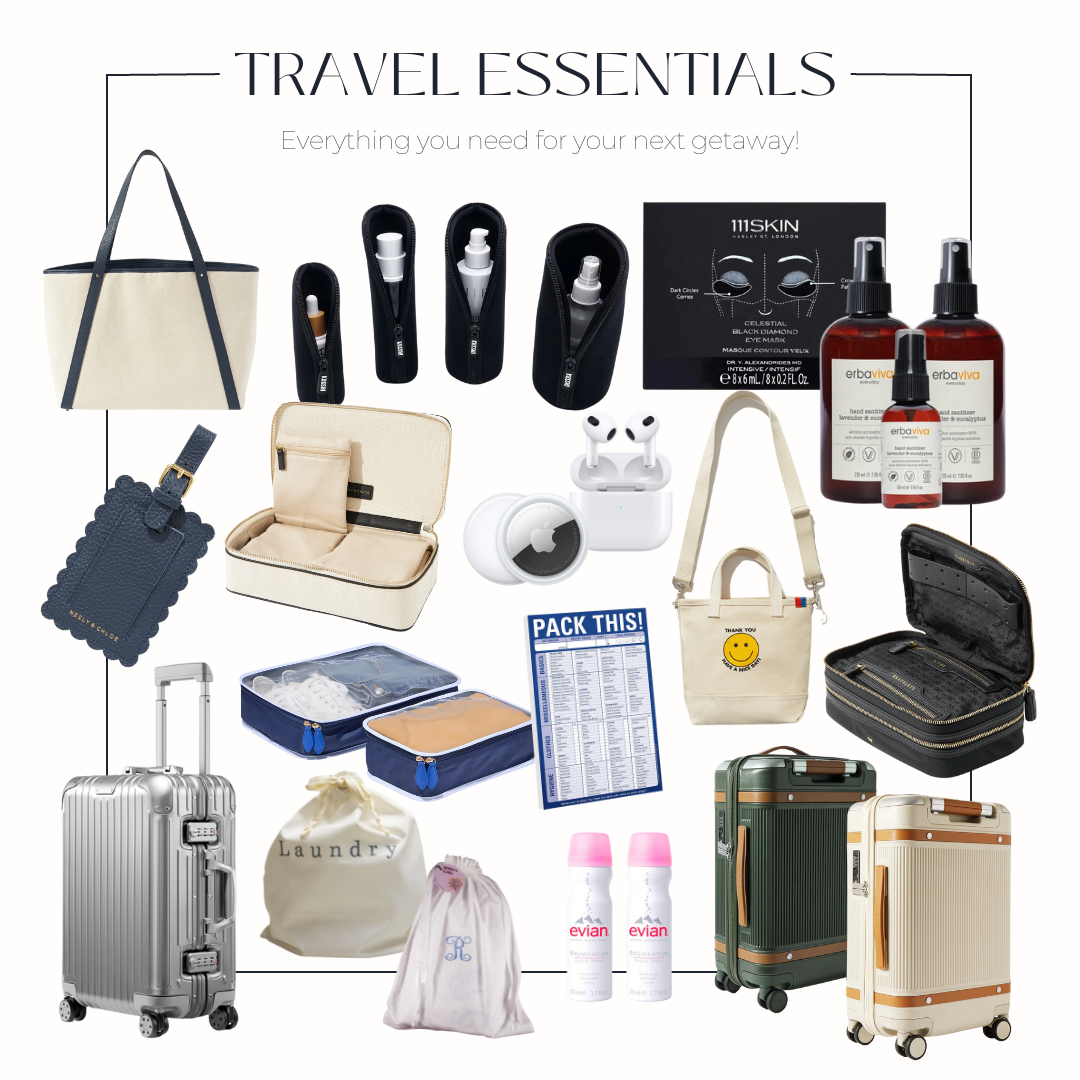 Whenever I am headed on vacation, there are certain travel essentials that I never leave home without.
Before I do anything, I whip out my handy dandy Pack This list which lists every travel essential you can imagine, from beauty and fashion to electronics and passport documents. I cross off each item as I pack it and if you're a list person like I am – well, then you know how satisfying this feels.
Typically I pack a suitcase (or two) but I recently invested in a Rimowa carry-on in the hopes that eventually I'll be able to use this as my one and only piece of luggage – (hubby's dream). Until then, this will serve as my carry-on for long-distance flights and overnight trips.
A more affordable, but equally chic option is this Paravel hard shell carry-on with vegan leather trim. I have my eyes on both their ivory and army green colorways.
Speaking of Paravel, packing our clothing in their cubes has become a family affair. These water-resistant lightweight packing cubes come in a set of 4 and can be used by separating clothes by outfit or garment type. My current favorite colors are Safari green and navy with white piping (P.S. these make for a great holiday gift idea or stocking stuffer).
Another must-have is a jewelry case. Anya Hindmarch's Leather Trimmed Jewelry Case has been my go-to for the past several years and has designated compartments for earrings, rings, bracelets, and necklaces. It keeps my baubles super organized (hint: this is also a great giftable)!
If you're looking for a more reasonably priced, but still oh-so-pretty option, check out this leather-trimmed, canvas jewelry case by Neely & Chloe. This comes with 8 zip pouches inside, with enough room for all your favorite jewels.
When it comes to toting around my in-flight essentials, it all gets packed in this Kule canvas tote which doubles as a beach bag. I'm also bringing along this Neely & Chloe canvas travel tote. I prefer the navy leather trim but all the colors they offer are equally classic. A cashmere scarf, 111Skin Eye Masks, Erbaviva's all-natural hand sanitizer, Lysol Disinfectant Wipes, Apple Air Pods, Evian Facial Travel Spray, and my laptop and chargers are always tucked away inside.
Historically, my luggage tags are simply the paper ones that I fill out at the airport. However, I'm thinking of up up and away-ing my game with these chic scalloped leather luggage tags by Neely & Chloe. As an F.Y.I., these can be personalized.
While I don't yet own Apple AirTags, they are on my "to purchase" list and another travel essential. These AirTags can be placed in your luggage and in the case of lost or stolen baggage, you have the ability to track their exact location.
My make-up & toiletry cases are by Stony Clover and Neely & Chloe. Some cosmetic cases that are on my radar include this clear pouch which can also be used for sunscreen by Mark & Graham. This Gucci vanity case with the house's signature GG-Supreme canvas is super glam. Lastly, if you are a canvas + stripe lover, it's definitely worth checking out this canvas pouch by L/Uniform.
Bras, socks and undies, etc get packed in lingerie bags. I bought mine years ago but I recently found these cute personalized bags on Etsy. While on vacation, I separate my dirty laundry into 4 categories (machine wash, cleaners, hand wash, machine wash/air dry) to make the unpacking process easier upon my return home. As of now, I currently label garbage bags with a sharpie but a more eco-friendly idea and one that I need to get on are these cute reusable travel laundry bags which I also found on Etsy.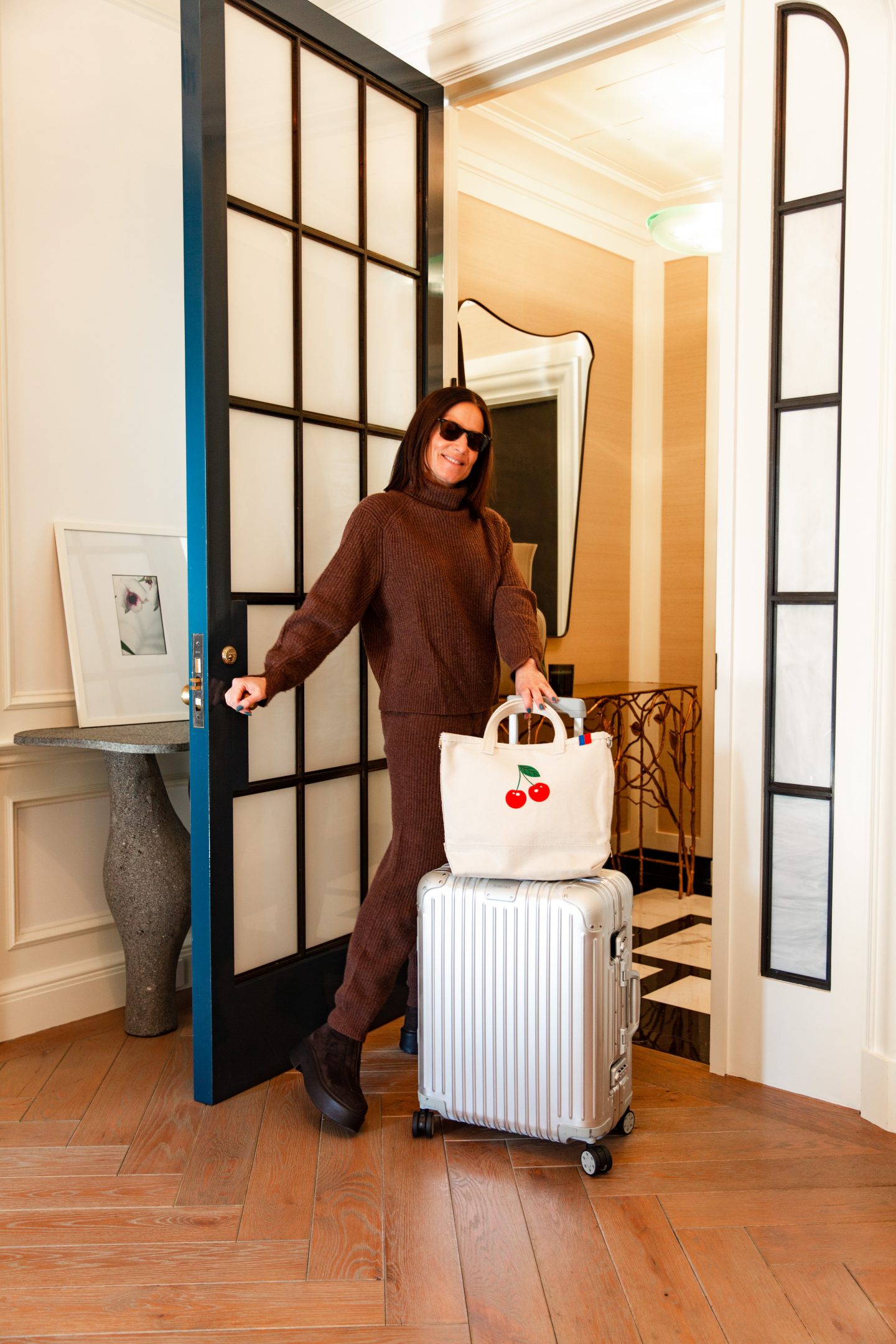 Hope these travel accessories help you stay organized – and stylish – on your future trips!
Wishing everyone a Happy Hanukkah, Merry Christmas, and Merry Everything!
I am so grateful for each and every person that visits FortuneInspired. I truly find pleasure and enjoyment in sharing my favorite finds.
See you all in 2023 and stay safe and healthy!