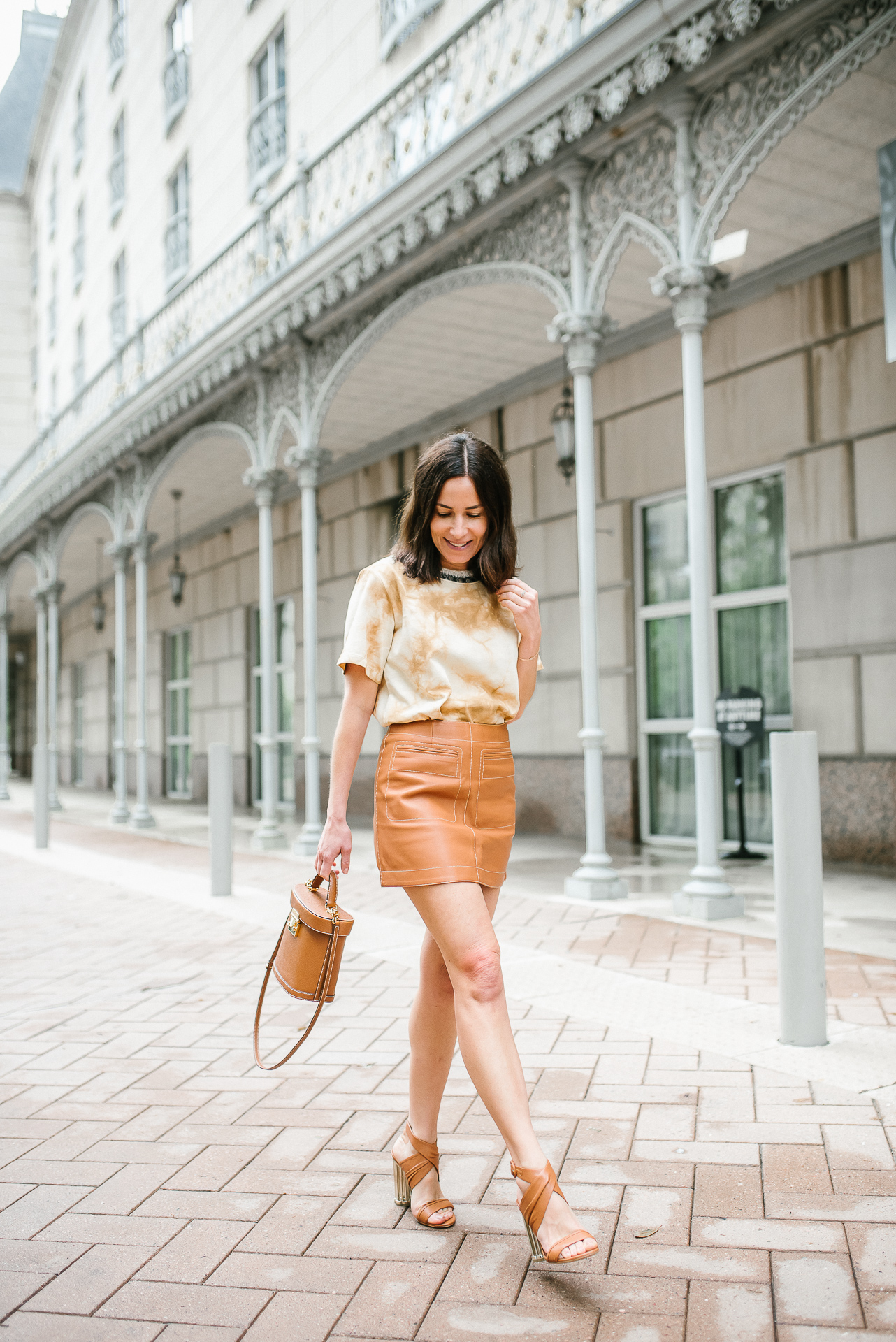 I wanted to share a party outfit I wore when I was in Dallas last month for a blogging conference. I love repurposing older pieces and this tan leather mini skirt from Loewe has been in my closet for a couple of years. In the past I paired this with a white button down and a green cotton blouse by Derek Lam. This year I upped my mini game with this subtle tie dye tee shirt by Philip Lim. I love that the colors in the tee blended well with the skirt and I was able to incorporate a more sophisticated version of the tie dye trend.
Though this skirt is no longer available, Prada makes an amazing suede mini skirt that will work perfectly with this tee.
In general, when putting together outfits, I am mindful of balance. For example, when wearing mini skirts like this one, I'll keep the top a bit oversized and covered (except when I'm on vacation and channeling some flirty vibes). The same is true if I am wearing a crop top. I will wear high waisted jeans or a voluminous pair of pants.
To complete this look, I wore these new favorite tan leather high heeled sandals by Salvatore Ferragamo. You must check out this sculpted metal flower shaped heel, it's a work of art. I'm actually shocked these aren't sold out yet because they're a neutral and can work with almost anything in your closet.
Once again, I reached for my Mark Cross bag (see similar here) which never disappoints.
Good news about this tie dye tee with a wool trimmed collar, is that it's now on sale on the Shopbop site. You can also check out the Net-a-Porter site which is where I purchased mine, if your size is sold out. This tee also comes in a black color way.
This tee also works with a pair of white shorts or cotton pants. Of course denim is always a go.
How would you style this tie dye tee shirt and are you team midi or mini? Please comment below.
Shop the look here: