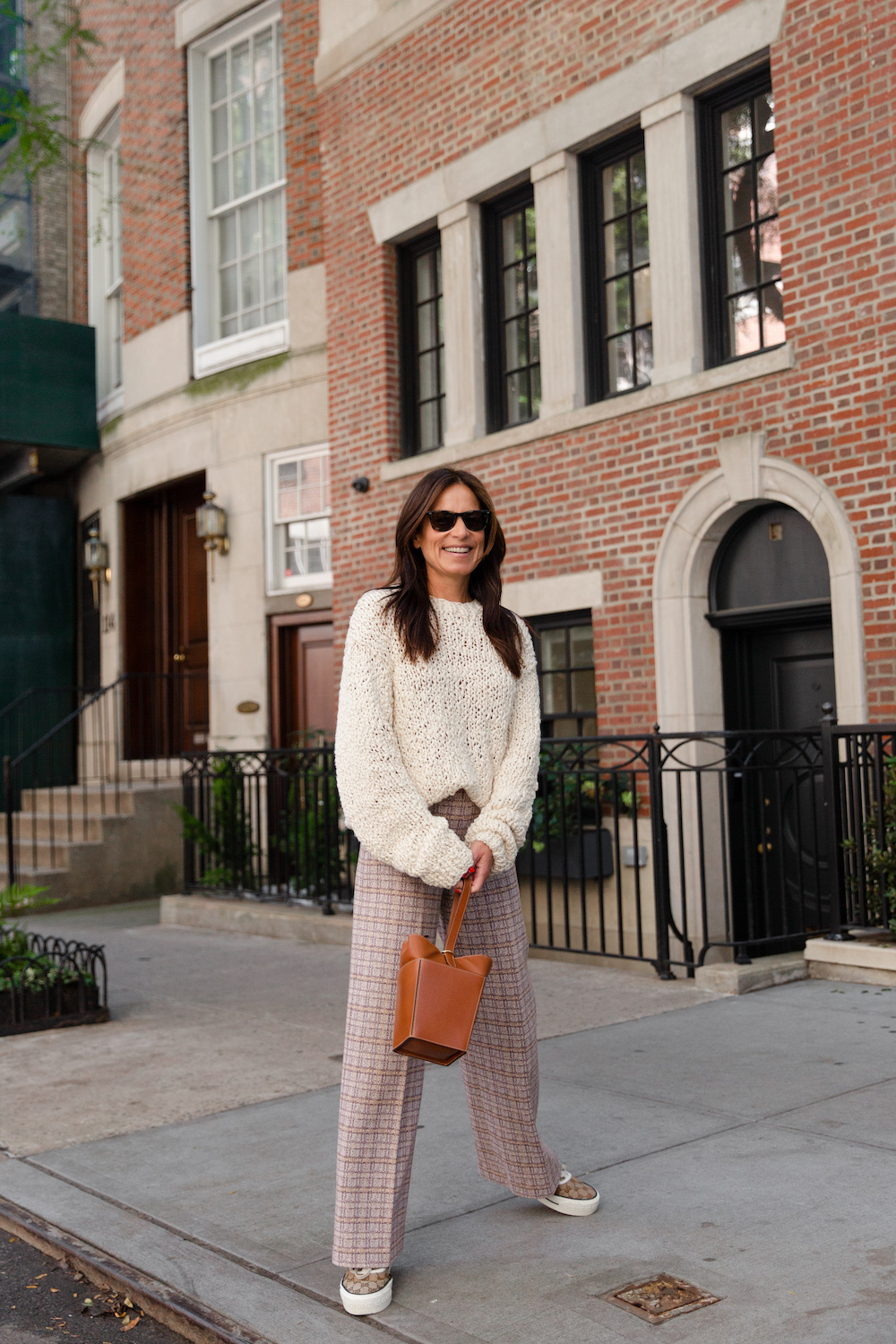 It is officially sweata weatha people!
Below are 7 sweater styles to keep you looking fashionable and for the most part, functional this fall and winter season.
From cable knits to cropped styles and cardigans, I've got you covered!
The Crewneck Sweater

First and foremost is the crewneck sweater. I am swooning over this pine green classic cashmere style by The Elder Statesman. Green seems to be an it color this season and I personally always appreciate a pop of color that adds a bit of character to my outfits.
Loulou Studios' relaxed (slightly oversized in my opinion) wool and cashmere blend sweater makes for a great investment this season. Though I bought this for my daughter last fall, we now share it (unbeknownst to her) and I have received quite a few inquiries when I recently posted myself wearing this on Instagram.
My first fall purchase this season was this off-white open-knit organic cotton sweater by The Elder Statesman which has a relaxed/slightly oversized fit and is super soft on the skin. I totally imagine myself wearing this while sipping a hot chai tea latte by the fireplace once the temperature dips.
The Turtleneck Sweater

A black turtleneck sweater is always a classic and a great layering piece. This style from Toteme is made from a wool blend and is designed for a slim fit. Wear yours with everything from leather jeans, and denim to trousers and mini skirts.
This season, brown is the new black and I am here for it. Vince's brown mock neck ribbed knit top is fitted and can be worn alone or with a blazer for some preppy vibes.
Pro styling tip: Layer your fitted turtlenecks over a white or denim button-down shirt.
The Cropped Sweater

Crop it like it's hot with Miu Miu's barely there cropped cable knit sweaters. I am equally obsessed with her camel brown, grey, and red cashmere blend knit sweaters. I recommend pairing this with a high-waisted trouser or skirt to minimize skin exposure. However, if channeling your inner Brittany is your thang, then go for it…No judgments here – you do you!
Pro tip: Miu Miu's sweaters happen to be more cropped than usual so if you dare to bare, I suggest wearing a bralette underneath, or layering over a cropped white button-down.
The Striped and Geometric Sweater

If you plan to hit the slopes out west or abroad this season, definitely check out this "natural" cashmere turtleneck with navy stripes and this cozy orange striped wool blend turtleneck. Both are by Moncler and perfect for après skiing.
I've had my eye on this color block mohair sweater by Ulla Johnson for quite some time now which makes me feel like I should click on add to cart by now. I always appreciate a print + a pop of color. I also appreciate how the Shopbop site styled this sweater over a printed fitted mesh turtleneck also by Ulla for an extra dose of cool.
The Sweater Vest

I always enjoy a bit of prep in my step. If you too love a good collegiate moment, I highly recommend the sweater vest this season.
This oatmeal cotton blend mock neck style by Alex Mill is a smart inVESTment, pun intended. I'm also a fan of Kule's black v-neck sweater vest.
The Cardigan:

"It's a cardigan but thanks for noticing". If you're a die-hard "Dumb and Dumber" fan, you'll know this line from this classic slapstick '90s movie.
Lots of cardigans to choose from… Khaite's brown cashmere cardigan is super chic and the fit is fab. It feels good on the skin too…
Lemaire's grey beige wool blend cardigan is more of a mid-weight cardigan and falls to the hip for more of an oversized style.
I'm also drawn to this rose cable knit puff sleeve cardigan with pom-pom accents by Sea. The only thing that makes me hesitate is when thinking about a coat that has sleeves wide enough for this sweater to fit through.
The Pee-Ka-Boo Sweater

Pee ka boo, I see you this season with Isabel Marant Etoile's open work pattern knit wool sweater in beige. I love a romantic feminine style any day.
This beige cut-out cable knit mohair-blend sweater is equal parts sweet 'N sexy. Another winter winner.
The Reformation & Nili Lotan Sweaters

Sweaters by The Reformation and Nili Lotan deserve their own special category. I love their sweaters and they're a classic, easy and effortless go-to season after season. Here are my favorite styles from both brands!
Happy fall y'all and can't wait to share more winter fashion this October. Keep warm and carry on!