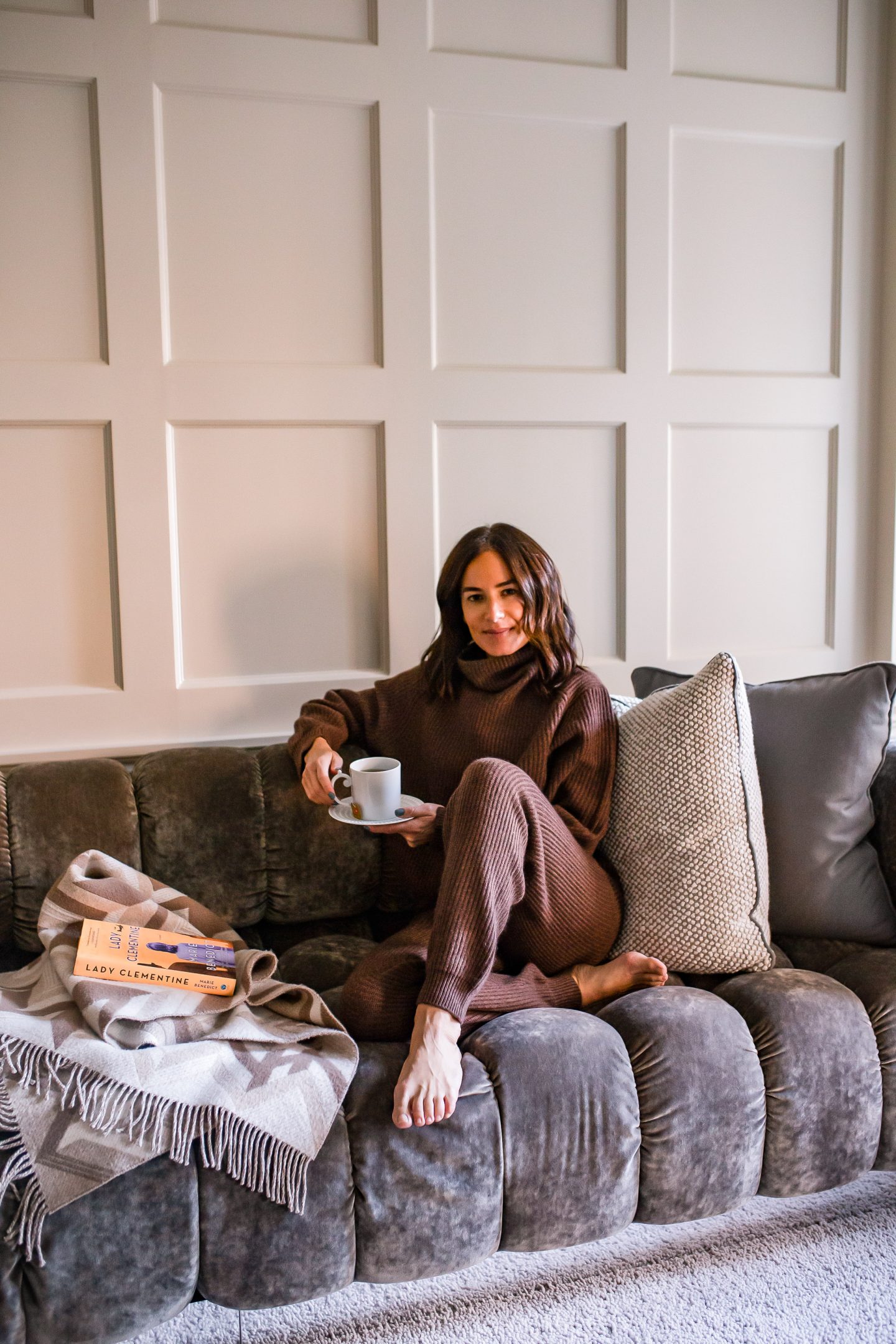 Cozy days (and nights) indoors, warm blankets, and fuzzy socks = my current mood.
There is nothing like curling up on the sofa with a great read or watching a Hallmark movie and/or…. spending some extra time under the covers with a hot cup of your favorite tea in hand to staying cozy. Just a few visuals to get you in the mood for today's post!
Seriously though…now that I am spending more time at home than usual, I've been gravitating towards furry slippers, fuzzy-wuzzy socks, and oversized cardigans.
Below are some awesome cushy and comfy options to keep you toasty all winter long.
Fur The Win
Let me begin by saying that I am equally obsessed with all these slippers.
I currently own these extra cozy shearling Birkenstocks which are heavenly. I wear them around the house and would totally wear them outdoors weather permitting.
Another favorite slipper of mine is this fluffy backless cream color slipper from Ugg. I have a pair from years and years ago and I am definitely due for a new pair!
I also included the chicest of options by California based lifestyle brand, Jenni Kayne. I've been obsessed with this brand for years. If you're not familiar, definitely worth checking out the site here. On a side note, her blog was one of the first I started reading way back when…
Shop slippers here:

It's A Cardigan But Thanks For Noticing
This is a funny line from the movie Dumb & Dumber. If you've never watched this movie, just ignore my heading, but – I do recommend that you watch this movie though…
An oversized cardigan seems to make everything better on a cold winter's day. I'm actually wearing this oatmeal-colored sweater coat by Jenni Kayne while sipping hot water with lemon and honey as I write this post. As a matter of fact, I am wearing my Birkenstock slippers too! Ya see? I walk the walk guys. This oversized cardigan is from a few years back but that's what is great about this brand, it is classic, well made, so it has longevity.
Ugg offers a fleece version that looks just as cozy at a gentler price point.
I'm also really into this cool style check sweater coat by Madewell.


Shop cardigans here:

Tea & Fuzzy Socks
I bought my first pair of fuzzy socks 6 years ago at the Miraval boutique shop in Arizona and I still wear them till today. They keep my feet warm, especially in the evenings when my feet tend to feel the coldest. I just came across these peppermint plush ones by Falke which I bought on Black Friday. For a bit of LA luxe, these cashmere tie-dyed socks by Elder Statesman are vibes.
Shop socks here:

The Snuggle Is Real
There are so many snuggly and inviting blanket options to choose from. They're all equally cozy and uniquely crafted. I literally got you covered – literally with Jenni Kayne's alpaca basketweave throw and this Pendelton print blanket one that has me thinking of apres-ski coziness in Aspen.
Shop throws & blankets here:

Stay Warm
I always love a good beanie. My favorites are from White + Warren and Elder Statesman.
I happened to have come across a few other good ones while doing research for this post. This Donni sherpa beanie is the perfect solution to the upcoming wintry temps.
Shop beanies here:

Let Your Soul Shine
Last but not least, the most important ingredient to staying cozy is a hot cup of cocoa, coffee, tea, or hell, champagne. I believe it all tastes that much better in a ceramic coffee mug. Below are some cute options to add a little cheer to whatever beverage you fancy.
Shop coffee mugs:

Hope you all keep warm and carry on this winter season!
xoxo,
Shop the post here: