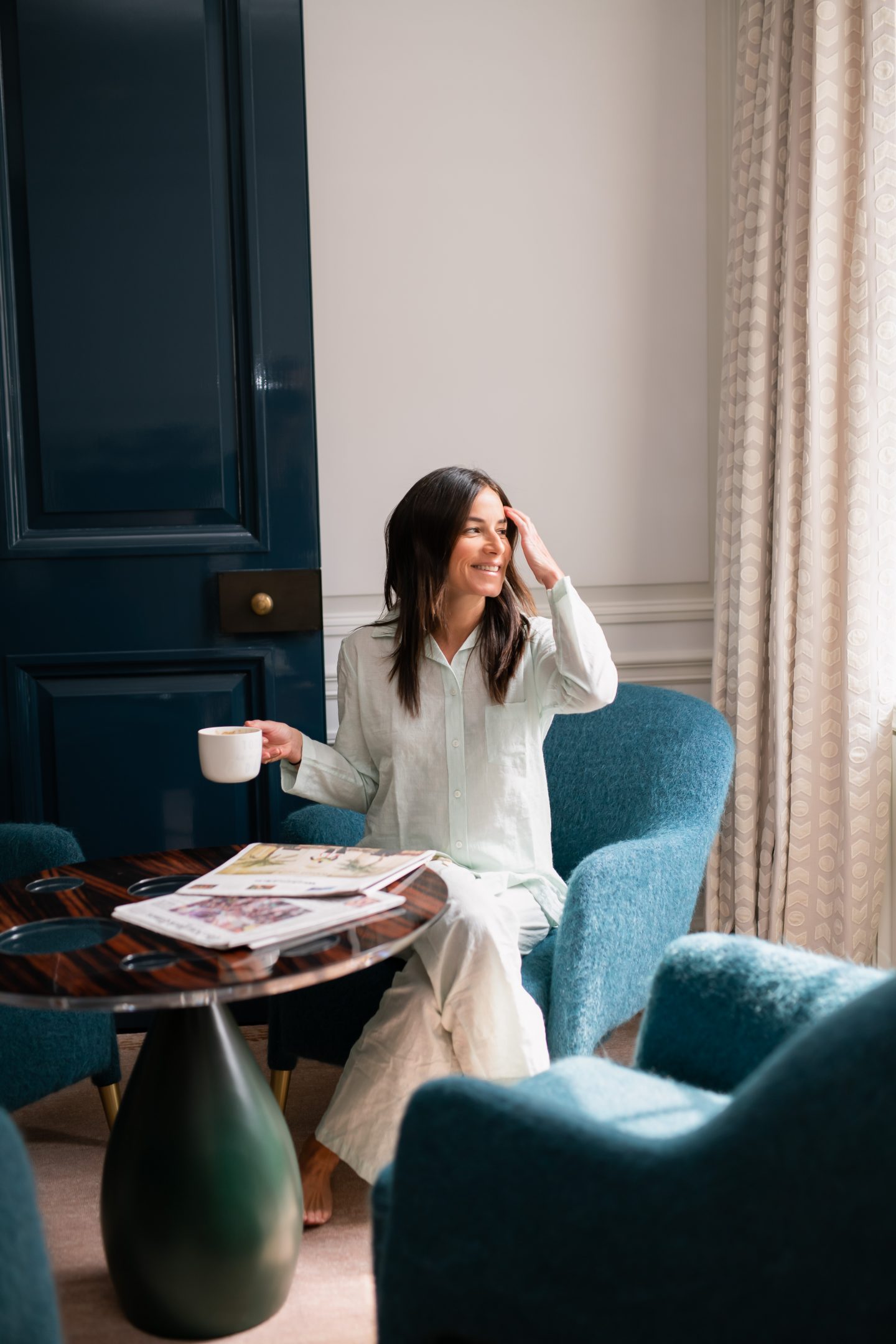 When I was younger as in my 20's and 30's, my sleepwear consisted of sweats and tees. Sometimes they were so worn, they'd have rips in them.
Sleepwear was just not a thing I used to invest in. However, I realized this bedtime look was perhaps not the most attractive, plus there is something civilized, grown-up, and simply refreshing about putting on a crisp set of pj's, so… slowly but surely I began investing in pajama sets, and let's just say I have amassed a pretty nice collection of sleepwear. And yes, I feel better about myself and put together, even for bedtime.
My favorite sleepwear brands of the moment are Eberjey, Skin, Morgan Lane, Sleepy Jones sprinkled with a couple of linen sets from Sleeper.
For those who are looking for sleepwear on a budget, my super fashionably cool niece, Sonia Shalom @nadineoliviasmama, swears by Aerie.
Like everything else in my wardrobe, I am mindful about my purchases and I tend to choose quality over quantity.
For the spring/summer season, I purchased this Eberjey blue and white stripe lightweight cotton pajama short set and I love it. I first wore these pajamas in Miami last week and they were the perfect warm-weather set. As most of you know by now, I am also a lover of stripes and these just feel so soft and comfortable against the skin.
Any and all of Morgan Lane's satin floral print pajama short sets are on my wish list. A few months ago, I bought one of their floral silk long sleeve nighties after binge-watching one too many episodes of The Crown. Their pajamas make me feel like a royal Brit. They're also super feminine and très romantique.
Shop pajama short sets here:

I'm definitely big on pajama pant sets as in this new mango printed jersey pair by Eberjey. Eberjey's sleepwear drapes so beautifully on the body, they are so cozy and this fruity print just makes me so darn happy. Eberjey's pajamas also happen to wear really well. This print comes in a short set and a cropped relaxed silhouette. Another new fun print from Eberjey is their palm tree print, the perfect pair to channel those tropical vibes, and if you just so happen to live in Palm Beach, is there a more perfect pair?
I came across this pastel green Japanese crinkled organic cotton pajama set by Pour Le Femmes which has me dreaming of vacation. They have a super relaxed fit and seem like the type of pajamas I'd want to live in all summer long.
Lately, I've been a sucker for yellow, and this pastel yellow silk satin set by Skin is calling my name. These seem so luxurious and perfect for lounging/sipping my morning coffee on the front porch.


Shop pajama pant sets here:

Last but not least is the nighties category. Though I do tend to wear pants and shorts, I found a few cute dresses for those who prefer this style.
As I mentioned earlier in the post, I have this long sleeve satin floral nighty by Morgan Lane. They come in a few different styles and prints and they're all adorable.
Another cool nightdress I came across is this striped menswear-inspired one by Ninety Percent. I especially love the "sleep better" embroidered words by the pocket.
Shop nighties here:

I seriously want all these pajamas from this round-up! I'd take all of these to bed (wink wink).
What's your favorite style and print?
Please share below!
Shop the post here: