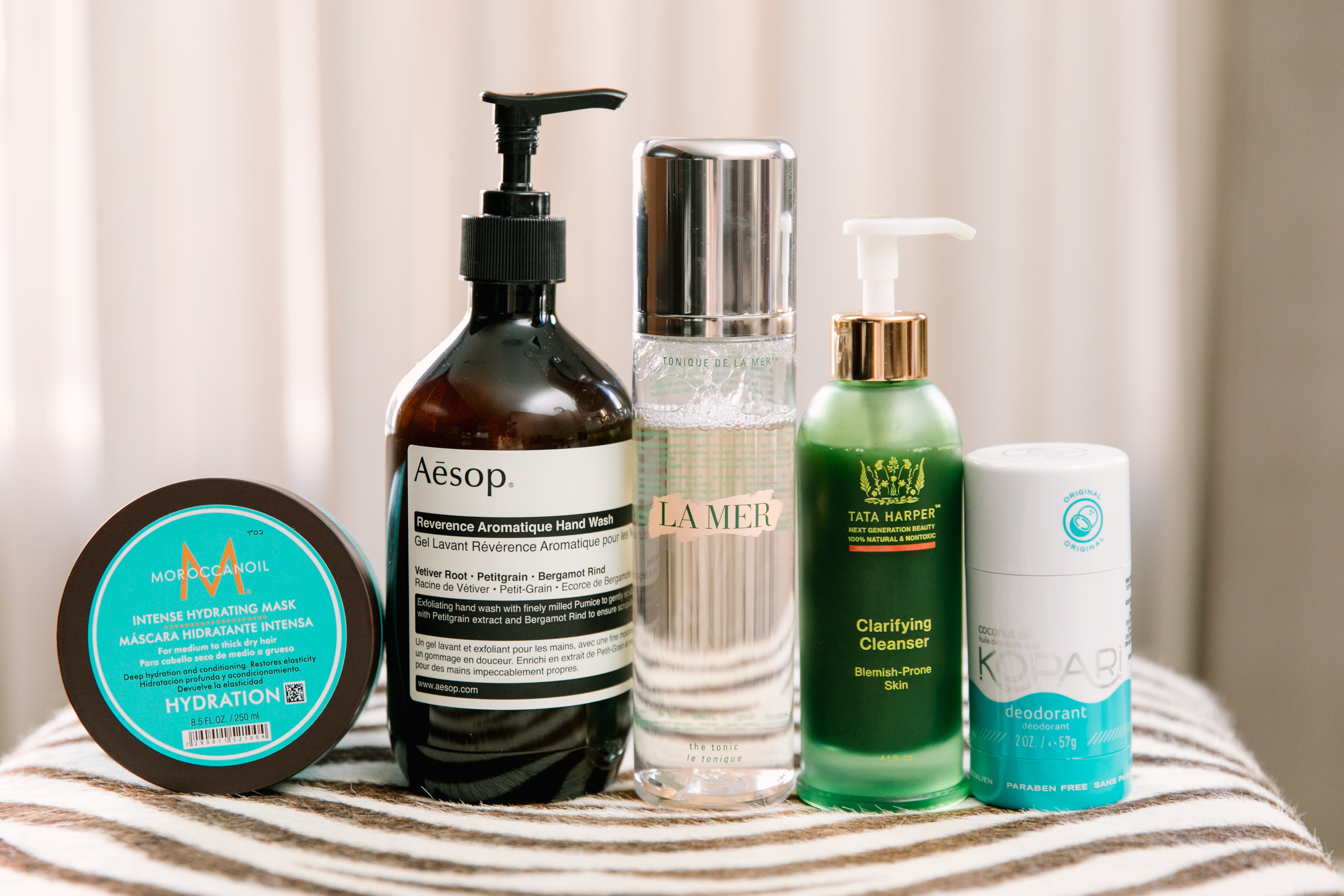 I haven't done a beauty roundup in a while so I thought I'd share some new additions to my already crammed medicine cabinet. These products do not necessarily fall in the glamour department but they are skincare essentials that keep me well maintained.
Earlier this year, I was turned on to Aesop's Aromatique Handwash.  This spa-like scented soap made from mandarin, rosemary, and cedarwood has a grainy texture that makes me feel like I received a hand scrub each time I wash my hands. It's excellent for dry and frequently washed hands because it doesn't strip the skin.  I've mentioned this before, but I'll say it again…I'm a sucker for packaging and I love the organic, simplicity of this one. You can find this skincare essential in my guest bathroom when you come visit. 
In keeping with the botanical theme, I recently began using this clarifying face cleanser by Tata Harper.  This all natural face wash was recommended for deep cleaning without stripping your skin. The added mint definitely perks me up in the shower. Important to note – this skincare essential should be applied to dry skin followed by rinsing with water. At first, this took a bit of maneuvering since I use mine in the shower.
I use this La Mer toner morning and evening after I wash my face and before I apply my La Mer moisturizer. To be perfectly honest, I'm not sure what toners actually do, but I've been using them for most of my adult life so why stop now? Actually, I just looked up the benefits of this product now and it's said to calm, tone, and purify. I can't argue with that!
Though I'll always be loyal to Kai deodorant, I received this Kopari deodorant in a beauty gift bag and I have been a fan ever since. It's like a tropical party in my armpits thanks to the coconut scent. I am a stickler when it comes to aluminum free deodorant and this product is all natural and actually keeps me fresh and dry for the most part.
Lately, my hair has been dryer than usual. While I was at Saks on their second floor beauty level which is beyond beautiful, one of their experts highly recommended this Moroccan Oil Intense Hydrating Hair Mask as a must-have. I haven't tried this yet so I'll keep you posted!
What are your favorite skincare essentials? Please share below!
Shop skincare essentials here: