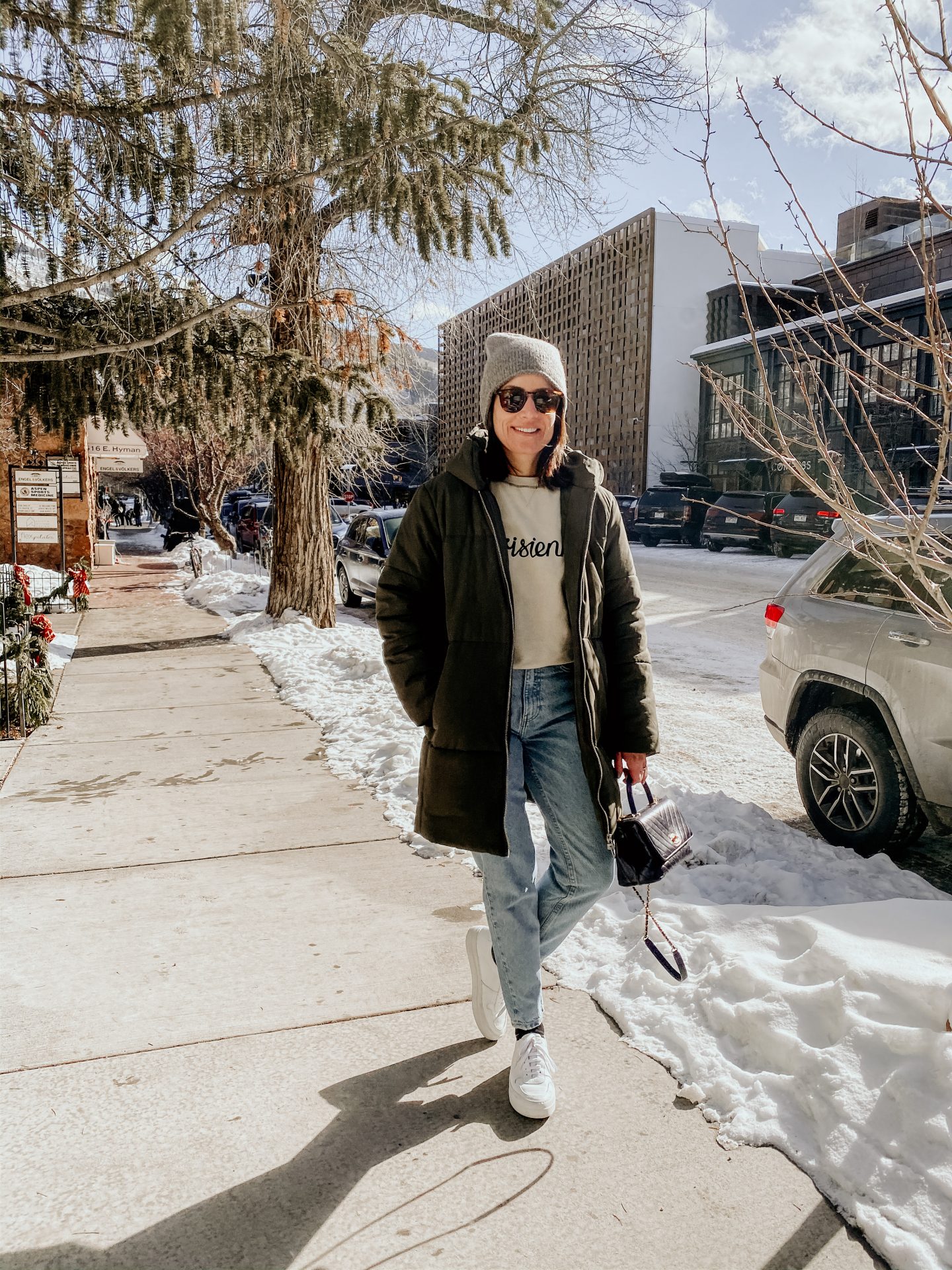 I just returned from a snowboarding vacation in Aspen. Yes, I could have called it a ski vacation, but at 45 I'm claiming bragging rights that I'm a boarder. A few of you asked me to do a post on ski vacation essentials so here goes.
First and foremost is the base layer. I exclusively wear Hot Chilly's crew neck long sleeve tee and tights in black. These ski vacation ski essentials have kept me toasty forever. As an FYI, I re-wear these twice or three times during my stay. You may or may not be grossed out by this but I don't think it's necessary to have a new pair for every day of skiing – it also allows for more room for more aprés ski clothing.
The next ski essential is Falke's wool-blend ski socks. They are an investment but worth it – think super comfortable, sweat-wicking, wear really well and I like the aesthetic. I know we're talking socks here, but having the right ski vacation essentials are important. In full disclosure, I re-wear socks as well.
Next on is a fleece or stretch-jersey turtleneck top which gets layered over my base layer. I've been wearing three very basic tops forever in ivory, red and grey all by Bogner. I think I will invest in 2 new ones the next time I go boarding. It's definitely time.
Shop base layers here:

The last layer includes boarding pants and a jacket. For as long as I can remember, I wore the same white pants by Bogner and plaid jacket by Fire and Ice which I loved, but last season, I treated myself to a new outfit from Performance Ski in Aspen.
I wear the same outfit every day. That's how I've always rolled. If you guys are headed out west to Aspen, Snowmass or Vail, I highly recommend checking out their shop. Otherwise, check out their site and you can call them to place phone orders. Otherwise, Net-a-Porter has a fabulous selection. Here are some of my favorites.
Shop jackets here:

Shop ski pants:

Shop ski suits here:

Shop ski sweaters here:

There are 7 ski vacation accessories that are essential to keeping you warm. First is a fleece neck warmer. When it's windy and super cold, I pull this over the bottom part of my face which prevents windburn and dry red patches.
Goggles are also a must when it's snowing and cold. Certain lenses will also help with flat spots on the mountain that make it hard to see where you're going.
Please do not think of snowboarding or skiing without a helmet. It is actually uncool to go on the mountain without protecting yourself.
I also wear a skull cap underneath my helmet for 2 reasons – I rent a helmet so it's more sanitary and the skull cap provides an added layer of warmth.
Gloves or mittens are obviously a ski vacation essential and if its super cold out, definitely think about investing in glove liners.
Hand and toe warmers will save the day when the temperatures dip into the single digits. On this past holiday, we got lucky with the warmer temps (think 30's and 40's) but normally, I can't board the mountain without these toasties.
Tissues, lip balm, and sunnies always get thrown into the many pockets of my boarding jacket.
For Aprés ski inspiration, you can check out my post on winter sweaters here and the perfect winter puffer here.
Happy shopping and remember to think function…and fashion!
Shop the post here: