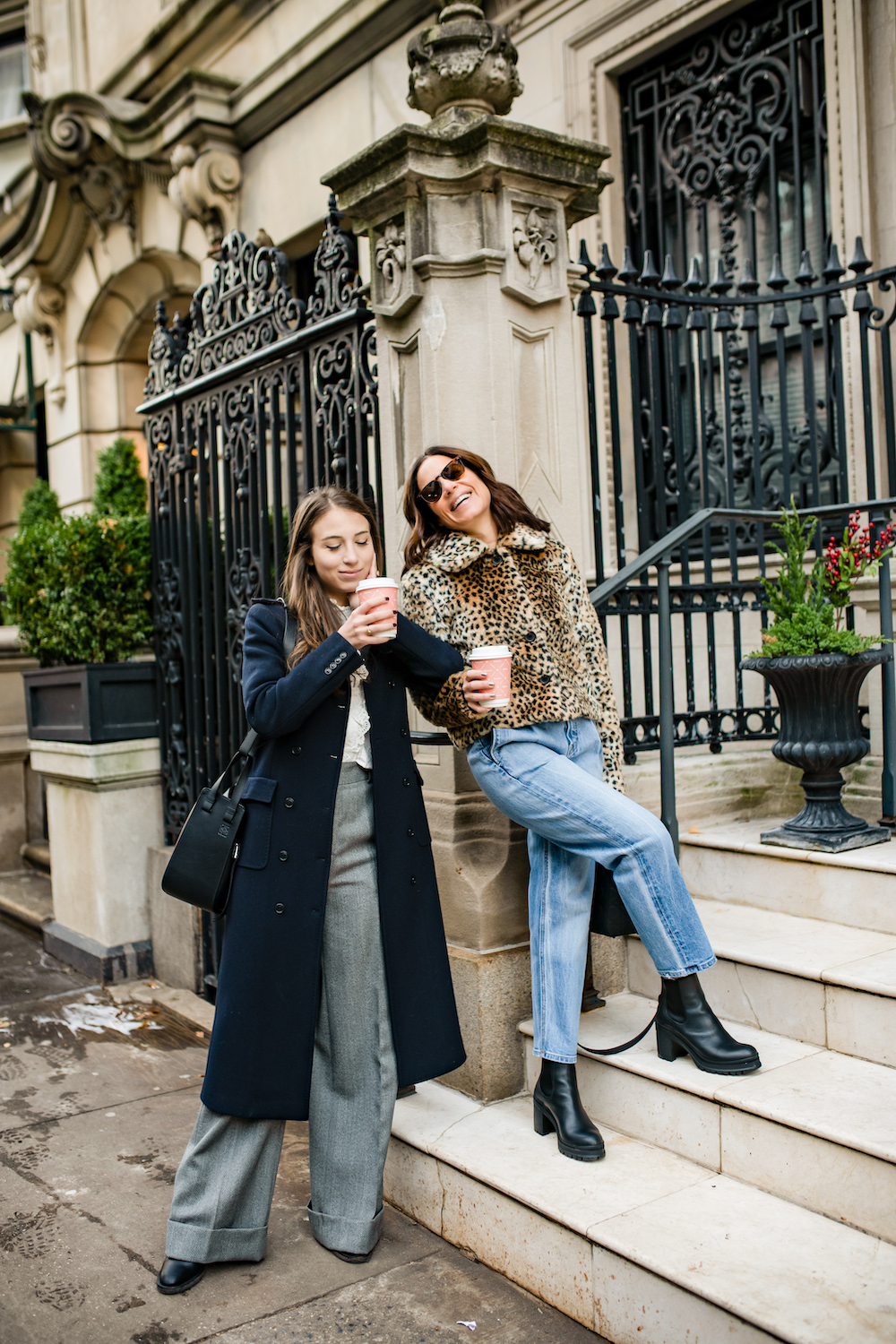 I'm not quite sure how I Ianded on Michal Kurtis's Instagram page @mkurtis, but I will say, it was obsession at first sight. Her captions are super witty and always make me smile. Her badass attitude, her super sense of style and her all-out adorableness are enough for me to continually click the heart on her IG posts. Our stars must have been aligned because our mutual dear friend @AdiHeyman, set us up on a blind date. A couple of months ago, we met at Ralph's Coffee and 2 hours went by in a flash. Michal in real life, is sweet, down to earth and downright smart. I was so excited to meet with her and even went on a second date!
I thought I'd share my conversation with Michal, former director of the fashion office at Barney's, soon to be wi-fi (wifey). I excitedly await this witty one's next professional move. I can only say, Kurtis is a catch!

How did you get into the fashion field?
Michal Kurtis: I was heavily involved in art in middle and high school. Despite taking every class possible (tennis, piano, ballet, you name it), my pencil drawing class is what stuck (6 years!). Since I mostly focused on fashion illustration, I thought the end goal was to be a designer, but as soon as I took sewing lessons to prepare for the entrance exam for FIT, I knew it wasn't for me. Instead, I applied for the business program, got accepted, moved to NYC, and the rest is history.
Who are your style icons?
MK: I don't necessarily look to "icons" since most celebrities and public figures have stylists behind them. Instead, I find inspiration from my peers. I'll see the way they style a piece in a totally different form than I would, and they inspire me to grow out of my comfort zone and consider pieces I otherwise wouldn't think I'd identify with.

How would you describe your style?
MK: This is a tough one because it is always evolving but if you bump into me, chances are I'll be in an A-line skirt, or anything pleated. You could say I'll always have a hint of prep, but I'm not one to stay traditionally classic.
With winter upon, how do you stay fashionably warm?
MK: I am figuring this one out. I am not meant for the winter. I am Texan and I hate pants. My current strategy is to stay indoors for 8 months. Help!
Having worked at Barneys for the past 5 years, what fashion lessons can you share?
MK: It depends on what kind of lessons, but the best thing you can do for your personal style is to figure out what works with and for your body type and stick to it.
Don't underestimate the power of an amazing tailor. Also, don't undermine smaller, lesser-known designers. Look at Instagram. Everyone looks the same, everyone is wearing the same thing. There is often a big talent behind a small brand. 
5 Must-have beauty products?
MK: Augustinus Bader Rich Cream. I cannot stress this enough. It's pricey, but it works and I will never let it go.
Hanacure face mask before a big event – twice a week and I swear you have a facelift. It has to be witchcraft.
Anything Aesop for the body. If you've seen my stories, you know my bathroom is like a shrine to Aesop. I use their body wash, handh and body cream and hand wash. I love the scents, and so does my fiancee so it makes it easy to share. Product real estate is currency and I'm pretty sure some of my friends come over just to use it.
Makeup Forever Full Cover Concealer. This was the only product I was willing to purchase outside of Barneys since we didn't carry it. My under-eye circles are of vampire proportions, and not only when I'm tired. They're hereditary and here to stay. When I tell you I have tried everything, I have TRIED EVERYTHING. I have used this stuff for years. My cat-eye eyeliner is my signature. I've been wearing it since I've discovered makeup at 13. Everyone asks me about what I use and it's Stila Stay All Day Waterproof Liquid Eyeliner. Don't ask any other questions because THIS IS IT.
Bonus product because I have to throw this in there: I hated the idea of adding another step to my routine, but once I was turned on to YSL's Touche Eclat Blur Primer, I never looked back. I refuse to apply my makeup without it.
Shop Michal's favorite beauty products here:

Favorite restaurants?
MK: My fiancee is a foodie, so I have had the luxury of being a plus one at some great spots around town. We love Frenchette in Tribeca for date night. L'Artusi in the West Village is always a good idea. I've just asked him out loud and he wants to include Carbone and Estela. He has my upvote.
Where and how do you come up with your witty captions?
MK: My brain has a pun function that doesn't turn off. It's a byproduct of being sassy and having an answer for everything. But now that my followers expect a witty caption, I have the pressure of posting one with every photo, so there are times when my best pictures don't make it onto the gram. Sometimes I miss being normal and being able to post a photo of my latte with just an emoji and calling it a day. I do love that my captions have given me a niche I unintentionally fell into, and I have a newfound love for wordplay and language in general.
New Year's resolutions?
MK: I always say I will get more organized but LOL. I'd love to get better at cooking so I can live up to being a #wifeyforlifey, and also because I really love the art of food but have never gotten good at it. I also want to get smarter about my fashion purchases. I buy passion pieces, but not items I truly need to create a wardrobe. I never have anything to wear, but at least I have a neon yellow Sacai cape that I ABSOLUTELY HAD TO HAVE.
Besides fashion, what are your other interests?
MK: Travel, reading, working out, and meeting new people