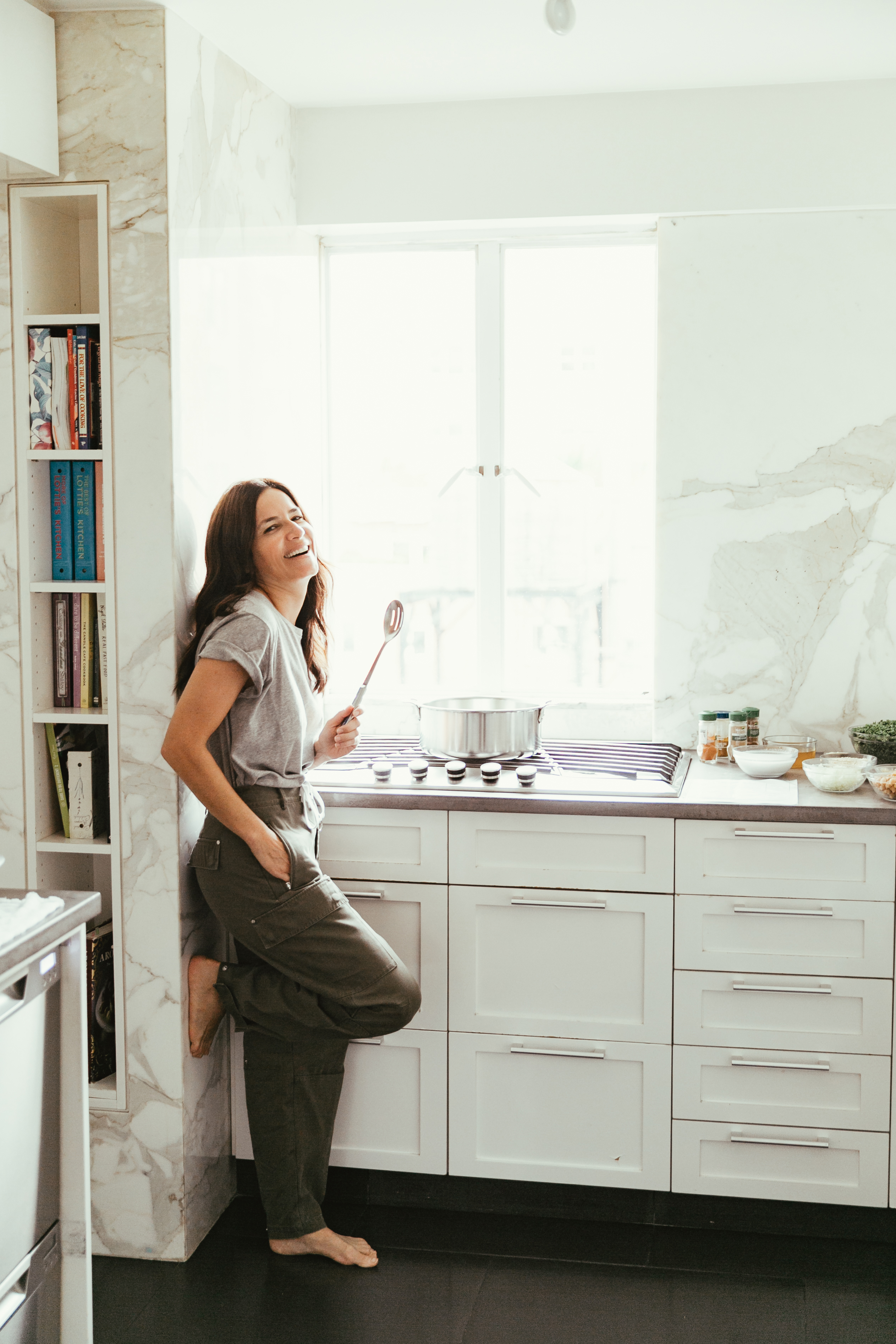 The first time I ate Indian food was 22 years ago when we were first married and lived down the block from Dawat, a well known Indian restaurant. This translates as an invitation to feast, and feast we pretty much did on the average of once a week.
For those unfamiliar with Indian cuisine, think bold and spicy – as in curry, cumin, garam masala and coriander to name a few. Now add some sweetness, a sprinkle of sour and a whole lot of hot and you got yourself a Hindu party on your palette.
These wonderful dining experiences back in the day have inspired me over the years to prepare many Indian curry recipes which added a little spice out of the bedroom and into the kitchen.
By far, the most loved and requested Indian curry recipe recipe is Chicken Curry, compliments of my friend Marcy Sakhai – G-d bless her soul as I must have asked her to text me this recipe at least a dozen times.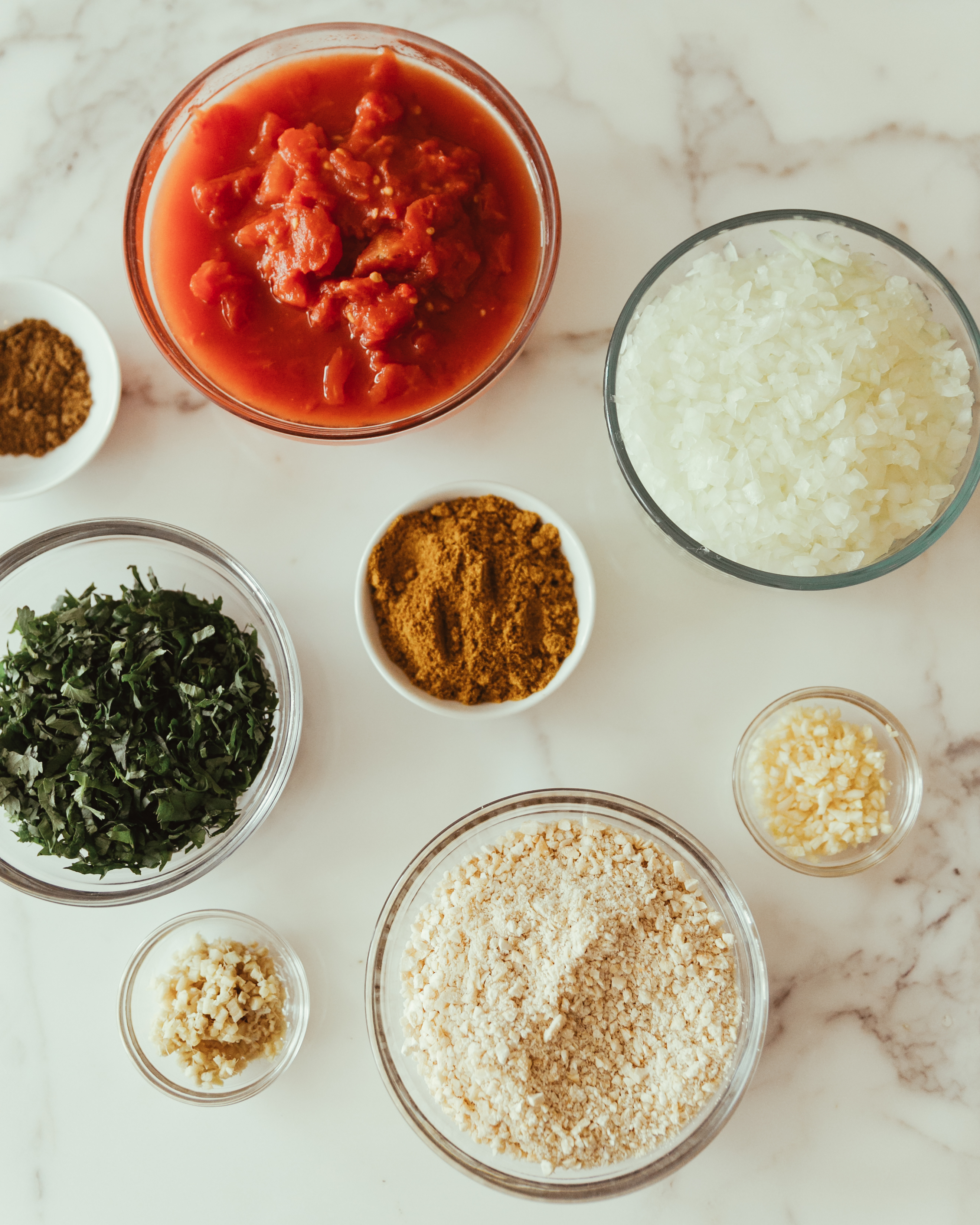 I love this Indian curry recipe because it bursts with flavor, is so satisfying and filling in a healthy way and easy to prepare. I think it's also visually appealing (my photo does not do it justice) and could make for the perfect Christmas dish because of the fresh green coriander and diced red tomatoes.

Though the recipe calls for butter and yogurt, I use olive oil (but one can also use Earth Balance butter). I also swap out the yogurt for coconut milk yogurt alternative to keep the dish dairy free.
One thing this recipe calls for although not listed among the ingredients, is a shower cap. Curry has a way of getting into your hair follicles, not typically not the sexiest scent, especially if you have freshly blown hair as I did when making this Indian curry recipe. I typically serve this dish (sans shower cap) with Basmati rice, but it can also be served with quinoa or on its own.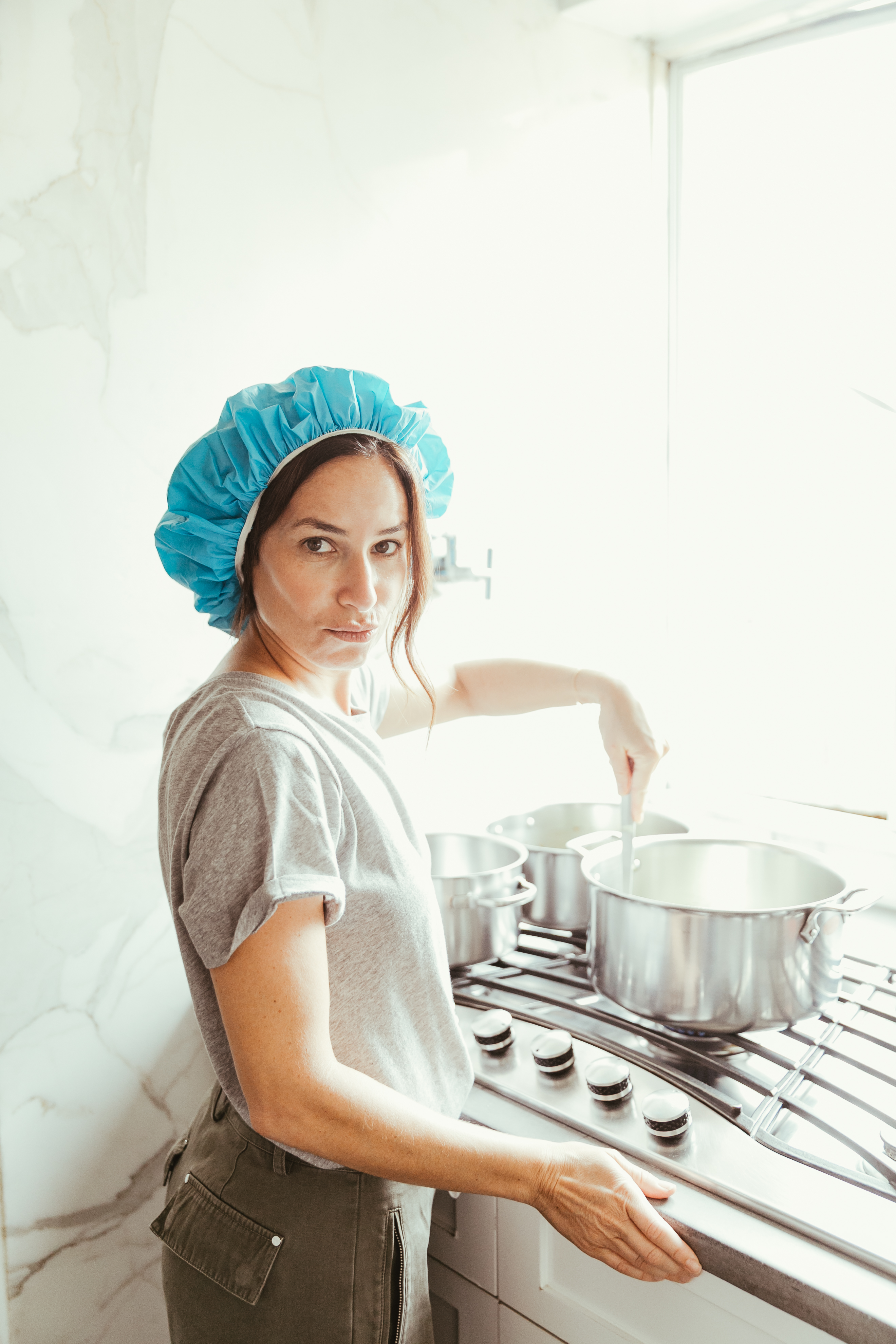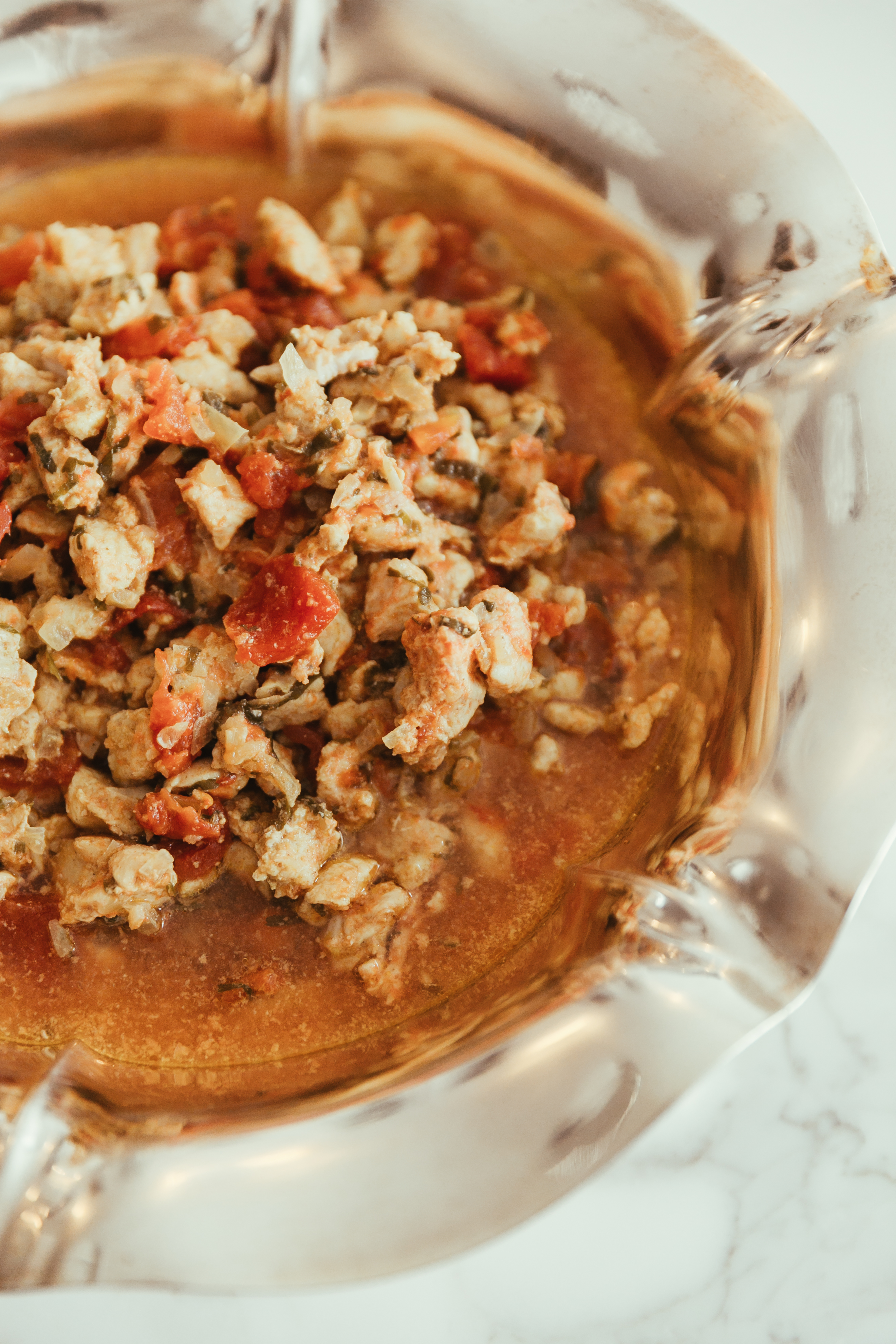 Another Indian recipe I recently fell in love with is a Kale and Chickpea Curry from Goop.com.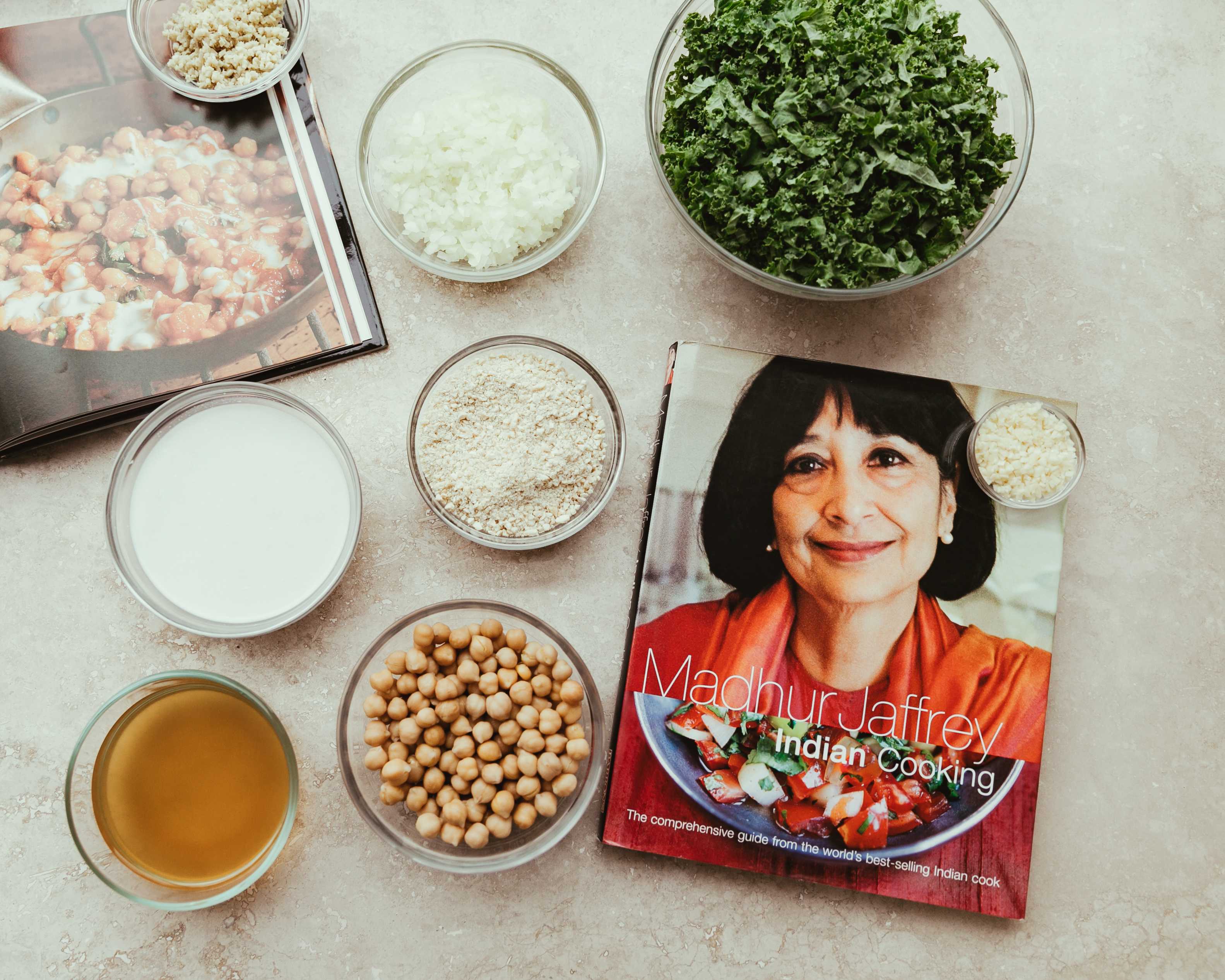 This is also a one Indian dish wonder which I've made twice in 2 weeks. It's healthy and hearty and calls for light coconut milk which makes my brain go ding ding because I salivate at the thought of anything with this saucy ingredient. This dish also goes well with Basmati or Jasmine rice or quinoa.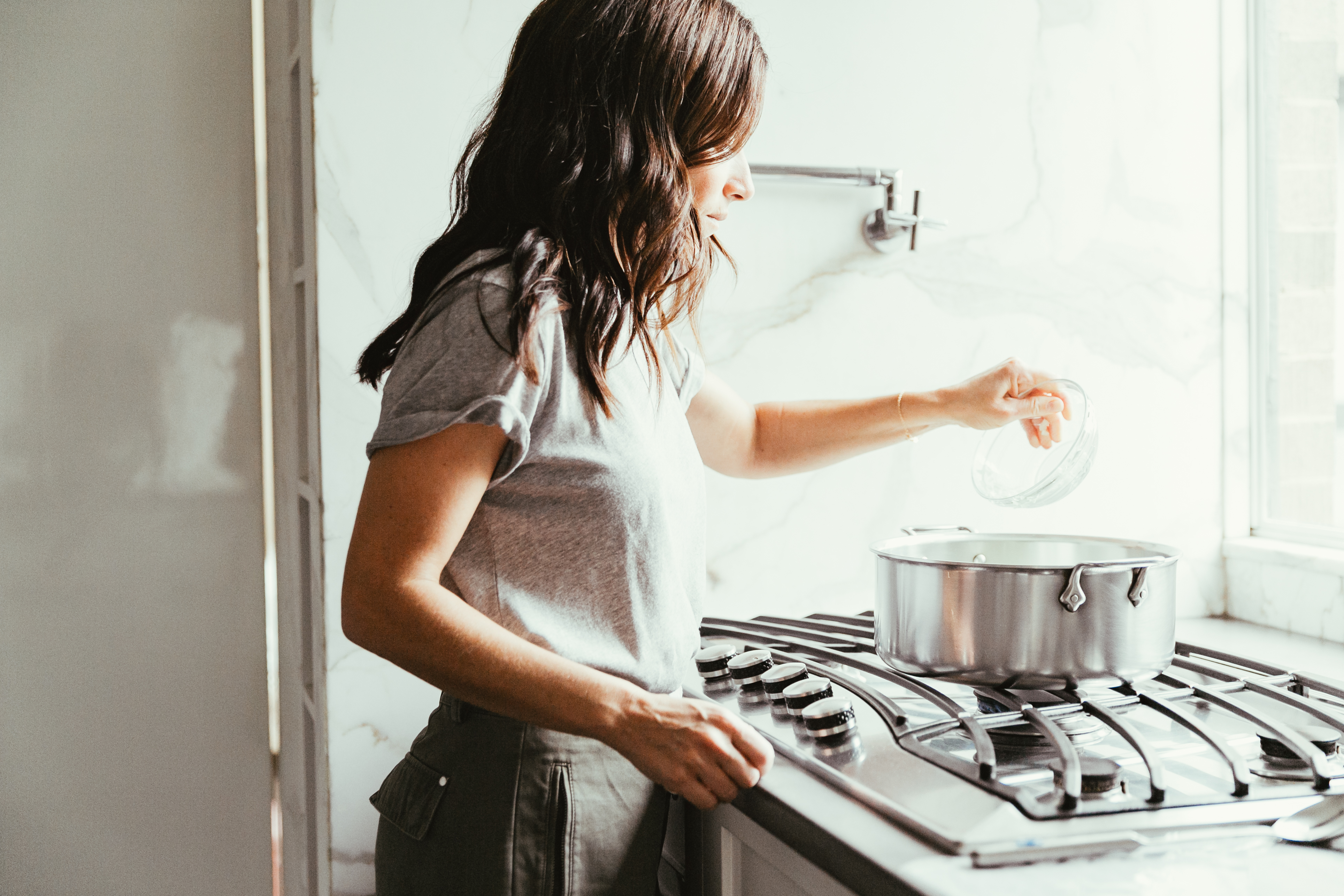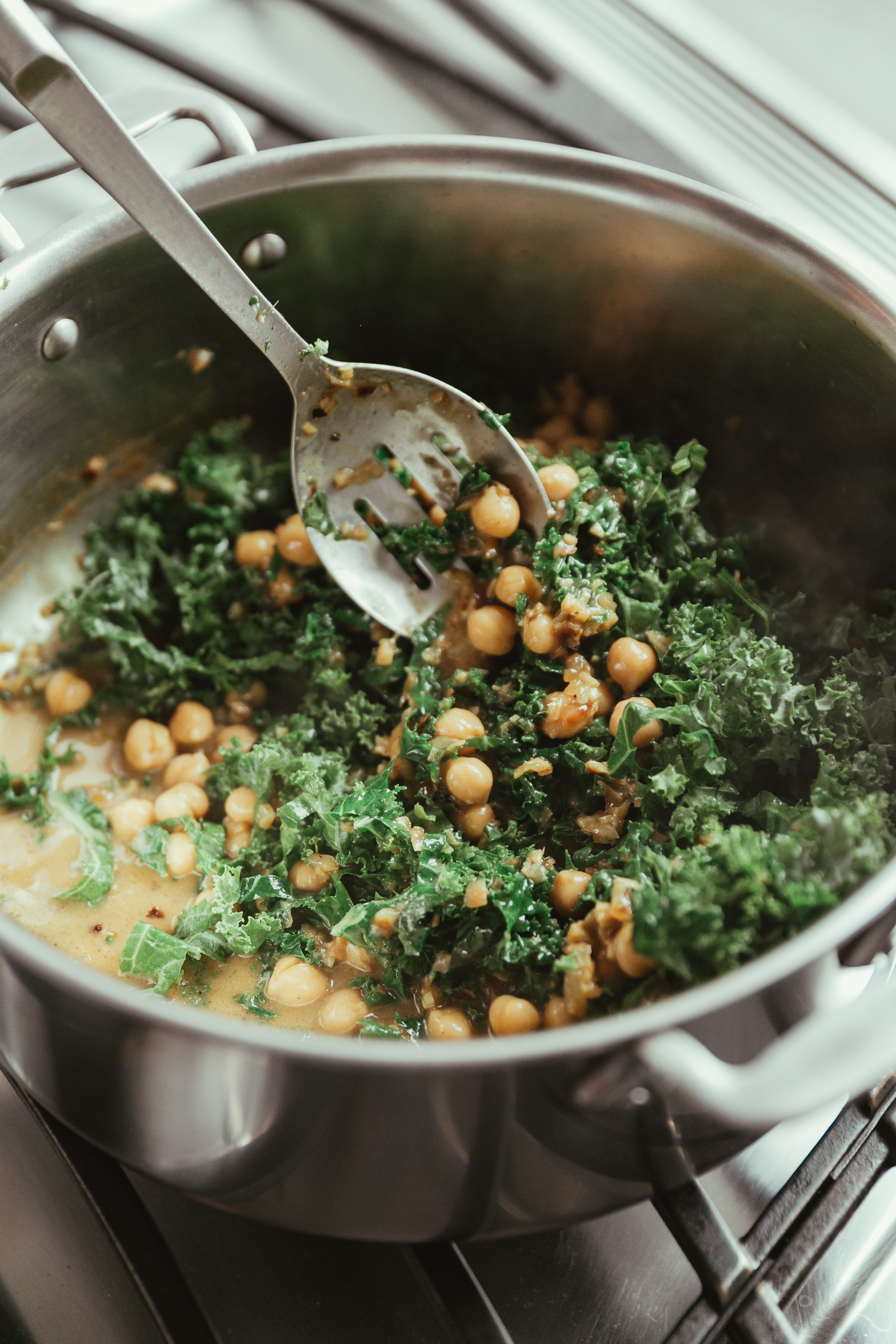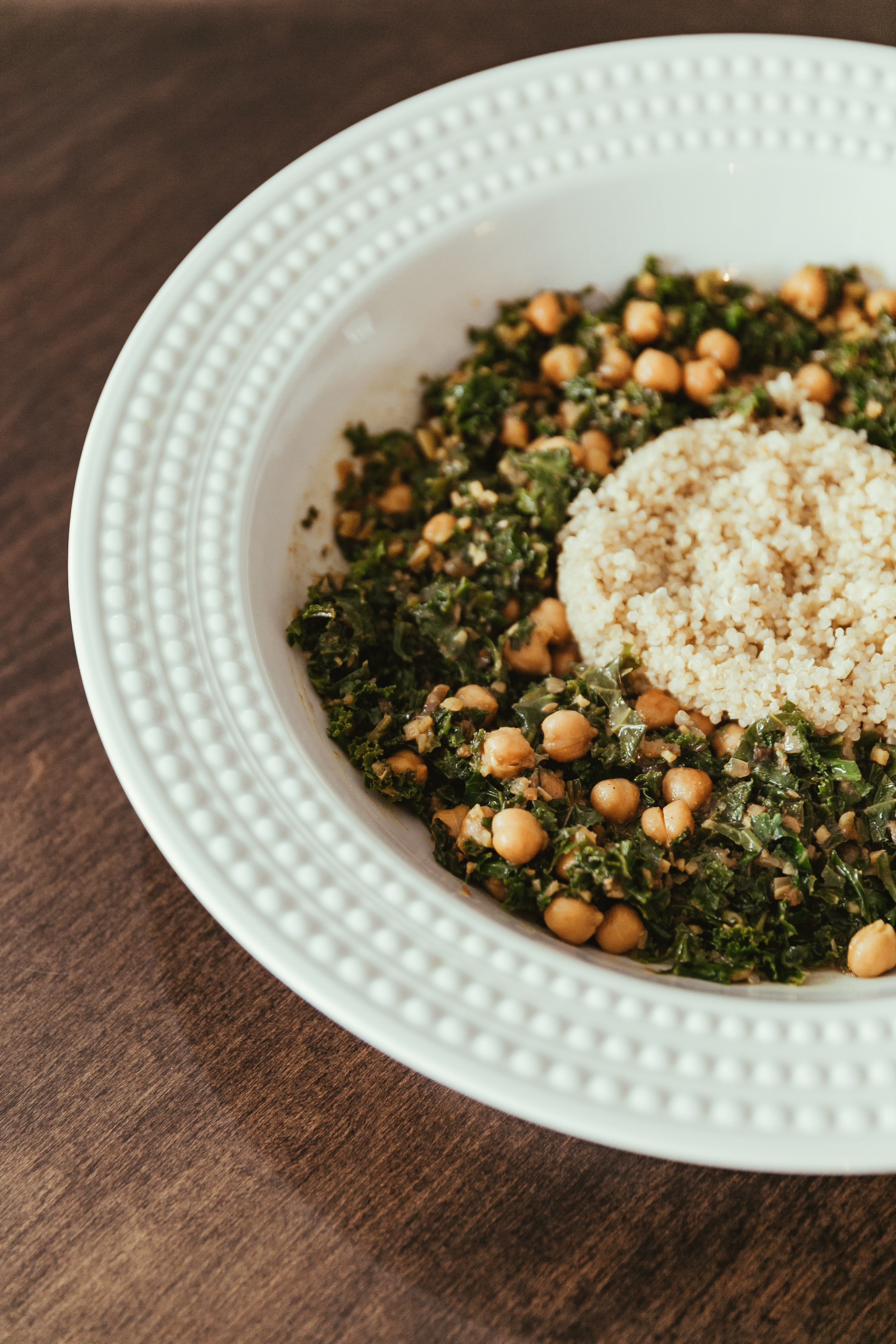 Chicken Curry with Cashews
(Serves 4-6)
Ingredients:
1/2 stick (1/4 cup) unsalted butter
2 medium onions, finely chopped (2 cups)
2 large garlic cloves, finely chopped
1 tablespoon finely chopped peeled fresh ginger
3 tablespoons curry powder
2 teaspoons salt
1 teaspoon ground cumin
1/2 teaspoon cayenne
1 (3 1/2- to 4-pound) chicken, cut into 10 serving pieces (I use finely cubed chicken cutlets)
1 (14.5-ounce) can diced tomatoes
1/4 cup chopped fresh cilantro
3/4 cup cashews (1/4 pound)
3/4 cup plain whole-milk yogurt
Garnish: chopped fresh cilantro
Directions:
1. Heat butter in a 5- to 6-quart wide heavy pot over moderately low heat until foam subsides, then cook onions, garlic, and ginger, stirring, until softened, about 5 minutes.
2. Add curry powder, salt, cumin, and cayenne and cook, stirring, 2 minutes. Add chicken and cook, stirring to coat, 3 minutes.
3. Add tomatoes, including juice, and cilantro and bring to a simmer, then cover and simmer gently, stirring occasionally, until chicken is cooked through, about 40 minutes. (If making ahead, see cooks' note, below.)
Just before serving:
Pulse cashews in a food processor or electric coffee/spice grinder until very finely ground, then add to curry along with yogurt and simmer gently, uncovered, stirring, until sauce is thickened, about 5 minutes.
Cooks' note:
Curry, without yogurt and cashews, can be made 5 days ahead and cooled completely, uncovered, then chilled, covered. Reheat over low heat before stirring in yogurt and ground cashews.
Chickpea and Kale Curry
(Serves 4-6)
Ingredients:
3 tablespoons olive oil
1 medium yellow onion
4 large cloves garlic, minced
3 tablespoons minced ginger
1 teaspoon garam masala
2 teaspoons curry powder
½ teaspoon ground coriander
1 small pinch cayenne pepper
1 (14.5-ounce) can chickpeas, rinsed
1 cup chicken stock (I use vegetable stock)
1 cup light coconut milk
2 packed cups finely chopped kale leaves (about ½ bunch)
salt and pepper to taste
lemon juice to taste
Directions:
This makes a lot of curry, but it gets better as it sits in the fridge and freezes well, too. Feel free to add more stock and coconut milk if you like a slightly soupier consistency.
1. Heat olive oil in a Dutch oven over medium heat. Add onion and a pinch of salt and cook for 7 minutes, or until it begins to soften. Add garlic, ginger, and spices and cook for another 2 minutes.
2. Add chickpeas, stock, and coconut milk and bring the mixture to a boil.
3. Reduce to a simmer and cook gently for 10 minutes to allow the flavors to meld.
4. Add the kale and another pinch of salt and simmer gently for 10 more minutes.
5. Season to taste with salt and pepper and finish with a squeeze of fresh lemon juice just before serving.