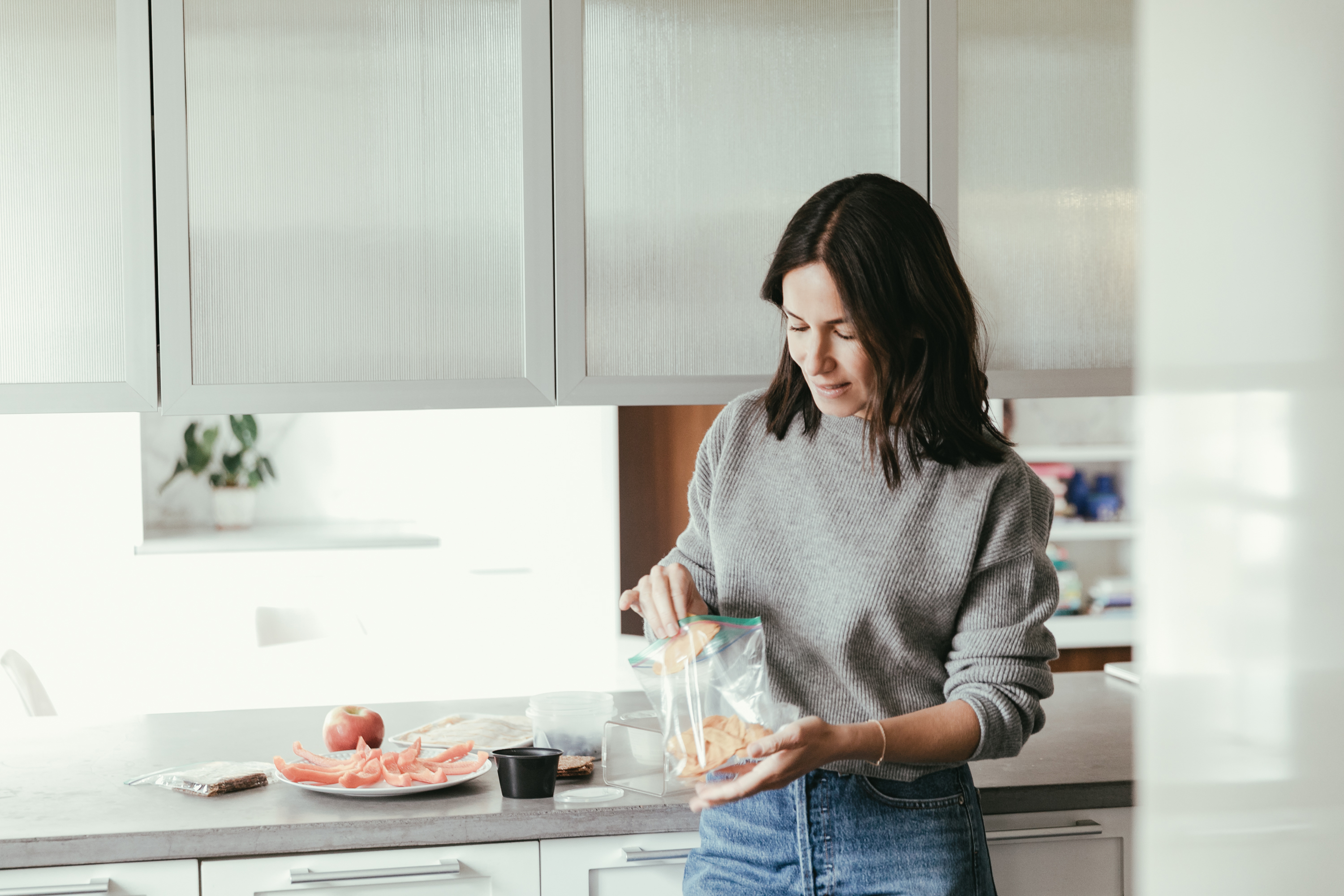 If I thought packing my suitcase for two weeks in Australia was a feat, try preparing meals for a family for a 26 hour flight plus travel time.
As always, before a trip, I try to eat clean, especially in anticipation of heading to the beach, so I tried to be mindful of what foods/snacks I packed. I don't like, nor do I eat airplane food, so traveling prepared is a must.
I thought I did a pretty decent job of packing healthy travel snacks so I wanted to share.
My first meal on the flight was lunch so I prepared turkey lettuce wraps with mustard and avocado. Dinner was Raisin GG Crackers with peanut butter and some cut vegetables. The next morning I ate a No Cow Peanut Butter Chocolate Chip Bar for breakfast and some fruit and lunch was more raisin GG's with Greek cream cheese topped with everything spices. I also brought along some almonds, blueberries and dried mango for healthy travel snacks.
While I was satisfied with my choices and got off the plane feeling light, I decided to ask the pros, Neda Varbanova of Healthy with Nedi and Tanya Zuckerbrot of The FFactor Diet, how they stay on track when traveling.
For the flight home, I had to rely on what was available at the airport so in addition to some extra bars that I brought from home, I bought greek yogurt and nuts.
Here are some questions I posed to Neda and Tanya.
What healthy foods "sit well" when you are crouched in a seat for long periods of time?
NV: Go for something light such as steamed zucchini with grilled salmon or iceberg salad with grilled tempeh. Avoid simple carbs like white rice and bread while on the plane as you won't be able to burn them off.
TZ: When you're going to be sitting on a plane for a long period of time, its best to choose foods that are nutrient dense and will help keep you full. Try to bring snacks on the plane that are high in both protein and fiber. You want to bring snacks on the plane that will keep you full and prevent you from grabbing that complimentary bag of pretzels.
I recommend eating something small at least every 3 hours to prevent you from becoming ravenous. I recommend bringing portable foods that can sit out for longer periods of time without refrigeration, like apples, pears and raw vegetables like baby carrots, broccoli, celery, cucumber and snap peas.  Other items that travel well are fiber cereal, high fiber protein bars or GG crackers with protein like turkey or low-fat cheese, like The Laughing Cow Cheese.
2. Airlines provide meals and snacks. Is it a good idea to eat their food and snacks or totally bring your own food?
NV: I personally prefer to bring my own food as most airlines use too much sodium to enhance flavor and that can cause water retention. You don't want to get off the plane super bloated, plus you are in total control of the ingredients when you bring your own food.
TZ: Most airline meals and snack boxes have more than 1,000 calories. Pack your own snacks or shop the airport for healthier choices. My favorite travel snack is a GG sandwich with turkey, lettuce tomato, and mustard. If I'm in a pinch and have to purchase something at the airport, I like beef jerky and maybe a piece of fruit for a combo of lean protein and fiber. Some airport delis or restaurants also offer grilled chicken or a garden salad with dressings on the side, both of which are generally good choices.
With that being said, be wary of the offerings at the airport. While airport terminals now have a plethora of healthy options like at Cibo Express, there are still those cinnamon buns, buttery pretzels, and bags of chips and candy everywhere in between. Even items that seem healthy, such as sandwiches found at Au Bon Pain can be loaded with high-fat condiments like mayonnaise and garnishes like bacon, which can pack as much as 700 to 800 calories and more than 20 grams of fat per sandwich! The extra step of preparation, packing a snack or making an educated choice, will guarantee you are set up for a successful travel day.
3. Any suggestions on how to pace yourself regarding meals and snacks on a flight? Portion size?
NV: If you are going overseas then I would recommend packing a meal plus a snack. A salad with protein and a high fiber bar such as Raw Rev Glo. They are great because not only are they super flavorful but they are vegan, low carb, low sugar, high protein and high fiber. The high amount of fiber and protein will keep you feeling full. A much better option than snacking on a bag of chips or popcorn. For a shorter flight, I love GG sandwiches. I'll make 2 sandwiches using 4 high fiber GG crackers and top them with vegan cream cheese, smoked salmon and sliced cucumber.
TZ: If you tend to go overboard with portion size, it would be best to pre-portion your snacks in Ziploc bags and give yourself one option for every 3-4 hours of travel.
Some great portable snack options include: fresh fruit, high-fiber protein bars (No Cow, Raw Rev, Kirkland bars), raw nonstarchy vegetables (which are a free food on F-Factor), and bottled water.
4. Can you give some suggestions of what meals/snacks to bring along for a long flight that are weight conscious?
NV: Hard boiled eggs, gg sandwiches, fiber/protein bars, kale chips, seaweed chips, unsalted pistachios, sliced veggies, and salad with protein.
TZ: Other than what is stated above, you could opt for a low fat or fat free Greek yogurt, which is often sold at airport food stands. Greek yogurt is packed with protein. Pair with a high fiber cereal for crunch, and it will help keep you full for hours.
Many airport stores sell large bags of nuts mixed with dried fruit.  While nuts in moderation, are great sources of heart healthy fat, one serving may range from 130-160 calories and 13 grams of fat. Many bags contain as many as 10 servings! Make sure that if you are having nuts, to measure them out, then put the bag out of sight.  One serving of nuts is about 1 ounce (23 almonds, 49 kernels of pistachios, or 30 peanuts).
If healthy food is nowhere in sight, you can always grab a sandwich and take the protein, like turkey, ham, or chicken and put it on 4 GG crackers. This makes for a filling "sandwich" that packs 16 grams of fiber and will keep you satisfied for hours.
The last thing you can't forget while traveling is to hydrate. Due to the lack of humidity on an airplane, dehydration is very common. Dehydration symptoms may include headache, low energy and hunger, all of which may lead you to reach for unhealthy snacks.  Avoid dehydration by bringing a water bottle with you on the plane, and always say yes when the flight attendant asks if you want more.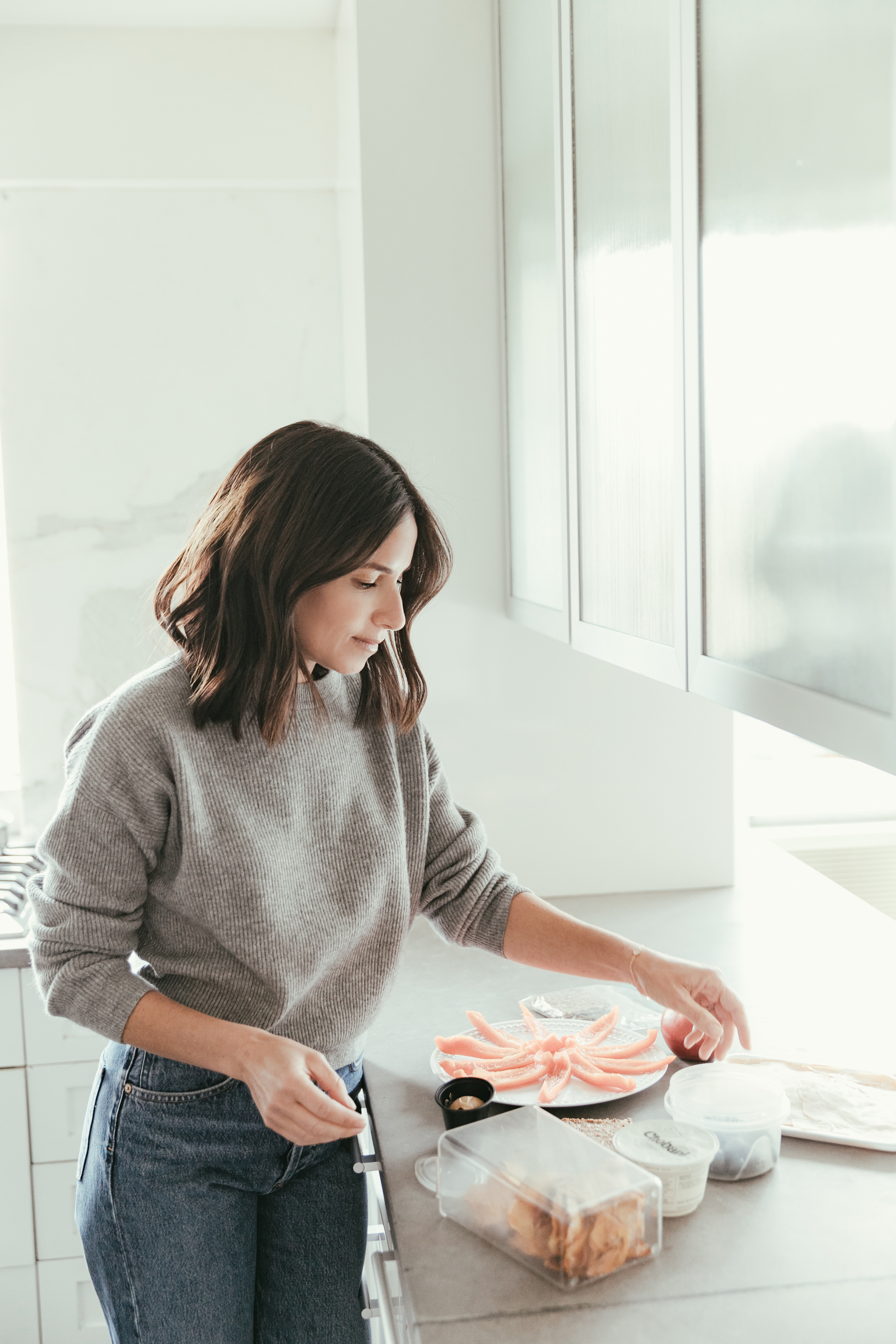 Shop the post here: