With Thanksgiving and the holiday season upon us, it's easy to overindulge with heavy rich meals. This is not to say, you should not enjoy the festivities but it's nice to incorporate healthy holiday recipes to maintain a balance and to hit the reset button with.
A salad is always a part of our nightly meals and it's the one dish my entire family agrees on. I'm always switching it up to keep things interesting, so I'm always on the hunt for new recipes.
This Green Salad with Shaved Radish, Sesame, and Lemon-Soy Vinaigrette, caught my eye because my husband is a fan of Asian based dressings. The recipe calls for less than 10 ingredients, all of which I can pronounce, and nothing too exotic to make this recipe intimidating.
This light and clean recipe pairs well with fish or meat and prep time is 10 minutes – doesn't get better than that!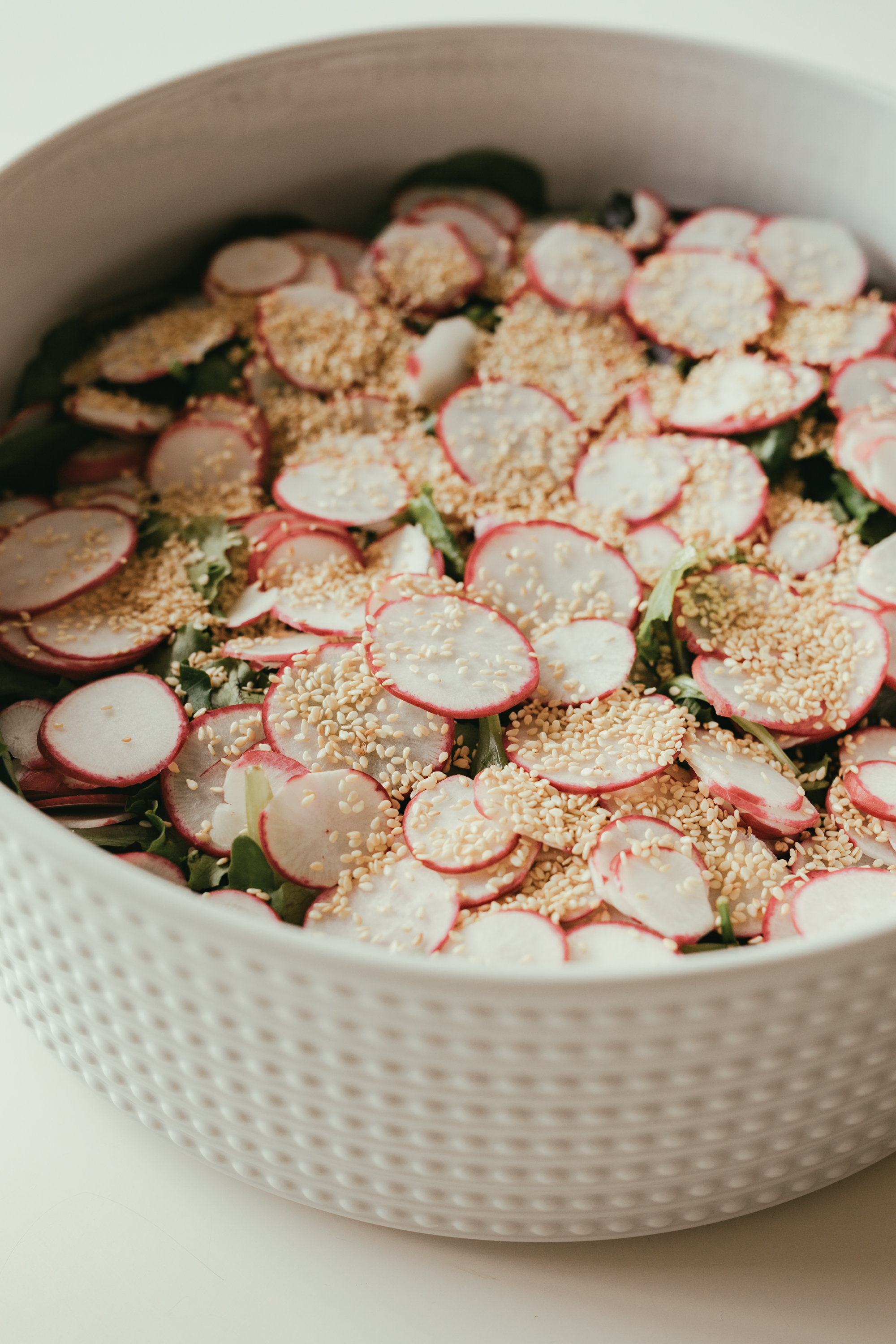 Green Salad with Shaved Radish, Sesame, and Lemon-Soy Vinaigrette
Serves 8
(Shape Magazine)
Ingredients:
1/4 cup fresh lemon juice
3 tablespoons extra-virgin olive oil
2 tablespoons reduced sodium soy sauce
1 pound mixed salad greens
1 bunch small radishes or 1 small daikon radish thinly sliced
2 tablespoons roasted sesame seeds, preferably a mix of black and white
Kosher salt and freshly ground pepper
Directions:
In a large salad bowl, whisk the lemon juice, oil and soy sauce until emulsified
Add the greens, radishes, and sesame seeds. Sprinkle lightly with salt and pepper.
Gently toss until greens are even coated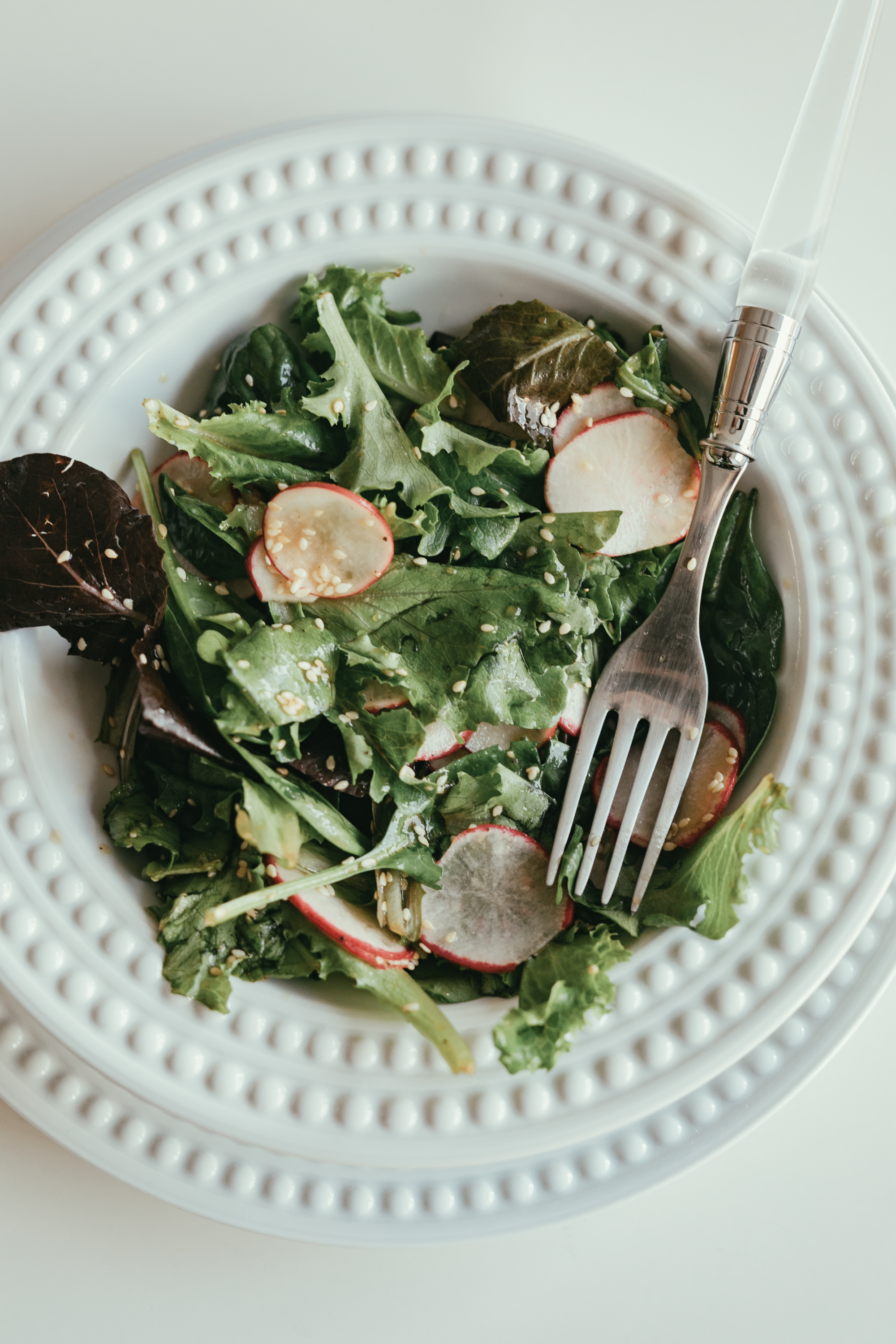 This next healthy holiday recipe, Chickpeas and Kale in Spicy Pomodoro Sauce, is the perfect alternative to those craving a pasta dish but without the added carbs. Though I prefer this as a side dish, it can stand alone as the main event. This recipe also calls for two cans of chickpeas, but next time I make this, I'm thinking to double the kale and only use one can of chickpeas. Talk about getting your greens in…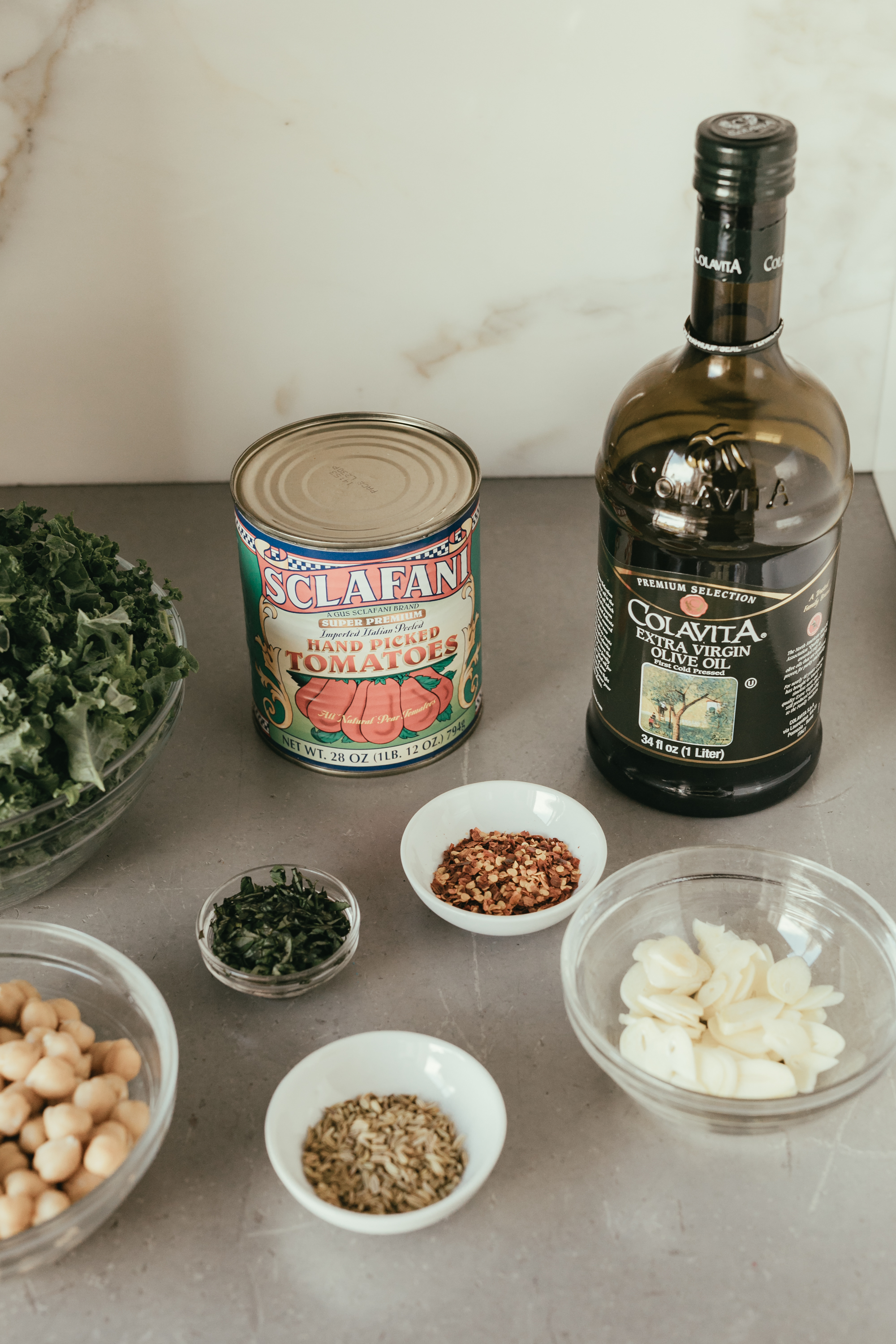 Chickpeas and Kale in Spicy Pomodoro Sauce
Serves 4
(Food&Wine)
Ingredients:
1/2 cup extra-virgin olive oil
5 garlic cloves, thinly sliced
1 (28-oz.) can whole peeled Italian tomatoes, crushed by hand
1 tsp. crushed red pepper
1 1/2 tsp. fennel seeds
Kosher salt
1 (8 oz.) bunch lacinato kale, stemmed and chopped
2 (15-oz.) cans chickpeas, rinsed and drained
Torn fresh basil and marjoram, for garnish
Finely grated pecorino Romano cheese, for serving
Directions:
Heat oil in a large saucepan over low heat. Add garlic, and cook, stirring occasionally, until very fragrant but not browned, about 5 minutes.
Add tomatoes, red pepper, fennel seeds, and a generous pinch of salt period.
Cook over medium-low heat, stirring occasionally, until tomatoes break down and sauce is thickened, about 25 minutes.
Stir kale in sauce, and cook over medium to low heat, stirring occasionally, until kale is wilted, about 3 minutes. Stir in chickpeas, and cook until heated through, about 3 minutes. Season with salt, spoon into bowls and garnish with basil and marjoram. Top with cheese, and serve hot.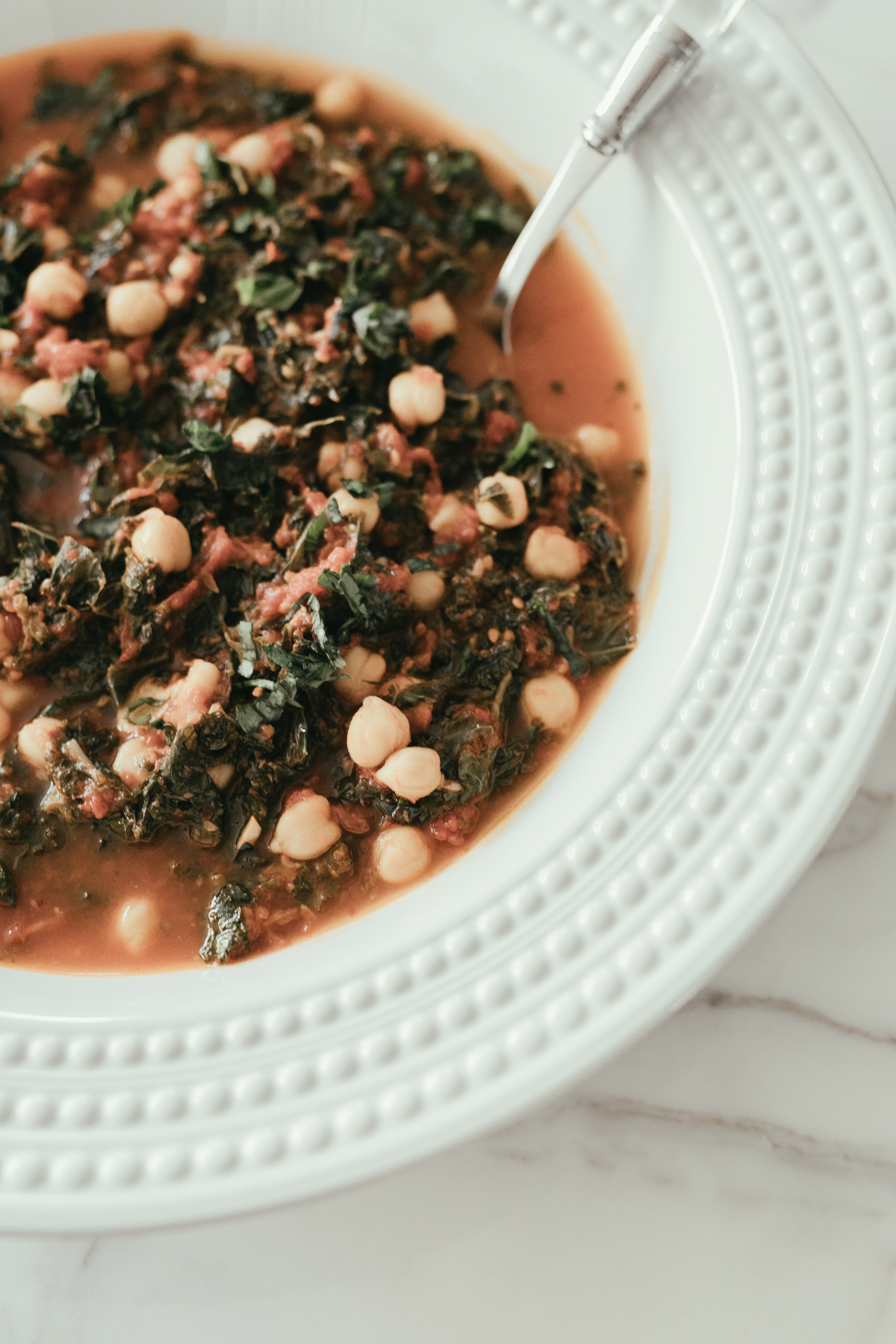 Last but not least is this Pan Roasted Salmon with Tomato Vinaigrette recipe. This super food is an all time favorite with the girls not the boys, but in my house, majority rules. This ten ingredient Mediterranean inspired recipe is packed with flavor. I love olives so next time I'm thinking to garnish with a few chopped Kalamata olives before serving.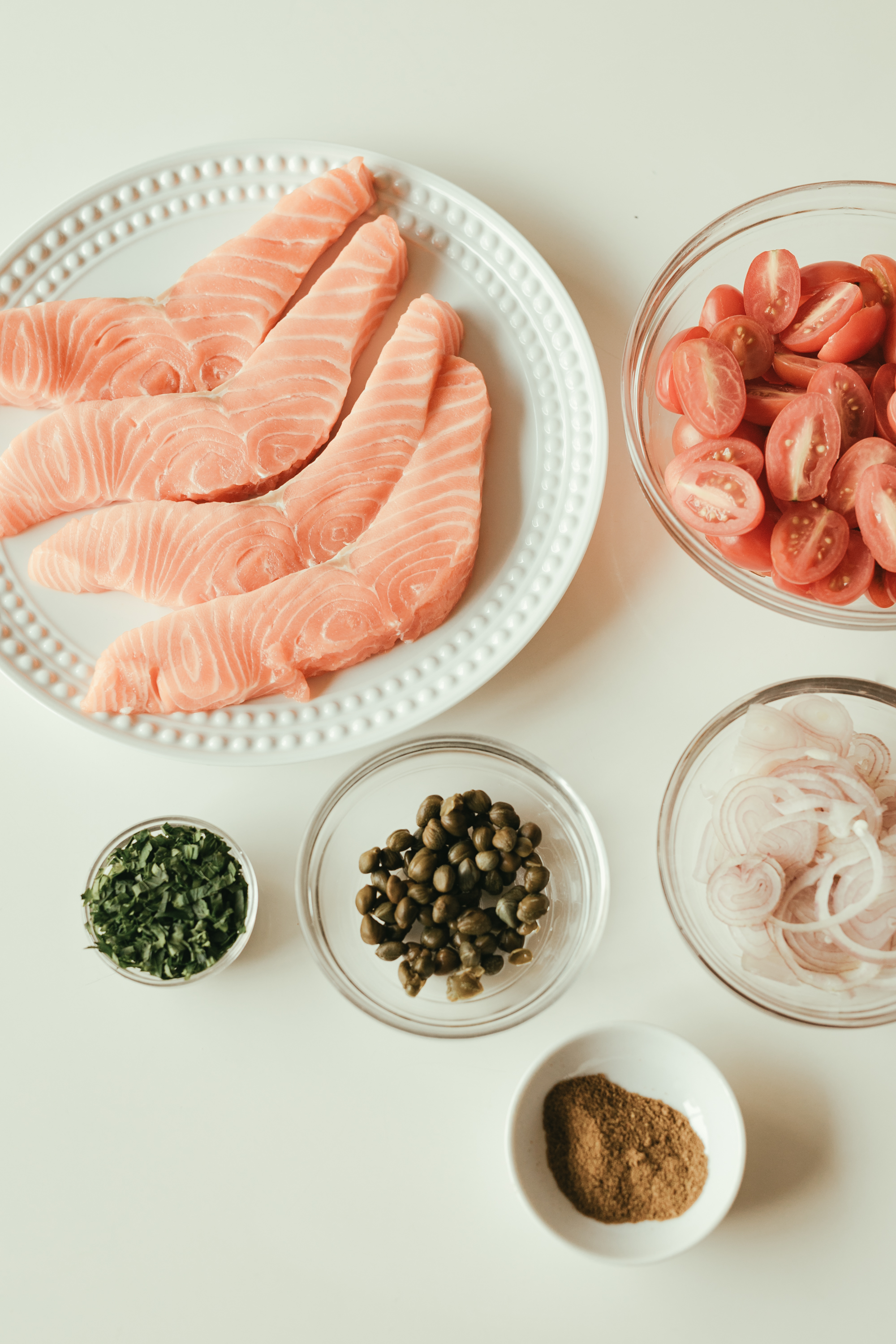 Pan-Roasted Salmon with Tomato Vinaigrette
Serves 4
(Food&Wine)
Ingredients:
1 pt. grape tomatoes, halved
1 medium shallot, thinly sliced
2 Tbsp. red wine vinegar
1 Tbsp. drained capers
1/2 tsp. kosher salt, plus more
3 Tbsp. extra-virgin olive oil
4 (7-oz.) skin-on-center-cut salmon fillets
Freshly ground black pepper
2 Tbsp canola oil
1/2 tsp. ground cumin
1 Tbsp. minced fresh flat-leaf parsley
1Tbsp. chopped fresh basil
Directions:
1. Preheat oven to 425F. Toss together tomatoes, shallot, vinegar, capers and 1/2 teaspoon salt.
2. Heat 1 tablespoon olive oil in a medium , ovenproof skillet over medium high.
Season salmon with salt and pepper. Place fillets in skillet, skin sides up.
Cook until well browned on bottom, about 3 minutes. Carefully flip fillets. Transfer skillet to preheated oven, and roast until salmon is cooked through, about 7 minutes. Divide fillets among 4 plates, and discard any fat in skillet.
3. Return skillet to heat over medium, and add tomato mixture, remaining 2 tablespoons olive oil, canola oil and cumin. Cook. stirring to scrape up any bits stuck to the bottom of the skillet, just until tomatoes soften, about 2 minutes. Tom salmon with sauce, and sprinkle with parsley and basil.