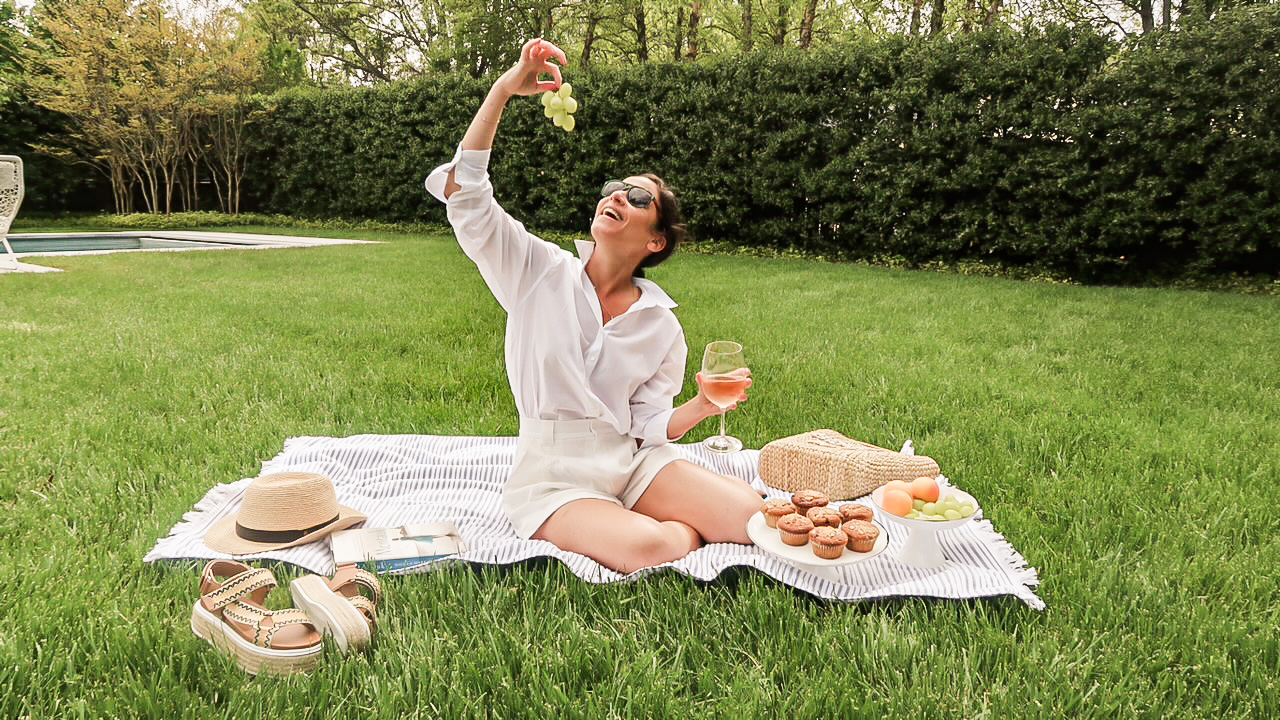 The white button-down shirt is a wardrobe essential and an important basic that I am quite passionate about. Though one might think that all white button-down shirts are created equal, this could not be farther from the truth. It took me years to find the perfect ones as the cotton has to be elevated, lightweight, soft, and the fit relaxed, especially for spring/summer.
Two of my all-time favorite shirt brands that literally bring me joy are Xirena and Frank & Eileen. I own their white button-downs (short sleeved and long sleeved) as well as printed ones from both these brands. They simply look good with everything and feel like a second skin.
On a side note, Xirena also makes cute jumpers and beach pants (see here and here). This is a brand to familiarize yourself with if you haven't already done so.
I realize that there are those who prefer a more tailored look. Theory's button-down shirt has a feminine fit and has always been a go-to for years. Another option is this white button-down bodysuit by Wolford. This is a neat alternative that will prevent you from digging your hands in your pants all day trying to tuck and retuck your shirt.
Shop classic white button-downs here:

For the ultimate beach button-down white shirt, nothing is as breezy as this linen option by Solid & Striped and this gauzy number by Xirena. The perfect après pool pieces that you can even bring along with you in your beach tote. I do this when I go to the beach for the day. Sometimes, I get chilly and want to cover up in something cozy, or need to throw on something if I'm headed to the loo.
Shop linen/gauze button-downs here:

Though these pieces below are a far cry from your classic white button-down shirts, when I came across them, I took in that happy sigh and felt I needed to include them. First is the cropped white button-down by Christopher Esber and Cara Cara for some ooh la la barely-there vibes. Just remember when wearing a cropped shirt of any kind – to balance it out with something relaxed and/or voluminous on the bottom.
Next is the square neckline which is super flattering. I have always been drawn to this style, so much so that when I bought my wedding dress eons ago, I had the seamstress change the neckline from a scoop neck to a square. Obsessed with this puffed sleeve 3/4 length sleeve button down in particular, by Piece of White.
This can be worn dressed down with khakis or denim or dressed up with a pencil or mini skirt.
Last but not least is this white cotton jumper which is part shirt on top so I'm sneaking it into this round-up. It's easy, an instant outfit, and something I can throw on for what I'm sure will be a super casual summer.

Shop square necklines and other things I love here: