During the holiday season, we tend to eat traditional high calorie and overly rich dishes. Think butternut squash with maple syrup, glazed corned beef, fried potato latkes… forget dessert…you get where I'm going with this.
Salads are not just not for summer. I love to eat them year round and incorporate them into every meal. They are a great light option and a way to avoid piling the extra pounds -avoid caesar dressing, cool ranch and the likes of.
I appreciate the endless varieties and am constantly experimenting with new recipes.
They are refreshing, healthy and a fantastic way to get in our daily intake of leafy greens.
I recently came across two new recipes that are winners and a few oldies but goodies that I would like to share.
For those who like a simple green salad, here is a delicious carrot ginger dressing recipe from Gwyneth Paltrow's cookbook, "It's All Good". I also still swear by a simple salad recipe with mustard vinaigrette in the cook book "R.S.V.P.: Menus for Entertaining from People Who Really Know How" by Nan Kempner. FYI, check out a photo of me and my daughter on page 20. Who knew?
Bon Appétit!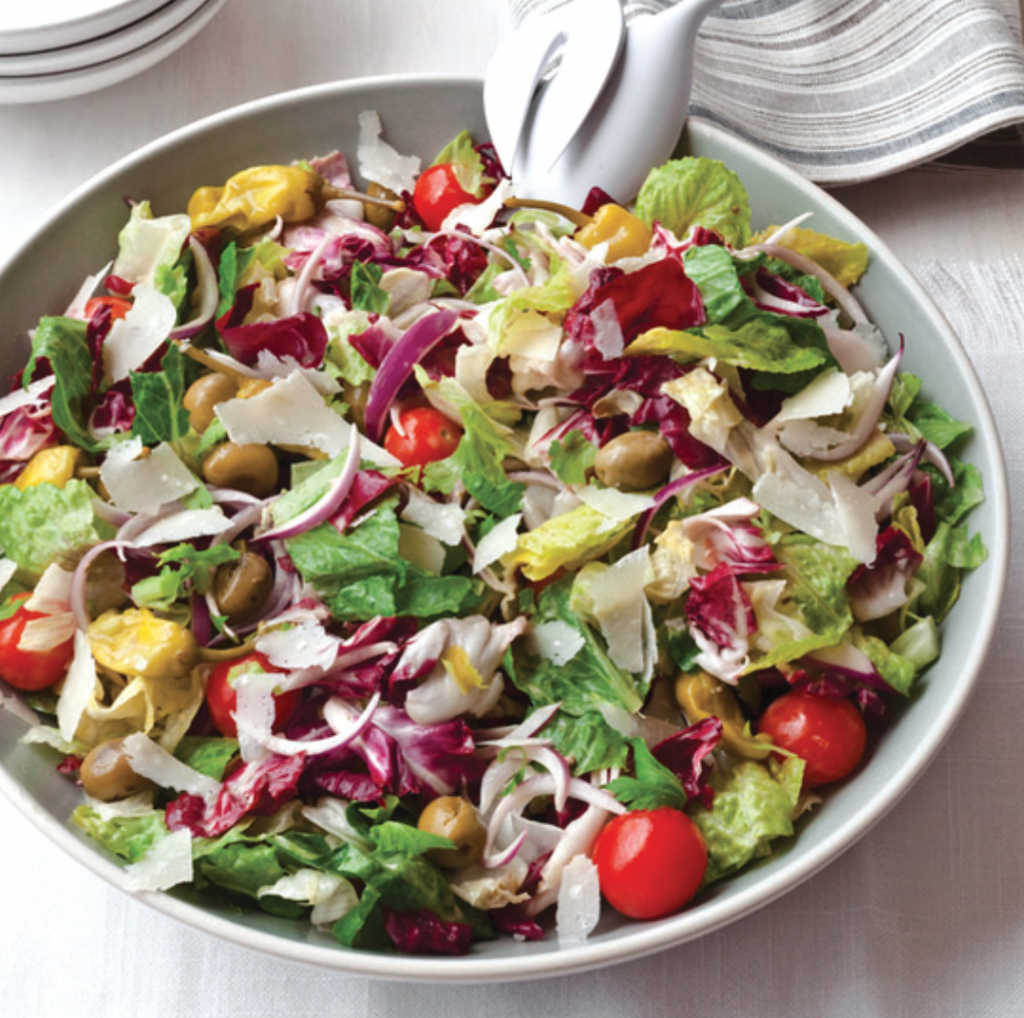 Big Italian Salad
Ingredients:
1 garlic clove, smashed
Salt
2 tablespoons mayonnaise
2 tablespoons red wine vinegar
1/2 teaspoon dried oregano
1/4 cup plus 2 tablespoons extra-virgin olive oil
Freshly ground pepper
1 large romaine heart, chopped
1 small head of radicchio—halved, cored and coarsely chopped
1/4 head of iceberg lettuce, coarsely chopped
1 tender celery rib, thinly sliced
1/2 small red onion, thinly sliced
1/2 cup cherry tomatoes
1/4 cup pitted green olives, preferably Sicilian
8 peperoncini
2 ounces Parmigiano-Reggiano cheese, shaved (1 cup)
Preparation:
In a large bowl, mash the garlic to a paste with a generous pinch of salt. Whisk in the mayonnaise, vinegar and oregano, then whisk in the olive oil. Season with pepper. Add all of the remaining ingredients and toss well. Serve right away.
http://www.foodandwine.com/recipes/big-italian-salad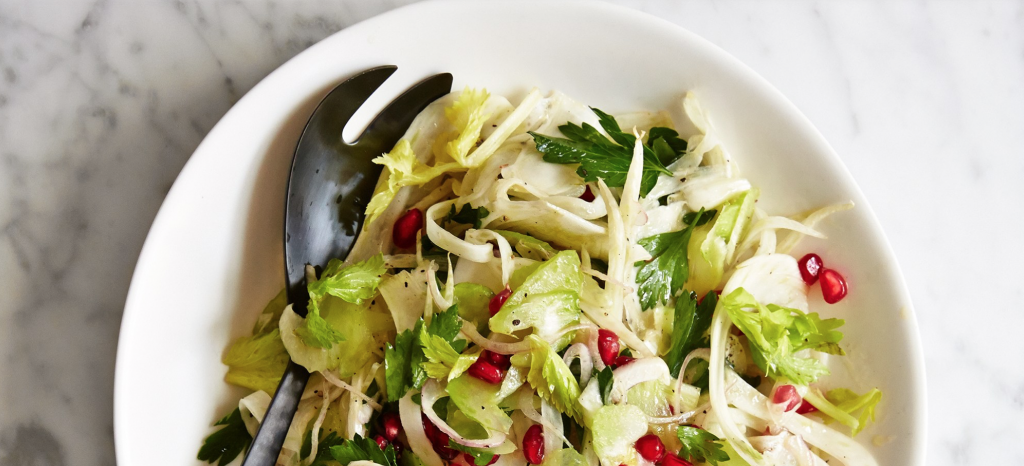 Fennel, Celery, and Pomegranate Salad
Ingredients:
3 small fennel bulbs, thinly sliced
6 celery stalks, thinly sliced on a diagonal
1 medium shallot, thinly sliced into rings
½ cup fresh flat-leaf parsley, very coarsely chopped
¼ cup celery leaves, very coarsely chopped (optional)
½ cup pomegranate seeds, divided
¼ cup fresh lime juice
¼ cup olive oil
Kosher salt and freshly ground black pepper
Preparation:
Toss fennel, celery, shallot, parsley, celery leaves, if using, and half of pomegranate seeds in a large bowl. Drizzle with lime juice and oil and toss to coat; season with salt and pepper. Serve topped with remaining pomegranate seeds.
http://www.bonappetit.com/recipe/fennel-celery-and-pomegranate-salad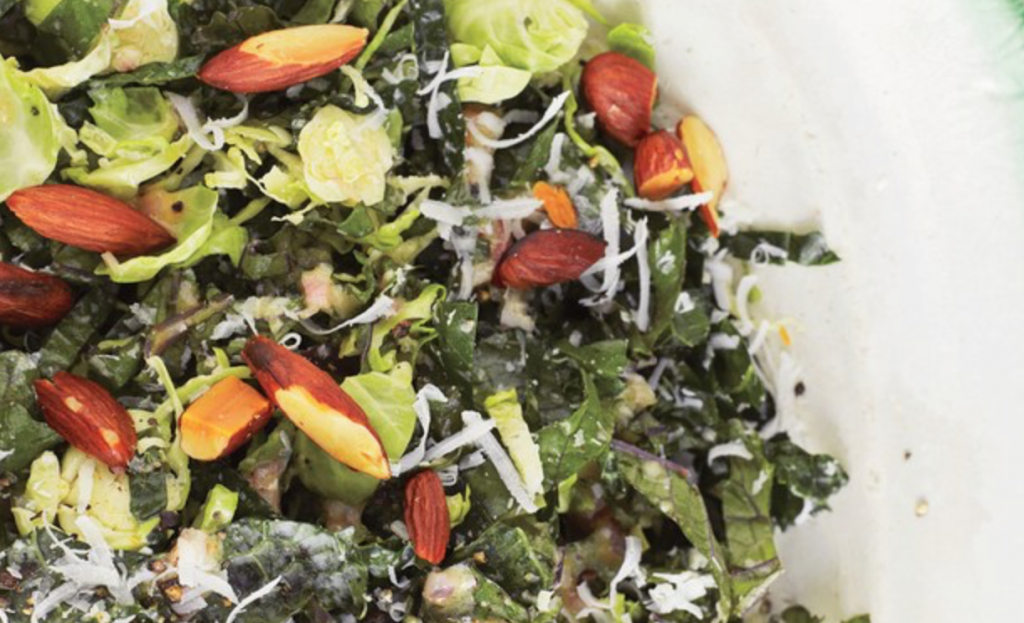 Kale and Brussels Sprout Salad
Ingredients:
1/4 cup fresh lemon juice
2 tablespoons Dijon mustard
1 tablespoon minced shallot
1 small garlic clove, finely grated
1/4 teaspoon kosher salt plus more for seasoning
Freshly ground black pepper
2 large bunches of Tuscan kale (about 1 1/2 pounds total), center stem discarded, leaves thinly sliced
12 ounces brussels sprouts, trimmed, finely grated or shredded with a knife
1/2 cup extra-virgin olive oil, divided
1/3 cup almonds with skins, coarsely chopped
1 cup finely grated Pecorino
Preparation:
Combine lemon juice, Dijon mustard, shallot, garlic, 1/4 teaspoon salt, and a pinch of pepper in a small bowl. Stir to blend; set aside to let flavors meld. Mix thinly sliced kale and shredded brussels sprouts in a large bowl.
Measure 1/2 cup oil into a cup. Spoon 1 tablespoon oil from cup into a small skillet; heat oil over medium-high heat. Add almonds to skillet and stir frequently until golden brown in spots, about 2 minutes. Transfer nuts to a paper towel lined plate. Sprinkle almonds lightly with salt.
Slowly whisk remaining olive oil in cup into lemon-juice mixture. Season dressing to taste with salt and pepper. DO AHEAD: Dressing, kale mixture, and toasted almonds can be prepared 8 hours ahead. Cover dressing and kale mixture separately and chill. Cover almonds and let stand at room temperature.
Add dressing and cheese to kale mixture; toss to coat. Season lightly with salt and pepper. Garnish with almonds.
http://www.epicurious.com/recipes/food/views/kale-brussels-sprout-salad-368295
Salad with Carrot and Ginger Dressing
Ingredients:
1 large carrot, peeled and roughly chopped
1 large shallot, peeled and roughly chopped
2 tablespoons roughly chopped fresh ginger
1 tablespoon sweet white miso
2 tablespoons rice wine vinegar
1 tablespoon roasted sesame seed oil
1/4 cup grapeseed oil
2 tablespoons water
for salad:
1 head of baby gem lettuce (or any greens), roughly cut
1/4 red onion, thinly sliced
1/4 avocado, diced
Preparation:
Pulse the carrot, shallot and ginger in a blender until finely chopped.
Scrape down the sides, add the miso, vinegar and sesame seed oil and whiz together. While the blender is going, slowly drizzle in the grape seed oil and the water.
Combine the lettuce, onion and avocado in a bowl, drizzle with plenty of dressing and serve.
Gwenyth Paltrow Carrot-Ginger Dressing http://goop.com/recipes/salad-with-carrot-ginger-dressing/
Simple Salad with Mustard Vinaigrette
Ingredients:
2 teaspoons dijon mustard
4 teaspoons extra-virgin olive oil
1 teaspoon white vinegar
1/4 teaspoon dark brown sugar
Pinch of salt
Freshly ground white pepper to taste
2 heads of butterhead lettuce, stems removed, washed, dried, and torn
3 chopped scallions (white parts only)
1 English cucumber, peeled and diced
Preparation:
In a spouted measuring cup, combine the mustard, oil vinegar, brown sugar, and salt and whisk until smooth. Season with white pepper.
Place the torn lettuce, scallions and diced cucumber in a medium salad bowl. Pour on the mustard vinaigrette and toss well.
https://www.amazon.com/R-S-V-P-Menus-Entertaining-People-Really/dp/0609604309