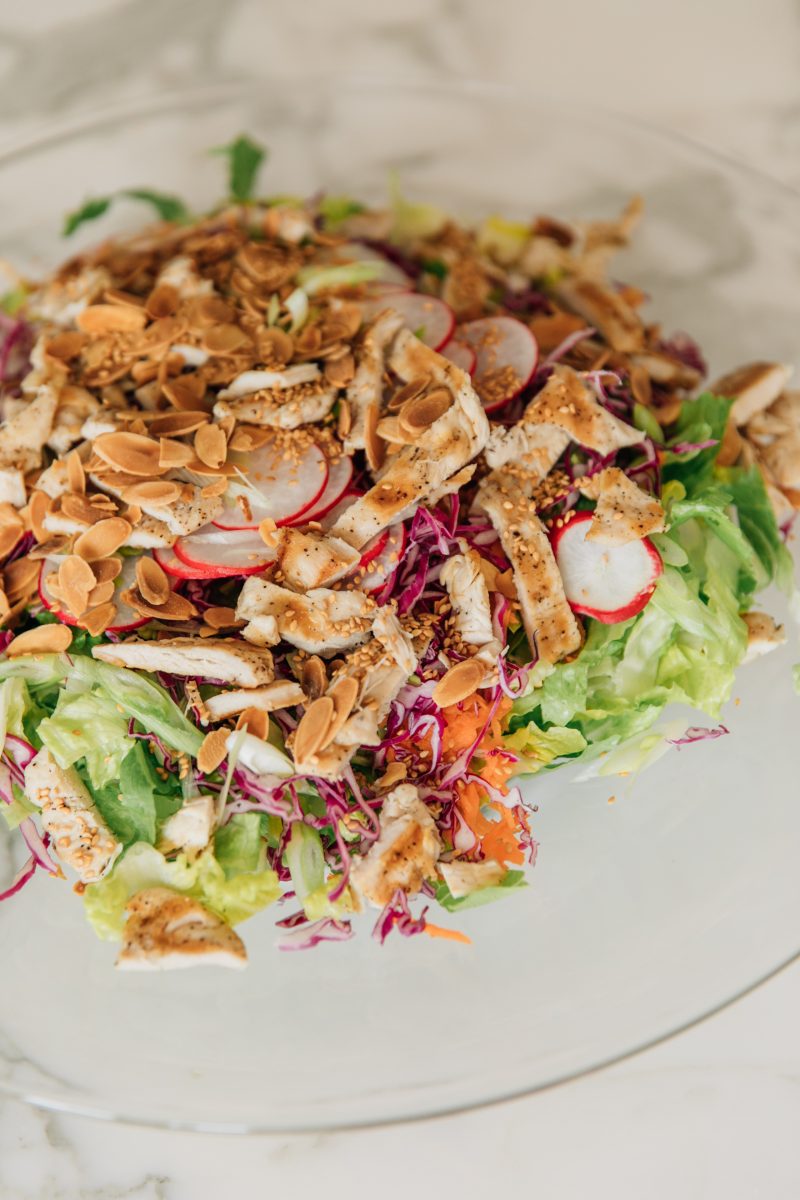 I've been hearing murmurs from the peanut gallery that my meals are getting a bit repetitive -guilty as charged. Dinners typically include a salad which is why I set out to find a new chopped salad to add to my repertoire. A few weeks ago I received my GFF (Gluten Free Forever) magazine in the mail. While no one in my house is gluten intolerant, I read about this magazine on the Goop site and for those of you who don't know this, Goop is my holy grail so I immediately subscribed. I came across this Asian Chicken Salad recipe and let me just tell you, I made this chopped salad twice in less than a week, both times completely devoured by the fam. The ingredients were not intimidating and the directions were super simple, think chop, combine and mix.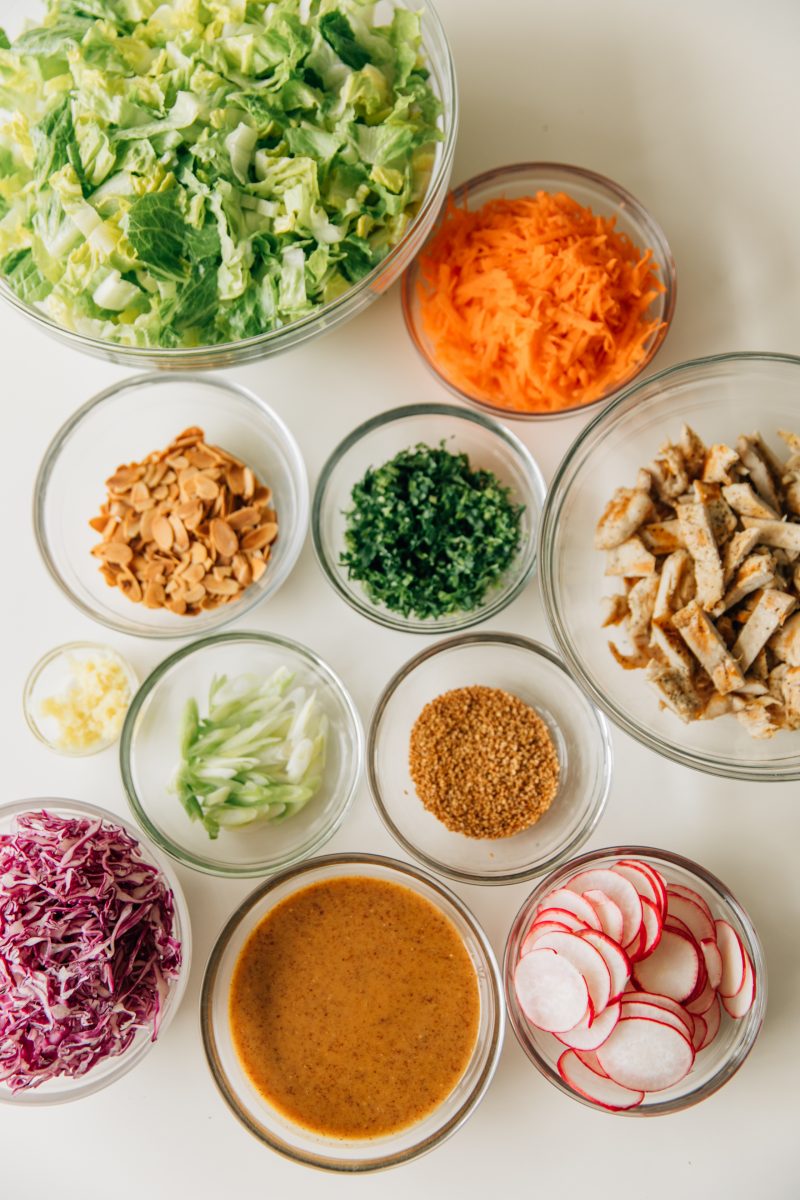 My family favors Asian flavors (how's that for a tongue twister?) so this Asian Chicken Salad recipe was a palette pleaser plus who doesn't love a little crunch factor in their chopped salads? Nothing better than finely shredded veggies, toasted almonds and the combination of colors is visually pleasing. I serve this as the main event as the grilled chicken provides the protein and all the vegetables supply the fiber, especially the purple cabbage. This makes for the perfect summer lunch or dinner inside or poolside. My only suggestion would be to double the dressing as we tend to use it heavy handedly. This Asian Chicken Salad recipe is a real crowd pleaser and will be on repeat until the murmurs from the peanut gallery resurface.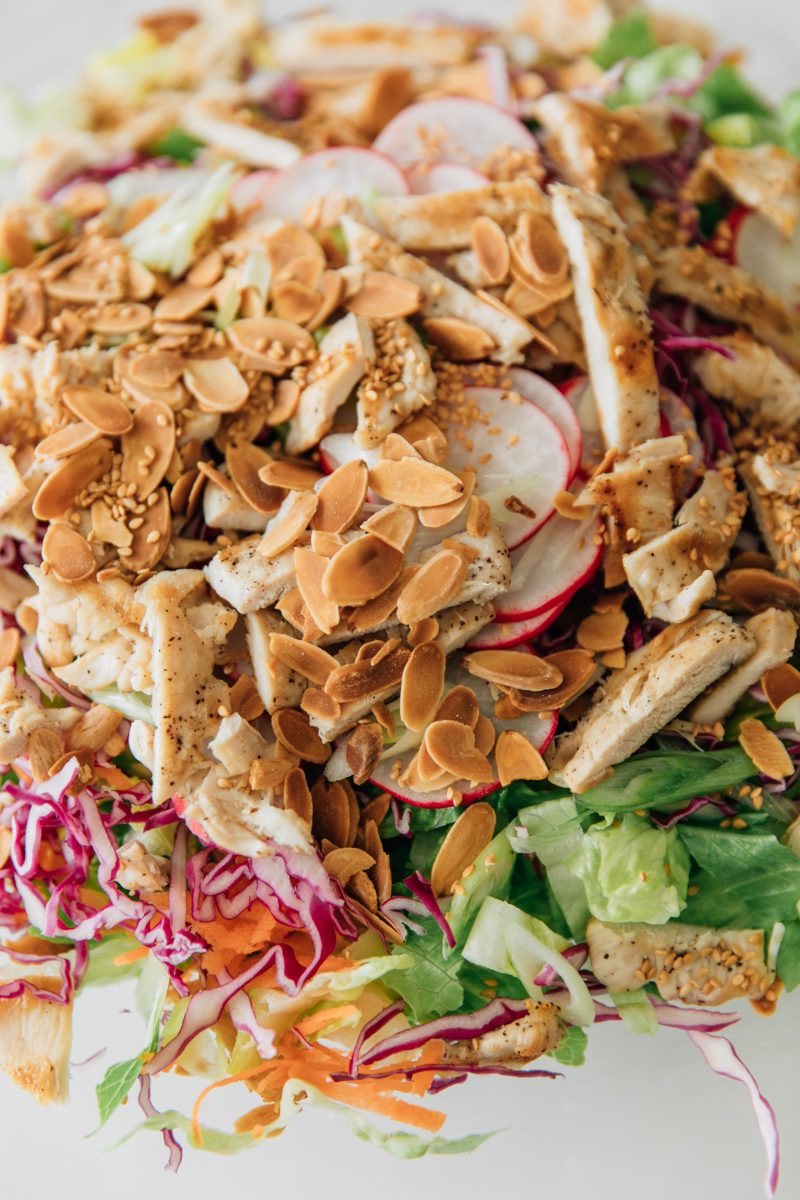 Asian Chicken Salad Recipe
Serves 4 to 6
Ingredients:
1/3 cup creamy almond butter
1/4 cup rice vinegar
1 tablespoon honey, maple syrup, or brown rice syrup
2 tablespoons toasted sesame oil
2 tablespoons gluten free tamari
1 teaspoon peeled and finely grated fresh ginger
9 cups of bite sized romaine lettuce pieces
2 carrots, peeled and coarsely grated
1 cup finely shredded purple cabbage
3 radishes, thinly sliced
1/4 cup fresh cilantro leaves
2 green onions, thinly sliced diagonally
2 cups shredded rotisserie chicken meat ( I used grilled chicken cutlets)
1/3 cup toasted sliced almonds, plus more for garnish
2 tablespoons toasted sesame seeds, plus more for garnish
Directions:
In a small bowl, whisk together the almond butter, vinegar, honey, sesame oil, tamari, and ginger to make a thick but pourable dressing. If it seems too thick, stir in 2 to 3 tablespoons of water. Set Aside
In a serving bowl, add the romaine, carrots, cabbage, radishes, cilantro, green onions, chicken, almonds, and sesame seeds. Drizzle with half of the dressing and toss until well coated, adding more dressing if you like. Garnish with more almonds and sesame seeds. Serve right away with the remaining dressing alongside.