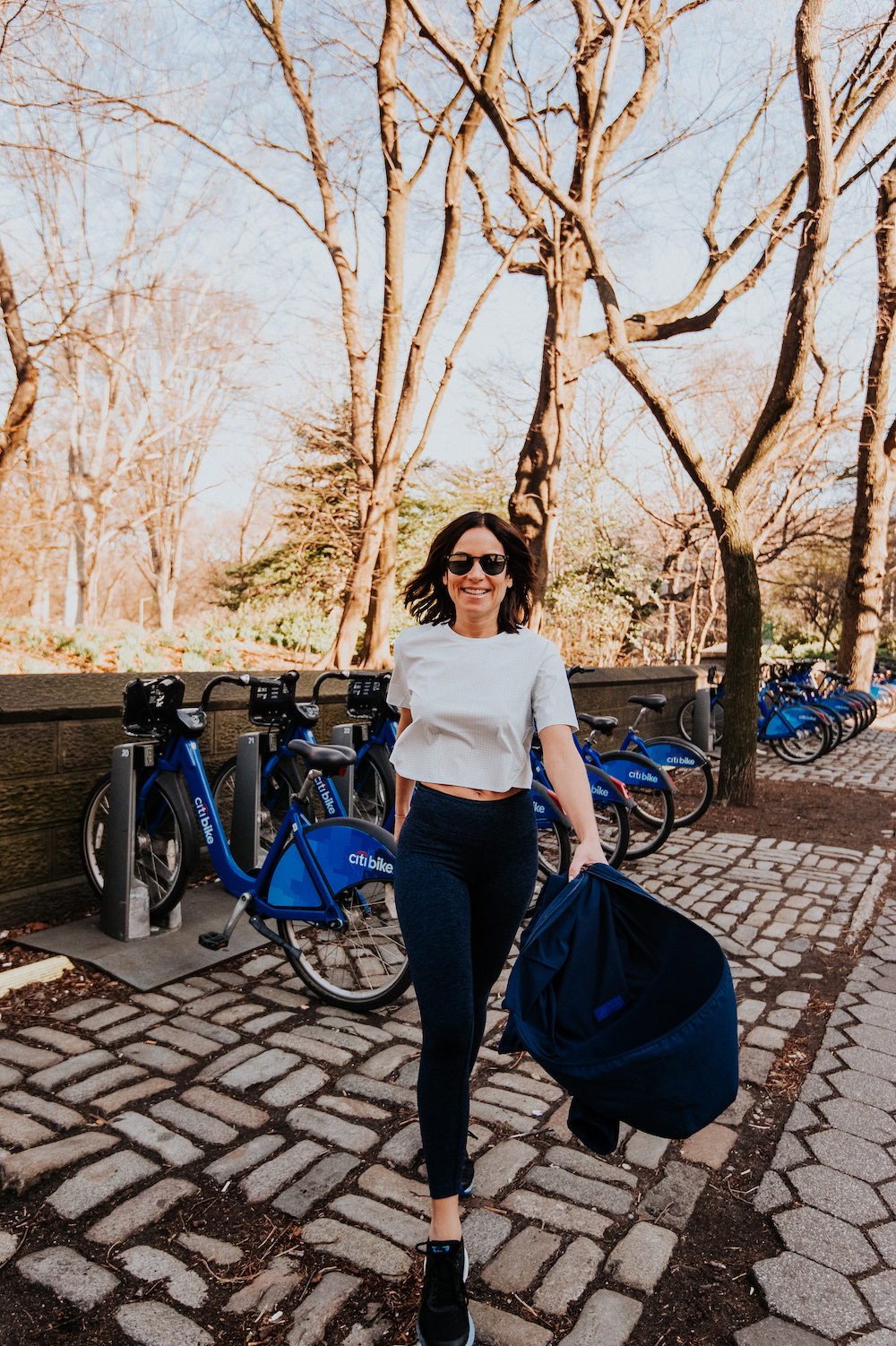 Last week my husband and I spent a couple of days in the Berkshires at the Miraval Resort and Spa (more on that tomorrow…stay tuned…) so I thought that I'd share what athleisure and fitness wear I took along as many of you have requested this kind of fashion/fitness post in the past.
Of course, I packed way more athleisure and fitness wear than I needed to, but that's what happens when you wait till the morning of to get your shit together. And…I do have this fantasy that maybe, just maybe, our trip will be extended and I will need more clothes:) One day!
For this particular trip, I packed all solid color leggings. Three of the four leggings were by Alo. The first two are these 7/8 high-waist airlift legging in the navy and burgundy shade.
I like the 7/8ths in particular because they are full length on my petit frame so no tailoring necessary (yes, I even tailor my workout leggings). I usually wear an XS in Alo leggings.
The third pair by Alo that I brought along are these 7/8 high-waist lounge leggings in the zinc grey hue. In general, all of Alo's leggings are so darn comfortable and feel like a second skin. They also have a great fit and I find them quite flattering.
The fourth pair of leggings I brought along is from another favorite fitness wear brand, Splits 59. I purchased these leggings at a favorite local boutique on the Jersey Shore, "Back 2 Basics", but you can also find them on the Shopbop site.
These leggings also come with a cute matching cami with a built-in bra if you prefer to be matchy-matchy.
I paired these Splits59 leggings with this on-trend crop tee in black. For those who prefer long sleeve + crop, this silhouette is also a great option.
Shop leggings here:

Speaking of tops, I also brought along this LuLulemon muscle love long sleeve crop tee in baby blue which I paired with the navy Alo leggings I mentioned above.
This super comfy lightweight, ribbed white Koral Marlo muscle tank also came along for the ride. I'm a big fan of Koral tanks in general so worth checking out their mesh tank in black and white.
Shop tops here:

Moving along to comfy and cozy sweatshirts…
Beyond Yoga, Cotton Citizen, and Rails all make soft, stylish sweats.
I purchased this Cotton Citizen mock neck sweatshirt back in the spring in white, and still wear it often with leggings, sweats, and even tucked into my jeans for a cool casual look. FYI, it also comes in black.
Beyond Yoga makes the softest leggings and sweats ever. I also brought along an old sweatshirt of theirs which is currently unavailable, but still worth checking out their entire collection. I went ahead and highlighted this navy sherpa cropped pullover, just because I've been talking lots of blacks and whites here and it happens to be a super cutie patootie option for winter.
There is one more sweatshirt worth mentioning which is this Alo bone heather half-zip pullover. It's made from polar fleece, is reversible, and will keep you toasty day or night. In case you're interested, I paired this with the burgundy Alo leggings.
When it came to evening wear at the Miraval Resort, I opted for cozy sweats as the vibe is uber casual… The first pair is a cotton Southwestern print by Polo Ralph Lauren and the other is a red french terry cotton by Stateside. Ok, good news first and then bad news… The Polo sweats are still available. Bad news…the Stateside ones are currently sold out.
You can check out the Stateside collection here for other options.
Shop sweats here:

I also brought along this Isabel Marant plaid shirt jacket that I've mentioned numerous times this season. I paired this plaid number with grey and ivory sweats and my ecru Converse high tops.
Shop sneakers here:

So here you have it…I hope this round-up inspires you for your athleisure/fitness wardrobe!
Shop the post here: