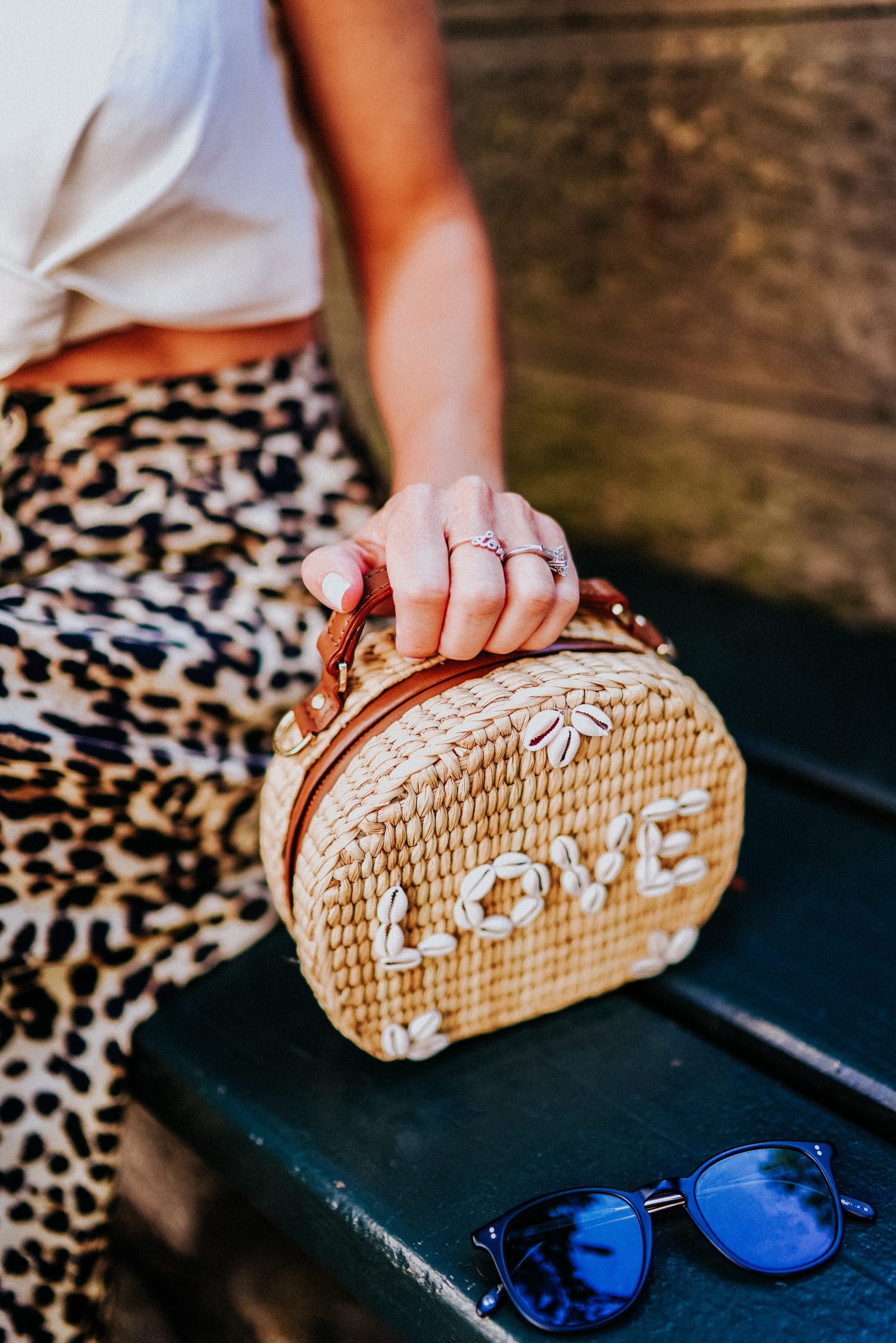 Last summer I was lucky enough to meet Ashleigh Stone, founder of accessories brand, Poolside, in person, over iced Matchas at Cha Cha Matcha. We first met on Instagram after I stumbled across her fabulous beach bag that come in unique shapes, adorned with seashells, rhinestones, and custom embroidered phrases. All I can say is I was so excited to meet this cool girl accessories designer in the flesh.
Besides being super talented, and super stylish in a bohemian, retro, downtown sorta way, Ashleigh is super kind and super generous as in she's all heart. We instantly hit it off after bonding over our love of fashion – think custom Roxanne Assoulin bracelets and all things Aussie (her husband is Australian).
I've also called on Ashleigh this past year for some help on a project and she went above and beyond to help – she is a true gem.
Ashleigh recently gave birth to the sweetest little baby girl, Harper (love the name!), and still made time for this q & a (girl boss!) which I'm so excited to share with you guys!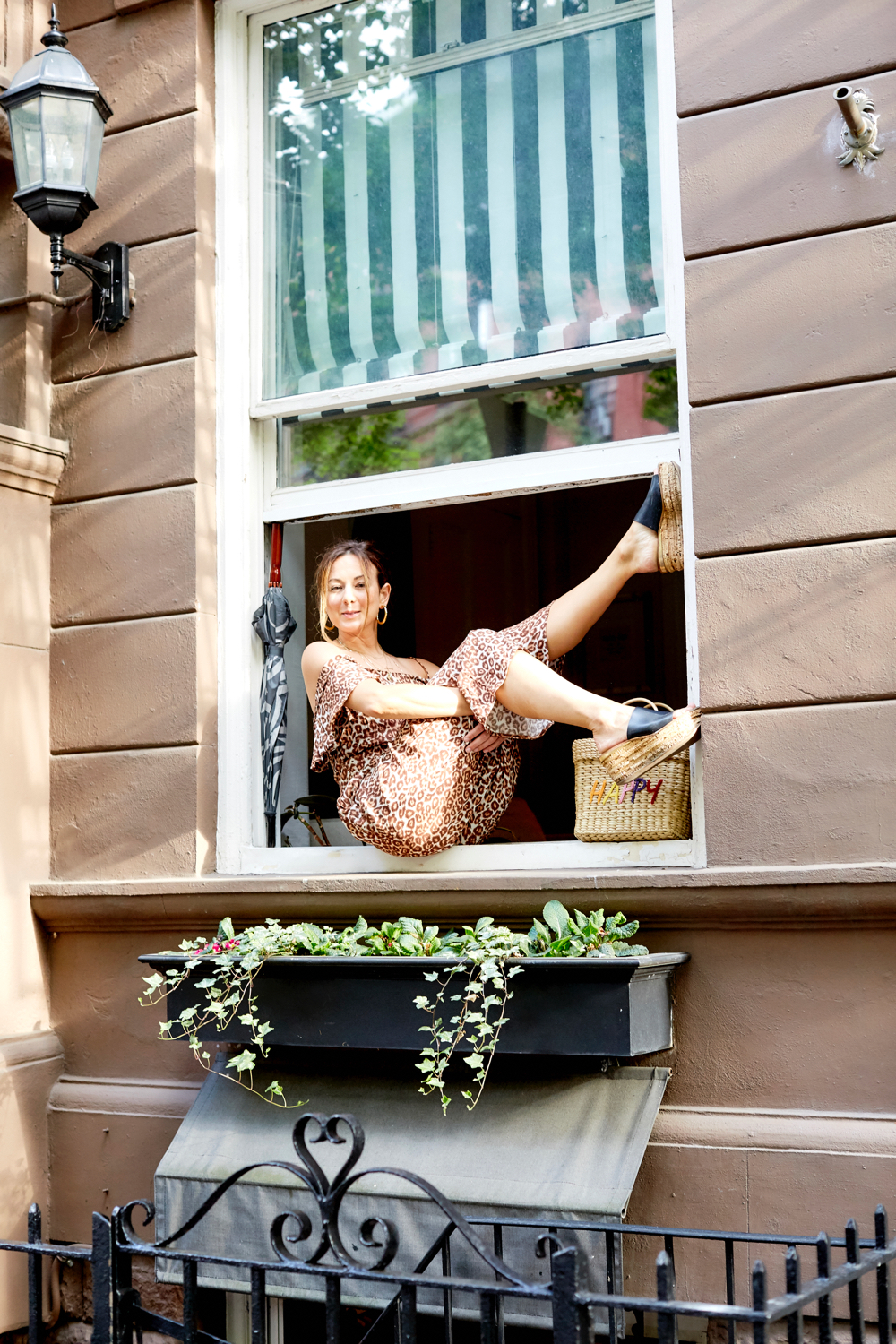 1. How did you get started in the handbag business?
Ashleigh Stone: Accidentally! I thought of an idea to put rap lyrics on traditional market totes. This was taking an existing idea, and putting a twist on it. I put the brand on Instagram, where Moda Operandi found us and launched our brand globally in 2016. Since then, basically everyone has copied us, which has been a catalyst for me to develop the brand.

2. Where do you draw inspiration for your beach bags?
AS: I stay open to finding inspiration in unexpected places. Anything can be turned into a bag, you just need to think about shape and construction. I've recently been exploring some of my mother's shell sculptures. I'm also really inspired by materials, and combining materials that you wouldn't think would go together, such as leopard haircalf and straw (one of our top-selling combinations). This upcoming season, we're working with denim x straw and terry x straw. I love looking at vintage designs and understanding how to interpret them in a medium that suits "poolside lifestyle."

3. Speaking of the beach, what are your top 5 beach destinations?
AS: Wategos Beach, Byron Bay, Australia
Tamarama Beach, Sydney, Australia (on our way home to my husband's family's house in Melbourne, we always stopover in Sydney, and this is our local beach)
Cap Juluca, Anguilla
Colombier Beach, St. Barths
Cuixmala Mexico / the resort's private beach – I've never been, but I'm planning a trip here now
4. What are your 5 must-have beach beauty essentials?
AS: Maui Babe Browning Lotion – because I can't 100% give up bronzing my legs and arms a bit
POOLSIDE no. 1 Scent – Made for the beach, gets better after the ocean, and when you sweat!
SPF15-30 depending on where we are in the world – I don't have an allegiance to any brand, but I go for the pretty packaging! Supergoop also works very well.
Fresh Sugar Lip Treatment with SPF 15 (no color)
Paul Mitchell leave-in conditioner. My hair is extremely curly and needs to be tamed with curl moisturizer. Added bonus is the conditioner can actually be used as a moisturizer on your body
5. What are some wisdoms you can impart to anyone who aspires to start their own fashion brand?
AS: 1) Just do it! The barriers to entry are so low these days, and it's easy and inexpensive to test something out on Instagram and via your own website!
2) It doesn't matter how old you are — whether you're still in high school, or whether your kids have just graduated from high school – if you have a creative viewpoint and an idea. Go for it!
3) Stay networked. Make sure that you take the time to meet people, learn, and stay connected. You could have a 30-minute coffee meeting with someone who may help you launch your business one day.
6. What has been your biggest accomplishment?
AS: My biggest accomplishment with the business has been impacting the lives of others. We have employed nearly 200 women in Morocco and India, and I've gotten a chance to know and interact with many of them, seeing how we have added to and impacted their lives for the better. I never thought that I would be able to have an impact on peoples' lives in this way, and the opportunity to do that in this lifetime is an honor.
7. Where do you see Poolside in 5 years?
AS: I have such big goals for the business while understanding that good things take time. We're self-funded, so our growth has been very slow, steady, and organic thus far. My hope is to continue building our handbag business, while introducing new product lines, including beauty, ready to wear and travel accessories.
I'm also very interested in continuing to do collaborations with other like-minded brands. We've always had a top-selling scent, and I've already developed a body oil with natural SPF. I'm excited to re-launch our beauty category.
I've designed our first capsule of ready to wear, and I'm really confident that it will bring the brand to life. From a business standpoint, we're focusing on digital growth and building our DTC channel. This helps us to speak directly to our customers and better manage our business from a cash flow and planning standpoint. This, in turn, will make us better employers and better partners for our wholesale accounts.
I used to work in Capital Markets, and the business of fashion can be just like a trading floor. You invest in something, you liquidate it, and you do it all over again. You try to buy it low, sell it high and not take any discounts along the way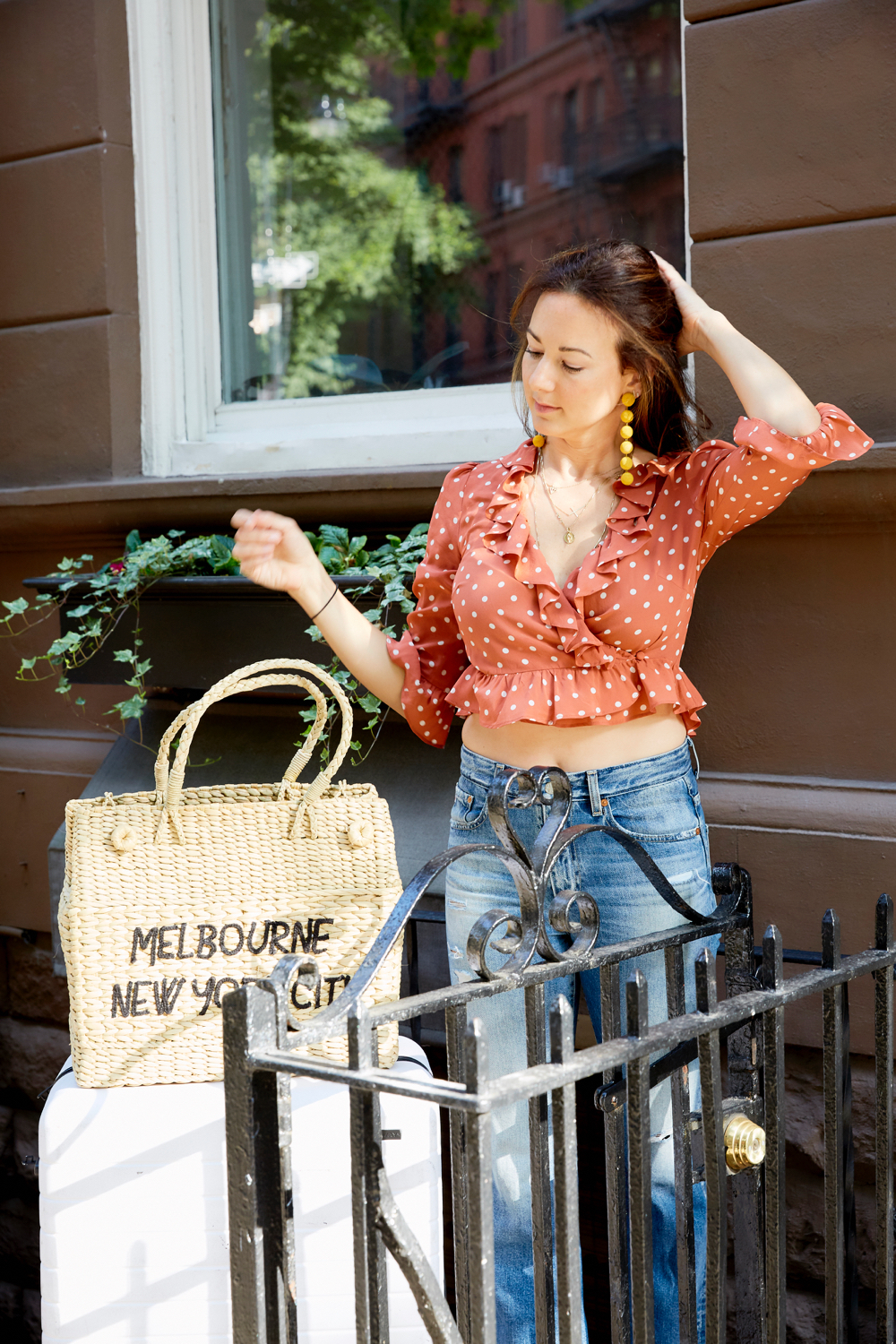 Shop We Are Poolside Bags here: