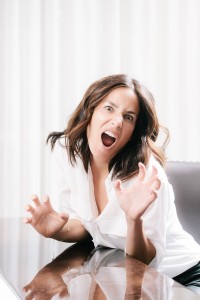 Welcome to my blog!
Below are 39 things you don't know about me that I wanted to share with you as a pre introduction to my blog (39 as in I am 39 years old:)
39 Things You Don't Know About Me
I'm a Scorpio.
I was born in the year of the pig; or was it the tiger?
I am very sensitive but that is better than being insensitive.
I am married and have 3 kids. I have hid from all of them at least once.
I know almost every line in the movie Dumb and Dumber by heart.
I love doing crossword puzzles.
My favorite season is summer.
I love fashion
I love beauty products though I limit myself to an essential few.
I go for quality over quantity.
I once peed on the top of a mountain.
I have my real estate license, bar tenders license and driver's license.
I talk in my sleep; at times in Spanish.
Sometimes I'll stare at my husband in hopes that he'll tell me I'm pretty.  It doesn't usually happen.
I am a stylist.
I love to travel.
I pray every morning and every night.
I love to laugh.
When I was 21 I wished my warts away and it worked.
I love going to therapy.
I would love to play practical jokes for a living.
I love to read, especially biographies and novels based on true stories.
I got the idea to write this list from Us Magazine.
I ballroom dance. My favorite is the Argentinian tango.
I've never worn braces.
I was raised in New Jersey.
I've lived in NYC for 18 years, not including my 4 hour a day commute from New Jersey to NYU.  Thanks mom and dad.
I hired a tour guide to tour NYC. Sadly, I don't remember anything from the tours, except how tall the guide was.
I dressed up as a pilgrim this past Thanksgiving. What fun!
I took a pregnancy test in the ladies room at my children's school.
My husband calls me Mr. Rogers because I say hi to almost everyone.
Everyone calls me Fortune.  But my real name is Fortunee.  I can't even pronounce it so don't ask me how.
I love to love and be loved.
I believe a lot of hardship comes from lack of communication.
Water is my drink of choice until the clock strikes 8.
I'm addicted to salt.
I'm a lefty.
I started drinking decaf coffee at 38.
I once thought I was carrying the Messiah.  Obviously, not.