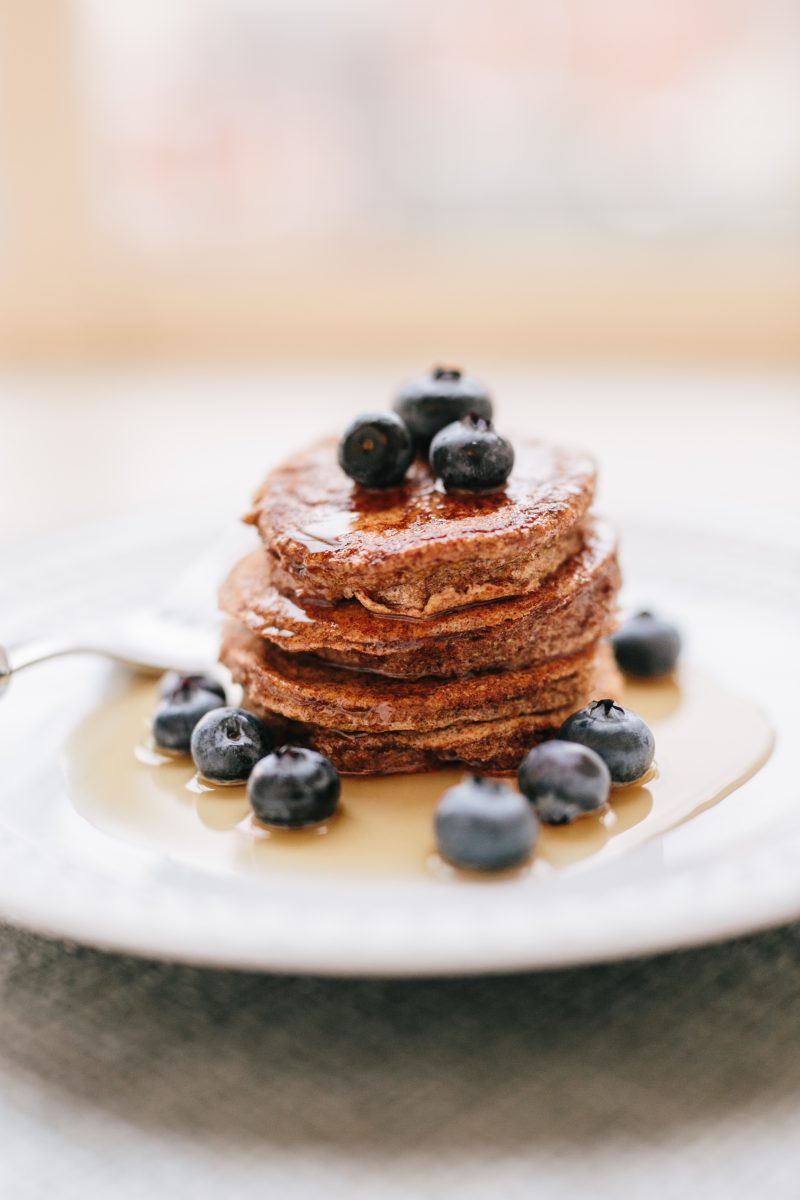 While everyone was feasting on turkey, gravy and all the stuffings over this past Thanksgiving weekend, I was in Israel devouring all the hummus, tahini and fried falafels I could get my hands on. It was heaven on earth…pure bliss. But as the saying goes, a minute on your lips and a lifetime on your hips. Now that I am back home, it's time for me to get back on track.
I find that when I eat a good breakfast, it sets me up for a day of successful eating. By this I mean, I don't pick at things in between meals and I am not ravenous by lunch time.
Most of my inspiration these days comes from my good friend and nutritionist Tanya Zuckerbrot.
My absolute favorite are her Ffactor approved fiber pancakes. They taste so freakin' good, as close as it gets to a real pancake without the extra calories. Because of the high fiber and protein content, they leave me feeling satisfied until lunch.
You absolutely must try this pancake recipe and let me know how you like them.
Ffactor Approved Pancakes
Ingredients:
4 egg whites
1/3 cup cup Bran Buds or 4 pulverized GG Crackers (GG crackers have more fiber content)
1 tablespoon vanilla extract
1 teaspoon cinnamon
1/4 banana (optional)
Directions:
Spray skillet with Pam
Mix all ingredients in a blender and then pour into a skillet to cook. Once the bottom starts to set, flip over and cook the other side.
Though Tanya recommends a fiber syrup to top it off with, I prefer pure maple syrup ( I like to live life on the edge if ya know what I mean).
Optional: add berries or dark chocolate chips
Another favorite brekkie of mine is scrambled eggs prepared with 3 different toppings.
I usually do 3 egg whites mixed with 1 egg yolk.
For the first variation, I add a tablespoon of fresh pesto sauce on top when the eggs are done cooking, and then I top with some grated parmesan cheese. It's so tasty and satisfying and can really be eaten at any meal.  Of course I eat these with GG crackers with sunflower seeds. It actually tastes better with these GGs than without. I always appreciate a crunch factor plus I am getting my daily fiber intake.
I sometimes make my pesto without cheese and it comes out just as good. I omit garlic from the pesto as I can do without the after taste.
Pesto:
2/3 cup extra virgin olive oil
2 cups fresh basil
1/4 cup pine nuts
salt and pepper to taste
Optional: 1/2 cup parmesan
Mix ingredients in a food processor until thoroughly combined.
Another variation is to add truffle salt and grated parmesan cheese.
Last but not least… I love Lebeneh. This is a Middle Eastern yogurt that can be found in most specialty stores. I will top eggs with a couple of tablespoons and then finish with a sprinkle of zataar spice. It's absolute perfection.
Another breakfast I got hooked one was a yogurt parfait that I devoured at the Ground Sea Fitness Retreat.
In a Mason jar, I add a half of a container of Siggy's coconut yogurt. Next I layer with some blueberries and a tablespoon of chia seeds. I then add the remaining yogurt and top it off with homemade granola and 2 teaspoons of maple syrup. It sure does hit the spot.
If you'd like to do it the Ffactor way, use non fat greek yogurt, i.e. Chobani or Faige instead of Siggy's and instead of using granola, you can replace with Bran Buds or Fiber 1 cereal.
Because this is prepared in a Mason jar, it's great to eat when you're on the run.
Do you have a favorite go to healthy breakfast?
Please comment below.