In anticipation of a beach vacation, I eat clean in the hope of looking my bikini best (ie. no animal crackers, no bread basket, no munching on my kid's snacks). With motivation and determination, I'm usually successful until…the flight home. I'm not sure how to explain this phenomenon but it seems like some sort of self sabotage.
On the last day of my past vacation, I got a jump start carbo loading with matzah and butter for my AM appetizer, followed by matzah and cream cheese for my entree, and topping off with mozzarella and matzah for dessert. It was damn good for the moment but as they say "a minute on your lips and forever on your hips".
I reminded myself that tomorrow would be a new day; what was done, was done. But the next day was no different.
Enter: Cabo San Lucas Airport: Subway, Fro Yo, Sbarros Pizza
I started with frozen yogurt but because it appeared to be the healthiest choice. Although doused with colored sprinkles, it was not the least bit satisfying which brought me to the pizza. You get the picture. This was Fortune's No Good, Terrible, Very Bad Eating Day.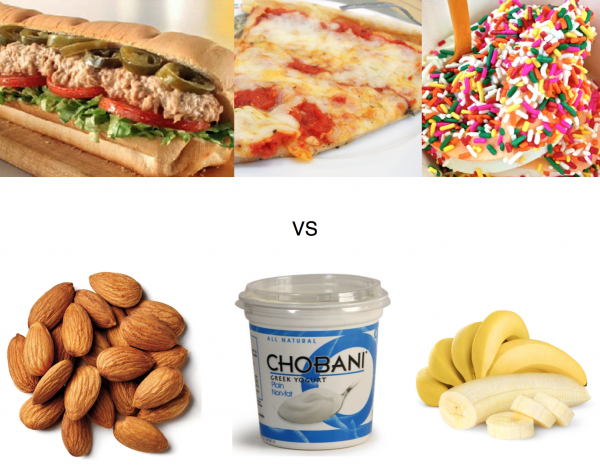 Enter: Tanya Zuckerbrot, well known dietician MS, RD
CEO F-Factor, very dear friend.
I explained my eating patterns to Tanya hoping she could offer some behavioral/nutritional tips for my next trip and here are her valuable words of wisdom:
Ask your hotel to pack a "Meal to Go"-More and more high-end hotels and resorts are dishing out gourmet meals made to order right before their guests' departures. The Four Seasons recently introduced a menu specifically for departing travelers called, "For Your Trip Home".
Bring Healthy Snacks from Home-Plan ahead and when packing your bikini, throw in snacks for the ride home. Pack snacks with a long shelf life that do not need to be refrigerated. My favorites;
Matt's Munchies
Krave All- Natural Jerky
GG Crackers with Laughing Cow Cheese
Dried Fruit and Nuts
Quest Bars
Purchase Healthy Snacks at the Airport-If you didn't remember to pack a meal or snacks in advance, don't fret. Many airports are now filled with healthy snacks to purchase at the last minute.
Many airports have a Jamba Juice, where you can pick up wheatgrass shots and some juice bars even offer fresh squeezed green juice or cold pressed juice in bottles.
Fresh fruits and raw unsalted almonds.
Greek yogurt and salads
Stay Hydrated-As soon as I go through security, I buy the biggest bottle of water I can find for the flight home. Staying hydrated on an airplane is one of the best things you can do while in the air. The symptoms of dehydration mimic the symptoms of hunger (being dehydrated can leave you feeling weak, tired, shaky and cranky). Staying hydrated can help you avoid unnecessary snacking.
Stay Focused on Your Goals-When you get home, you will have plenty of tasks to prepare you and your family for the upcoming school and workweek. Don't add "having to lose weight" to an already long list of things to do. Make yourself a priority and by following the tips above, you can step off the plane feeling tan and relaxed rather than bloated and stressed.
Please share your health trip tips. I would LOVE to hear.