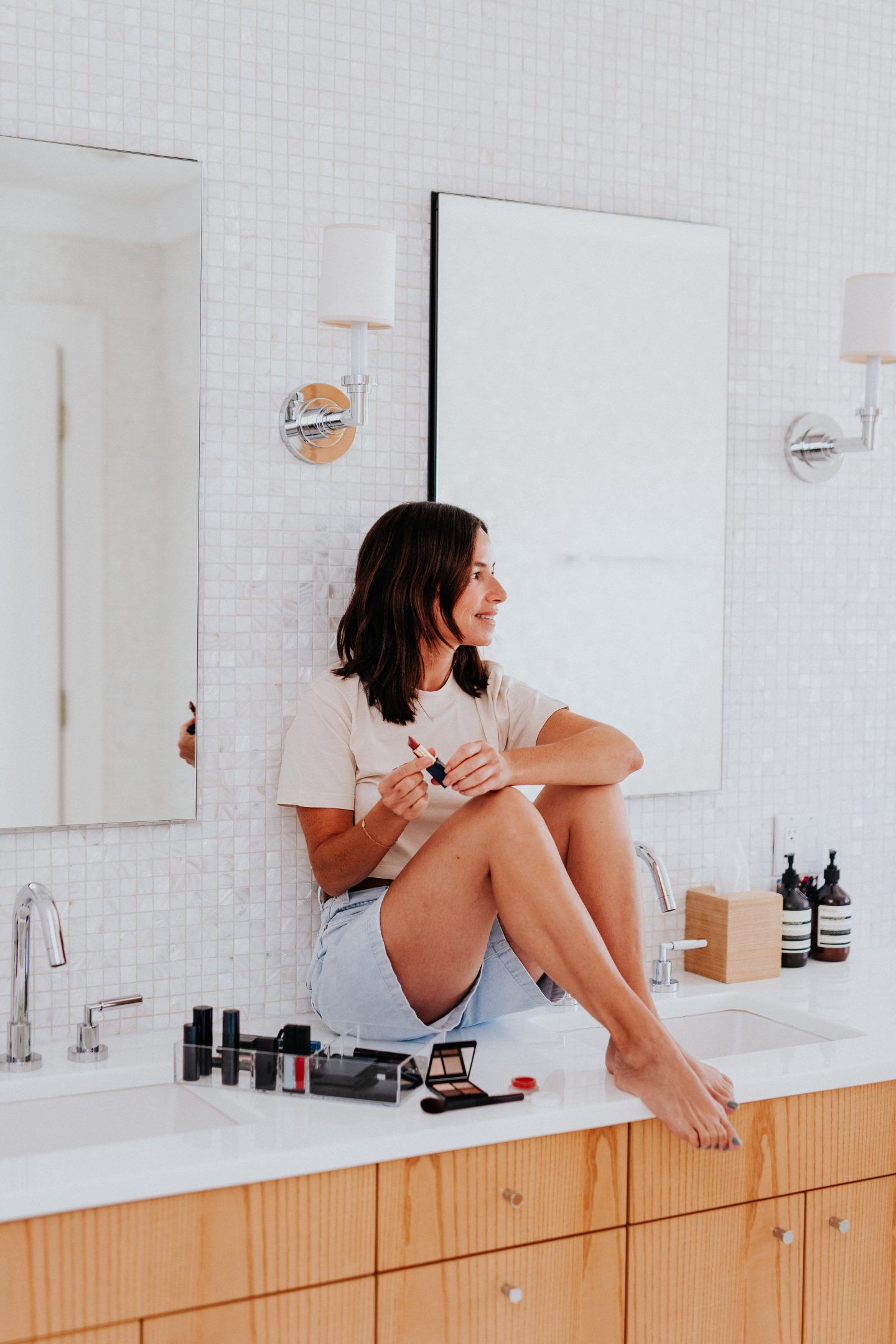 I can't believe we are in the last week of July! I wish summer would last just 1 month longer. Don't you?
Each month, I like to keep y'all up to date with any new and noteworthy finds, my Amazon purchases, charming boutiques I've wandered through, restaurants I've visited, and any fun activities I partook in.
When it comes to dining out on the Jersey Shore (where I live during the summer), I have 2 favorites which are Trama's Trattoria and Angelica's. I'm also a fan of Talula's Pizza and can't believe I haven't visited yet this summer!
This past week the hubby and I went to Beach Tavern located in Monmouth Beach and the setting couldn't have been dreamier. It was a breezy summer night with palm trees swaying ever so gently plus there was a live band which added to the vibe. I told my husband I felt like I was on vacation for the evening.
Semolina, a farm-to-table restaurant is on my list of places to eat and for those who are kosher, Salt Steakhouse seems like a wonderful option, and…their bar is a vibe – looked chic when I passed by recently on an evening walk.
One last restaurant I need to get to is Peace Love Pickles, a sandwich shop with no bread in the house! Every sandwich is made using their signature pickle and as I am a pickle lover – this is a must-try.
On to books/netflix & chill…
I am currently reading People We Meet On Vacation by Emily Henry and doing so at a snail's pace, but I am enjoying it and have heard great reviews. Next on my list will be The Invitation by Lucy Foley. I recently began watching My Unorthodox Life. As I am early on in the series, I'd rather wait till I've finished watching to share my opinion. There has also been a lot of buzz around Sex Life, another Netflix series.

Things I've done…
One of the items on my summer bucket list was to start up ballroom dancing again and I am so happy I did! I was on a high after my first session which took place a few weeks ago at Fred Astaire in Tinton Falls. It just felt so good to put on my dancing shoes again! It has been exactly 10 years since my first ballroom dance class and it's such a joy to lose myself in learning and dancing the cha-cha, rhumba, foxtrot, swing (my fave), Argentian tango (also my fave), and the Waltz.
I also bought tickets to a Rod Stewart concert only to realize after I purchased them that it was for summer 2022. Other fun July moments were a cooking class taught by a talented and dear friend of mine, Julie Ebani, and just spending as much time outdoors, exercising, reading, and hanging with friends and family.
Shopping…
A few weeks ago, my husband, daughter and I took a drive to The French Market in Rumson and I felt like I was transported to a bakery in the heart of Paris. The staff was all wearing Breton striped tees, I had to mention this first. Now on to the actual market… there was an array of loaves of french bread, fresh cheeses, pastries and crepes, and sandwiches made to order. They also sold some cute home goods, condiments, and…there was a charming flower shop in the back. If you live in the area, it is worth the drive.
Speaking of flower shops, The Bloombar Flower Market in Oakhurst has been my go-to for weekly fresh flowers. I love their floral selection, and they also offer affordable and adorable ceramic and glass vases plus the staff couldn't be friendlier.
This month I did not purchase anything in the clothing category except for this pair of Gianvito Rossi nude suede 3-inch sandals and I am so freakin happy I made the investment. Here's why… Up until now, I always wore their 4-inch version. I wore them so often that I even bought a second pair because I wore them that much. They literally work with everything in my summer wardrobe and they have and continue to be my go-to.
What I realized here on the Jersey shore and even out for casual dinners in the city is that I don't always need to wear a 4-inch heel, hence this more casual and comfortable 3-inch..lower-heeled version.

When it comes to beauty, I do have a bunch of new & noteworthy mentions which include Trish McEvoy's Light & Lift Face Color Duo for that natural-lit look, as well as her Dramatic Lash Mascara, and her Beauty Booster Sooth & Illuminate Cream which has been giving me that perfect summer glow.
I've also been turned on to Supergoop's Body Mist, SPF 30 & 50, R + Co's newly launched Velvet Curtain hair texture balm, and lastly, I restocked one of my favorite body fragrances, L'eau d' Hiver by Frederic Malle.

For the home, I recently purchased this wave duvet cover and sheet set from Serena & Lily and I also purchased the most charming vintage glasses and tray set from @collectedbybeth.
Last but not least, here are my Amazon purchases. I am definitely most excited with the mold set which I will use when I make the tuna tartare recipe I learned at the cooking class last week.

Stay tuned for my August post!
Some things I hope to do next month is to visit the farmers market in Red Bank, take a road trip up north, and go sunflower picking.

What is on your summer bucket list? If you have any great spots, summer activities to share, please do so in the comment section below!
Shop the post here: