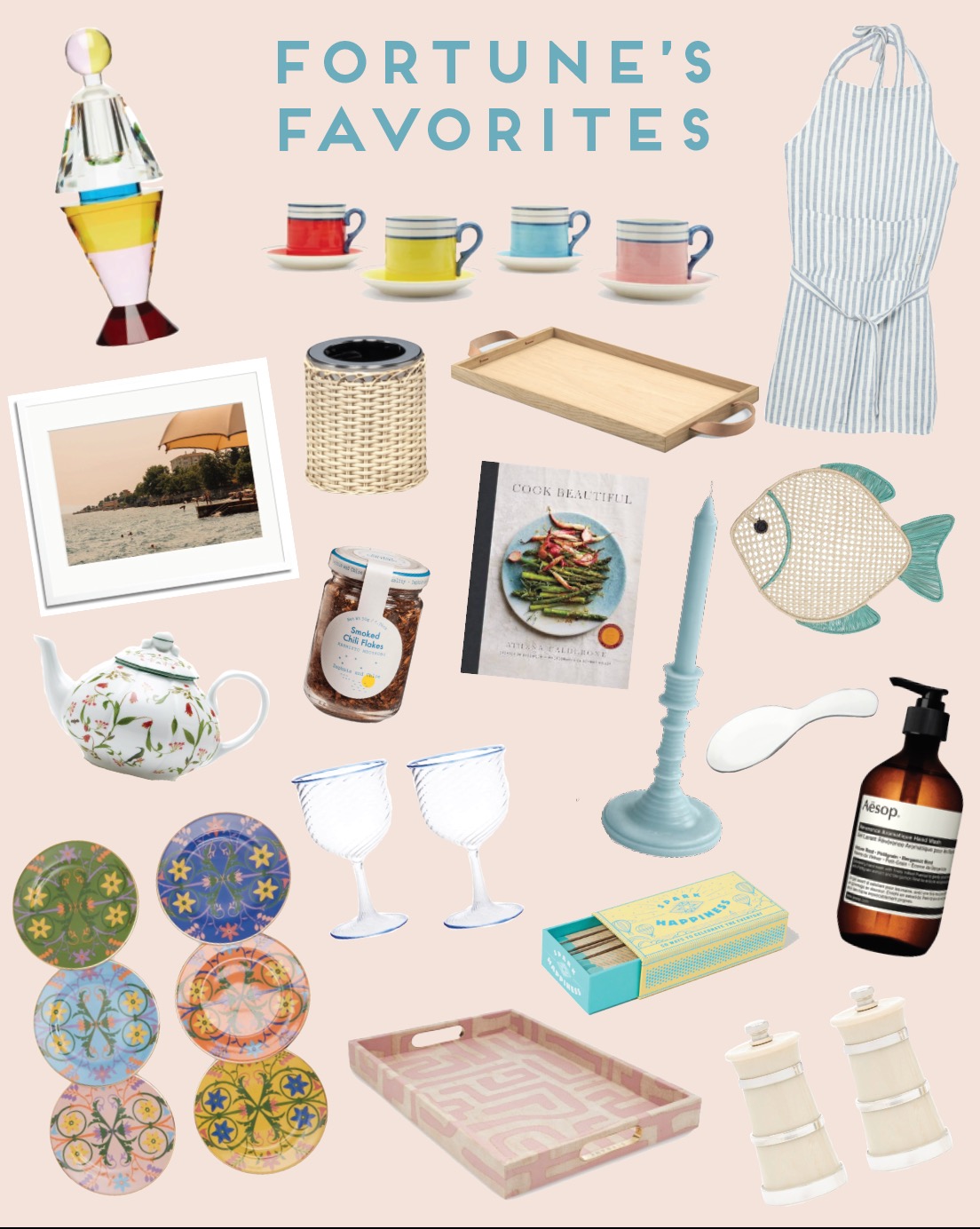 I've been gravitating towards home accessories lately. Maybe it's because I'm spending more time at home these days or… because I do appreciate home accessories… probably both.
Every time I see something I like, I take a snapshot of it on my computer, so I decided to create a collage of all these images that focuses on home accessories and just all-around fun and kitschy nicknacks.
Each and every one of these pieces excite me, and I hope they excite you just as much!
Reflections Copenhagen Lauderdale Large Crystal Perfume Flacon
I would use this chic colorful crystal as a decor accent more than a perfume flacon. I envision it on my vanity, in my dressing room, or perhaps sitting atop a stack of coffee table books.
Cabana Magazine X Carolina Herrera Cristina Tea Set
Tea for 2? I really like the idea of adding pops of color to my tablescape and the stripes are just icing on the cake!
Linen Bib Apron
Yep, stripes in any way shape, or form just get me. Loving this lightweight linen bib apron. I could be a mess in the kitchen so an apron is often necessary when I cook to prevent me from looking like a toddler at the end of a meal.
For Your Guest Bathroom Print
This photograph has me dreaming of future island getaways.
Oak Norr Tray
I'm thinking of breakfast in bed with this simple wood tray and leather grip.
Stephanie Fishwick Porcelain Teapot, Sugar and Cream Set
I have a thing for florals and this teapot set made in France, brings me back to a bygone era.
Daphnis & Chloe Chilli Flakes
These chili flakes are smokin'. My daughter Sonia introduced me to them and are a must-have in your spice closet. I add it to everything from eggs, and salads to steaks and poultry.
Cook Beautiful Cookbook By Athena Calderone
Another must-have cookbook. I'm a big fan of Athena, her blog EyeSwoon, her cooking style, and overall aesthetic.
Loewe Beetroot Wax Candleholder
I've been eyeing these chic honeysuckle candlesticks by Loewe ever since I came across them in magazines a few months ago. They come in a variety of unique colors and would make for a perfect holiday gift.
Mercedes Salazar Set of 2 Placemats
I just have a thing for kitschy accessories. I actually own rattan shaped fish placemats but these raffia ones are next-level adorable.
Enamel Spoon Rest
The elevated spoon rest. I currently own a basic stainless steel spoon rest. This would make for a sophisticated upgrade.
La Double J Porcelain Dessert Plates
Aaaah. I just swoon for these vibrant porcelain dessert plates – perfect for your next (intimate) dinner party.
Campbell Rey X Laguna B Set of Two Cosima Wine Glasses
Any kind of drinking glass with colored rims always catches my eye. The twisting ridges also add a bit of style to your dinner table and/or barware.
Spark Happiness Faux Matches
Because we can all add a bit of a mood booster to our day. Originally I thought these were usable matches but they are actually marketed as a way to spark happiness – another cute home accent.
Aesop Reverence Aromatique Hand Wash
This is my handsoap of choice which has a bit of exfoliant so I feel like my hands get thoroughly cleaned each time I wash my hands.
Terracotta Classic Serving Tray
It's all about the pale pink and cream hues and Kuba cloth print with this tray. Perfect for serving hors d' oeuvres.
Moda Domus Ivory Salt and Pepper Shaker Set
I'm not sure I've ever seen a prettier salt and pepper shaker set. Think ivory and sterling silver. It doesn't get chicer than this.
Shop Fortune's Finds here: