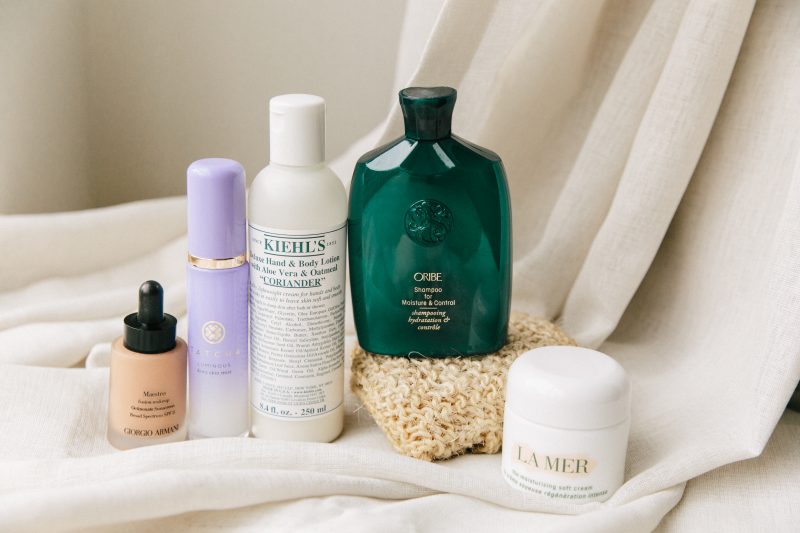 I have so many favorite products that when I decided to write this post, I had to figure out how I would narrow it down to my top 5. It came down to what products I consistently purchased on repeat.
I'd have to say, the product I have been using for the longest time is Kiehl's Coriander Deluxe Hand & Body Lotion. What I love most about this moisturizer is the non greasy, lightweight formula and fresh scent. I highly recommend you test this out next time you are in a department store. I religiously apply this every morning and evening right after I shower and it leaves my body feeling soft and smooth.
Next on my list is La Mer the moisturizing soft cream. I also apply this luxurious potion day and evening. I typically tend towards products that are light weight and non greasy as I mentioned above, and this product definitely fits this bill. It moisturizes and hydrates my skin and is perfect for all seasons. As an added bonus, it gives my face a certain glow which I love. The soft and smooth texture is absolute perfection. My husband is now hooked on this cream which I think is sort of cute that he digs my beauty products but can sometimes be annoying when the tub is almost on empty. A true testament to how addictive this product really is!
Oribe Shampoo for Moisture and Control is another winner. The nourishing and light weight formula is sulfate free, which is also perfect for those who Keratin their hair. And can we talk about the scent? It's divine, but so are all of Oribe's products. I definitely recommend trying this hydrating formula. The hunter green bottle with a crest in the center is so elegant.
Giorgio Armani's Maestro Fusion Makeup is my secret weapon. I love that it offers enough coverage to even out my skin tone and hide most imperfections but is still lightweight enough that it doesn't leave my skin looking caky. In addition, it gives my face some color, especially helpful during winter months when my skin can use a little pick me up. I normally blend a few drops of this with my La Mer moisturizer. I mix it in the palm of my hands and then apply allover my face. As an added bonus, this product has an SPF of 15.
Last but not least, is Tatcha's Luminous Dewy Skin Mist. I have written about this product many times as it always delivers. An amazing salesman at the Barney's beauty counter once recommended this about three years ago and I have been using this as part of my beauty routine ever since.
As the name suggests, this product leaves the skin looking luminous and dewy and offers hydrations without any build up. I spritz 1 -2 times (no more) at the end of my beauty routine and voila, I am out the door. Do make sure to shake the bottle before using (and your booty if you'd like), and spray about 6 inches from the face.
What are your must have beauty products? Please comment below.