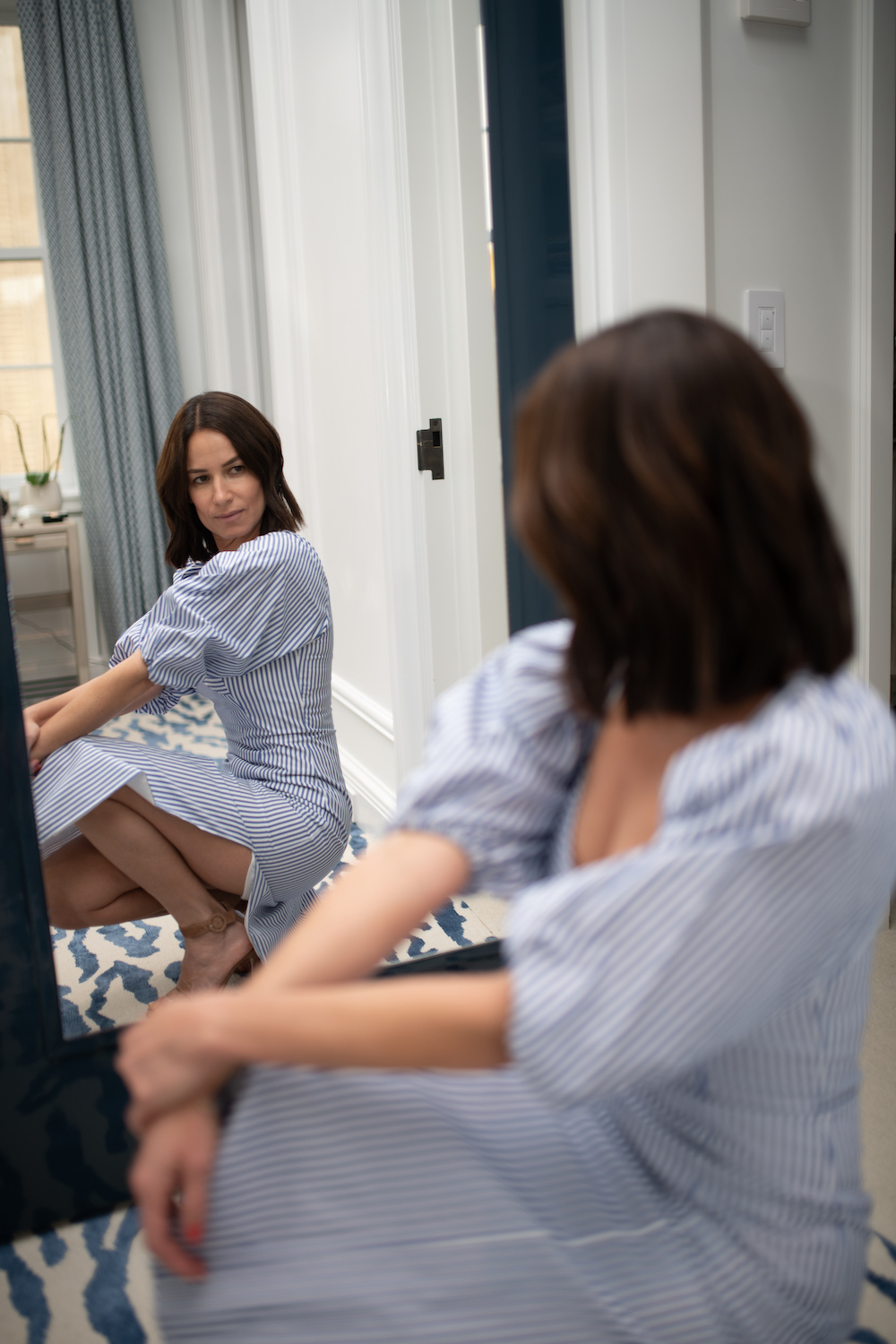 There is something exhilarating about finding fabulous fashionably affordable spring dresses. By this, I mean in the $300 range and below. Having style, in general, is not about how much you money you spend, but about having your own unique taste, sense of self and staying true to what you feel best in. It's how you put yourself together and it's about attitude and owning whatever it is you are wearing. Having style is a form of self-expression and overall confidence.
Ok… now back to fashionably affordable spring dresses…
A few months ago, I found this Staud blue and white striped midi dress with an up to there thigh-high slit at Nordstrom's, which just so you know is now on sale on the Shopbop site for $216. I originally planned to wear this in Cabo and though our travel plans have been canceled, this kind of dress is timeless. The fit is super flattering and I'm a fan of the balloon sleeve. You'll notice in the image below that I removed the flower pin as it's not my thing but if it's yours, go for it! Another favorite dress by Staud is this demure white midi dress with puff sleeves – another classic and trés elegant. These dresses got me thinking about other affordable dresses I own and affordable brands that are my go to's, Reformation being at the top of my list.
Last summer, I purchased a Reformation fruity printed linen dress. Let me just say, I have received more compliments on this dress than any designer dress I own. Even more, whenever I wear it, I feel so good in it! After reviewing their newest collection of dresses, I seriously want them all and in this climate, I don't feel too guilty to invest in one or two of them because they truly are well priced. This blue and white floral midi dress with cutouts on the bodice is a must-have and may I add, bra-friendly?
Another favorite dress by Reformation is this red and white print dress with a square neckline. I am obsessed with square necklines in general, super flattering.
If less is more come spring, as in less fabric and more leg, definitely worth checking out this va va voom cotton leopard mini dress by Ganni and on the flip side this sweet and subtle floral print mini tiered dress also by Ganni.
For those who have full-on beach, sun, and summer on their minds, I came across a few cute affordable beach to town dresses by it brands, Solid & Striped, Love Shack Fancy, and DL1961.
Two thoughts I will leave you with that relates to dresses, one is a corny joke and one is a quote.
What did the salad say to the refrigerator? Close the door I'm dressing.
You're never fully dressed without a smile

Shop mini dresses here:

Shop midi dresses here :

Shop casual/beach dresses here: