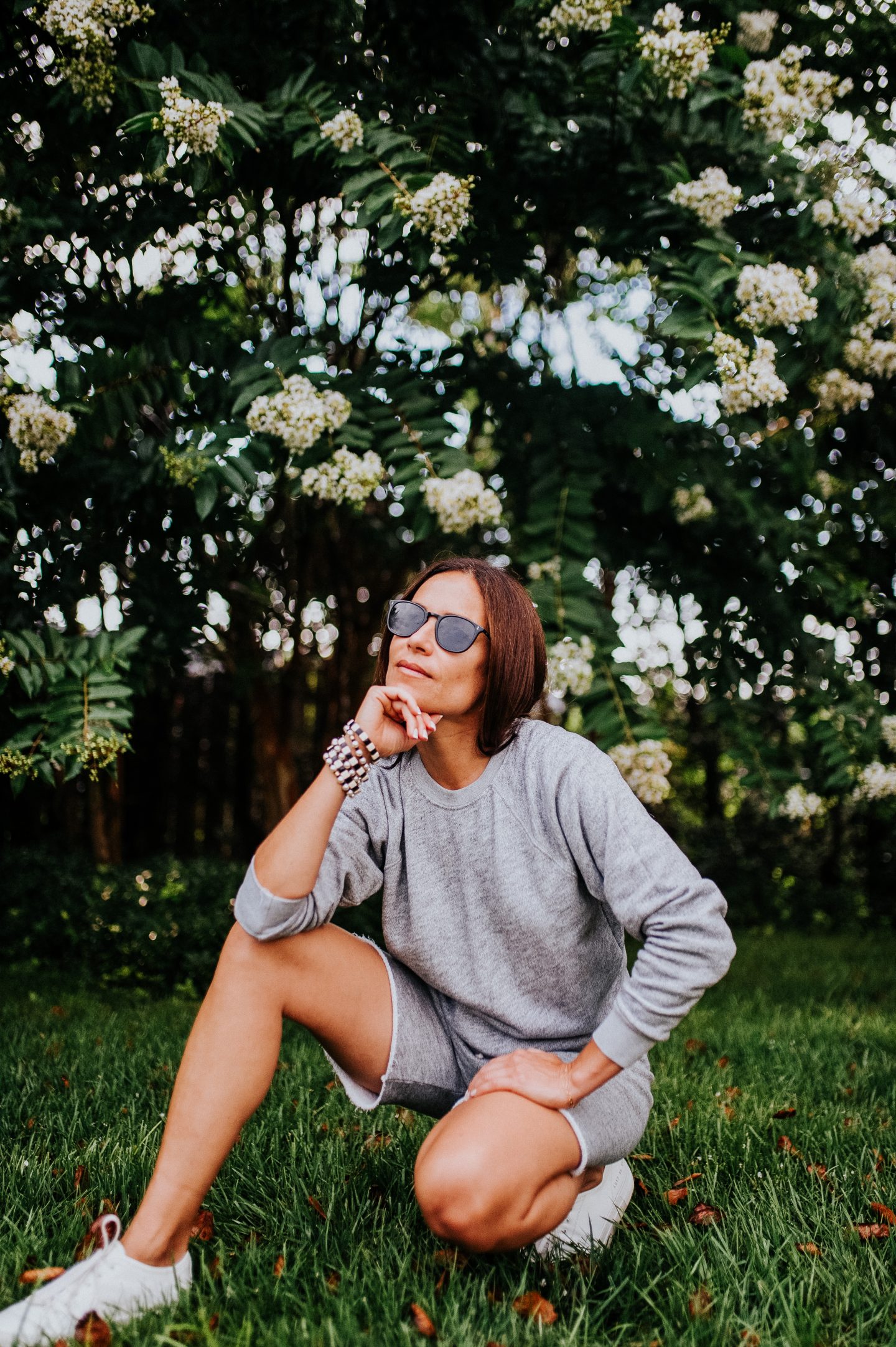 Today is exactly 2 weeks since we moved out to New Jersey to self distance. I haven't really left the house during this time, which means my daily wardrobe has thus far has consisted of exercise clothing in the am, cozy cashmere cardigans or sweats in the afternoon and soft cotton pajamas come evening. This way of dressing is what many have been referring to as one's functional wardrobe, be well or at-home style. As a matter of fact, if you were to check out any fashion e-commerce site you will now find an entire category dedicated to what we now call the new normal style of dressing.
I'm sure the time will come when I will miss dressing up but right now, I'm not upset about being in comfy clothing 24 -7. What I do miss are manicures, pedicures, blowouts and soon enough, I will most definitely be missing my hair color appointments, social contact with extended family and friends, getting back to life as it was pre-Covid 19… but I am digressing.
Athleisure and sleepwear are what most of us are investing in right now which makes perfect sense given the current climate. For those, who are looking to refresh in any of these categories, or for those who simply want to update a piece or two, I thought I'd narrow down the options for you and share my current favorites.


All I need Is Coffee And Cute Gym Clothes
So while we may not necessarily be off to our local gym these days, putting on a cute pair of leggings and tank or tee – makes me feel good and it's known to be a good motivator to get our bodies moving. Even though I'm not really seeing anyone, it's important to make an effort to look presentable, even for our selves – a small effort does go a long way. I have been wearing a lot of Alo yoga leggings lately and their new spring collection is refreshing. I have my eyes on or shall I say legs on, these 7/8 high waisted lounge leggings in bone/white soft cotton leggings as well as these mellow yellow 7/8 high waisted Alosoft leggings.
I'm also a big fan of Beyond Yoga leggings. Their pieces are beyond super soft and this spring, their light pink heather jersey legging and matching tank top is at the top of my list.

Shop workout wear here:

I Want To Feel Cozy
I've been wearing some sort of oversized cozy cardigan or sweater during the day. I want to be comfortable and I also want to look presentable in a relaxed sort of way. Eberjey and White + Warren both have a classic oversized version in grey.
Madewell also had a lightweight oversized version in cotton and the upside about opting for this piece is that it is machine washable and comes at a gentler price point.
I've also highlighted some sweater options by Lauren Manoogian who has cornered the luxe stay at home market if you will, and Kule will forever be a favorite sweater brand of mine
Shop comfy and cozy here:

Everything Is Better In Pajamas

You betcha!
Last but not least… I seriously look forward to changing into my crisp super cotton PJs or my super-soft jersey pajama sets come evening. I used to wear sweats to sleep until my husband threatened to burn them years ago. Since then, I have become a jammy convert, and truth be told, it just feels so civilized. I mostly wear pj's by Sleepy Jones and Eberjey these days. I do sprinkle in an occasional kitschy themed PJ Salvage set, ie hearts for valentines, reign deers over winter vacation etc… Come summer, you can most certainly find me wearing a pair by Desmond & Dempsey. It's made from the lightest cotton, the look is cool and relaxed and the prints are super chic.

Shop jammys here:

Stay fashionably cozy – a definite mood and morale booster!
xoxo,