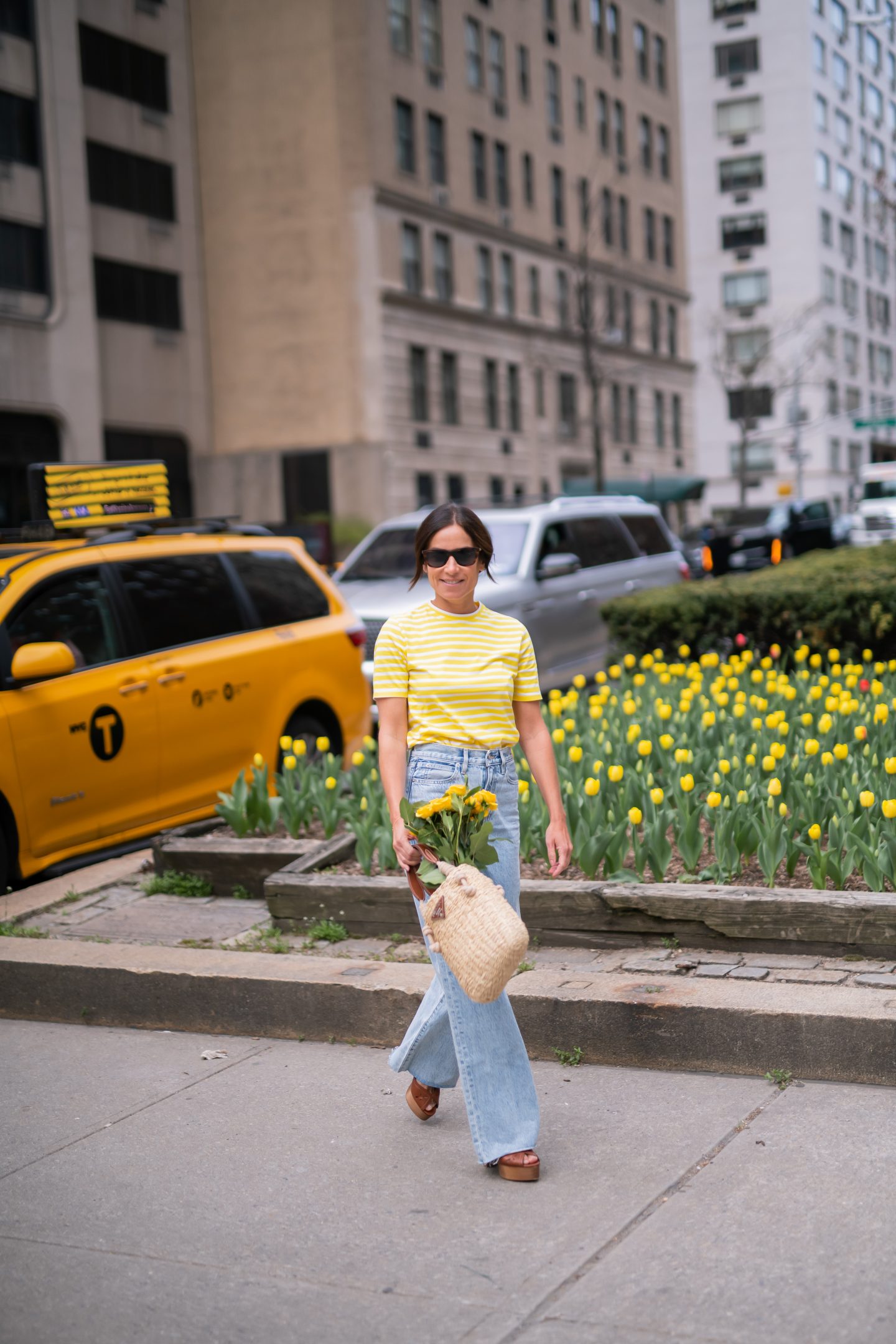 I have a denim obsession-fact!
The truth is, I wear denim almost daily so I feel like I can totally rationalize my denim obsession. This in turn sparked the idea for my first ever denim round-up.
I wear many different styles of denim from mom jeans, tapered and ankle-length to flare, wide-legged, and wide-leg cropped. You see the options are endless and I am here for it all.
I have my share of skinny jeans too which I recently read in the WSJ are not trending but… I still plan on wearing them when the mood strikes.
I love denim because they are so versatile and comfortable. They can be worn casually during the day with sneakers, loafers, and clogs and then they can be elevated to dress up for night with a high heeled sandal, mule, and hell, even platforms.
Most recently, as in this past year, I have been wearing a lot of denim by AGolde, SLVRLAKE, and Grlfnd. I also have my fair share of denim from designer brands Nili Lotan, Rachel Comey, and Isabel Marant Etoile. As I was researching denim for this post, I bought myself my first pair of Still Here denim which I am super excited about. My daughter Sonia has been a big fan of this brand for a while now and after recently spotting a super cool girl at the airport sporting a pair, I decided I had to give them a try.
Waiting for them to arrive but I'll keep ya posted!
Another recent pair of jeans I recently bought are these high-rise wide-legged denim ones from SLVRLAKE which I received a ton of compliments on while doing an IGTV live. They have a wide-leg cut with a raw hem and overall a pretty cool style. I have been wearing this pair out to dinner paired with platform sandals and a cute top such as this pink knit and this yellow striped tee.
Other favorites by SLVRLAKE are these white distress jeans. My father-in-law likes to call these ripped jeans – hole-y jeans which always makes me laugh. I love the relaxed fit and plan to wear them with a sweater and jeans during the day and then with high-heeled sandals and a tank and blazer in the evenings. For those who prefer a "cleaner" white pair of jeans sans rips, AGolde makes this fabulous high-rise tapered pair. I happen to own these in revival and black tea. Another fabulous pair of white denim jeans are the AGolde 90's high rise. They're actually pretty awesome in any of the available shades.
I was recently turned on to Levis jeans and one of my newest favorite pairs is this high-rise tapered style which is the perfect mom jean. I seriously can't get enough of this 90's fit.
Originally, I had ordered the 31 length which was too long but then exchanged them for the 29 length – a perfect solution for my 5'3 petite frame. I wish other denim brands offered length options!
Shop jeans here:

When it comes to designer jeans I am a huge fan of Rachel Comey and Nili Lotan. I can't get enough of Comey's wide-leg cropped jeans in various shades and I love Lotan's flare which is elongating and flattering. These Isabel Marant's have a super relaxed fit. They're paper-thin, and the lightweight fabric which always gets me.
Shop designer jeans here:

I also thought I'd share a few tips when shopping for denim online.
Always check the size chart.
When in doubt about fit, order 2 sizes.
Alterations go a long way. I alter many of my jeans to get the perfect fit, ie length and waist. Be sure to ask the tailor for the original hem.
Any denim guide will say, stick with the styles you know. I will also say stick with the styles you know and go out of your comfort zone and try a new style once in a while. Sometimes it takes a few tries to score that winner pair of jeans.
If you see a friend or even come across someone on social media wearing a pair of jeans that catches your eye, inquire!
Sometimes the images online don't do the denim justice. As long as you can get a full refund, it pays to purchase a number of pairs to land that special jean.
Shop the post here:

Hope you've found this denim round-up helpful!