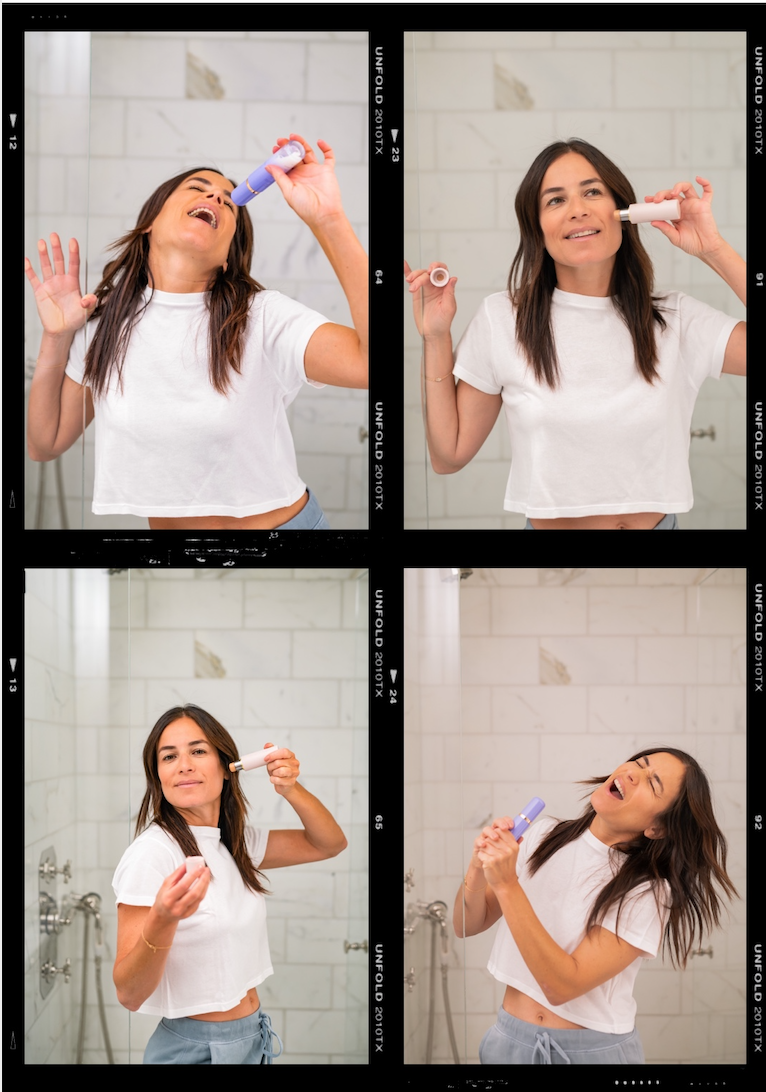 It's been a while since I've shared some of my beauty products of the moment, so I thought I'd keep you up to date on what beauty products I've been using and loving.
As the temps continue to rise and we are beginning to think about summer travel, I decided to include a (long) list of skincare products I took with me on a recent trip to Miami. I also happen to use most of them on the daily.
I'm A Glow Getter
When I recently complimented a friend of mine on how flawless her skin looked, she told me she'd been using Westman Atelier products. Naturally, I searched for Westman Atelier makeup that evening, bought myself some products, and have incorporated them into my daily beauty routine ever since.
As a side note, Westman Atelier products are all clean ie, no parabens, no silicone, no synthetic fragrances.
At the top of my list is Westman's Atelier Vital Skin Foundation Stick.
In the past, I've always used a liquid-based foundation (and I still do) but it's nice to switch things up.
This cream-based product provides the perfect amount of coverage, it feels light on the skin and it gives off a natural, radiant finish. This product can be applied directly onto the skin or you can also easily dab it on it with your fingertips.

Lately, I've been blending my foundation with Artis's Elite Mini Palm Brush, another newish beauty tool that I've been using consistently.
I also use this brush to blend in my Westman Atelier highlighter, (in Lit).
I am a sucker and a lover for anything that illuminates and gives off that dewy glow.
Without batting an eyelash, I purchased Westman's Eye Love You Mascara
which volumizes, lengthens, and curls to perfection.
The fourth and final beauty product I bought by Westman Atelier is the Eye Pod Eyeshadow Trio – a velvety cream powder formula. I apply this neutral palette with my fingertips and they blend into the skin really well. All 3 pods snap together which is genius – easy to travel with as they literally stack on top of one another.
This Tatcha Luminous Dewy Skin Mist has been a long-time favorite of mine. I stopped using it for a while… not sure why… but I sure am happy I reintroduced this must-have product as the final step in my makeup routine. Think glowing skin anytime, anywhere + it hydrates.
Shop recent beauty buys here:

Beauty
Westman Atelier Vital Skin Foundation Stick – IX.
Artis Elite Mini Palm Brush
Westman Atelier Lit Highlight Stick – Lit
Westman Atelier Eye Love You Mascara
Westman Atelier Eye Pods Eyeshadow Trio
Tatcha Luminous Dewy Skin Mist

But First Skincare
On to skincare/travel…
Over the past couple of years I have become a Sun Bum Sunscreen Spray devotee. I love their coconut scent which has me dreaming of palm trees even while in my own backyard, The price point is reasonable, which is important as we go through countless bottles of these on our travels and all through summer. And well, yes… I am a sucker for their organic packaging too.
I wear La Mer's Skin Tint with an SPF of 30 almost 365 days of the year. I blend this product with my daily moisturizer and/or Sisley Sunscreen. It gives me a nice light natural coverage with the perfect tint of color.
Applying Kai Body Lotion après showering is a non-negotiable. I switch off between their original and rose scent. On vacation, I tend to get a little lazy, so I typically opt for their body glow which is a spray-on. As the name suggests, it gives a radiant glow – sold!
Travel size candles are also must-haves. My current favorites scents are by Byredo – Cotton Poplin and Fleur Fantone.
I always make sure to apply an eye mask on vacation, especially on the day I arrive. Patchology's Rejuvenating Gels have been my go-to's.
They're great for reducing puffiness, they're hydrating, and give me that much-needed refresh after a long day of travel.
I also bring along a facial massager to get the blood flowing. It reduces puffiness and rejuvenates. There are many other benefits but I really do it because it feels so good when I massage it on my face and it brings a bit of color to my face.
Shop skincare/travel products here:

Skincare/Travel +
Sun Bum Original Sunscreen Spray
La Mer The Radiant SkinTint Broad Spectrum SPF 30
Sisley Paris Suncare SPF 50 + Sunscreen
Kai Body Glow
Kai Body Lotion
Byredo Cotton Poplin or Fleur Fantone Travel Candle
Patchology Rejuvenating Eye Gels
Sio Cold Therapy Facial Massager
Pursoma Detox Beauty Dry Brush
Scent Of A Woman
Last but not least, I thought to include these fragrances which are in my current rotation.
Frederic Malle's L'eau D'Hiver is a soft powdery scent and I have received so many compliments over the years. I know that scents are quite personal so this travel size is a small commitment if you will.
Creed's Zeste Mandarine is a dreamy scent that was recently introduced and another fave. It includes notes of citrus, lemon, and delicate swirls of patchouli.
Virgin Island Water also by Creed is basically a tropical vacation in a spritz – this lime and coconut scent is absolutely divine.
Fragrance
Frederic Malle L'eau d'Hiver
Creed Zeste Mandarine
Creed Virgin Island Water
Shop fragrances here:

Any vacation must-have beauty products or worthwhile recent purchases?
Please comment below! I'd love to hear!
Shop the post here: