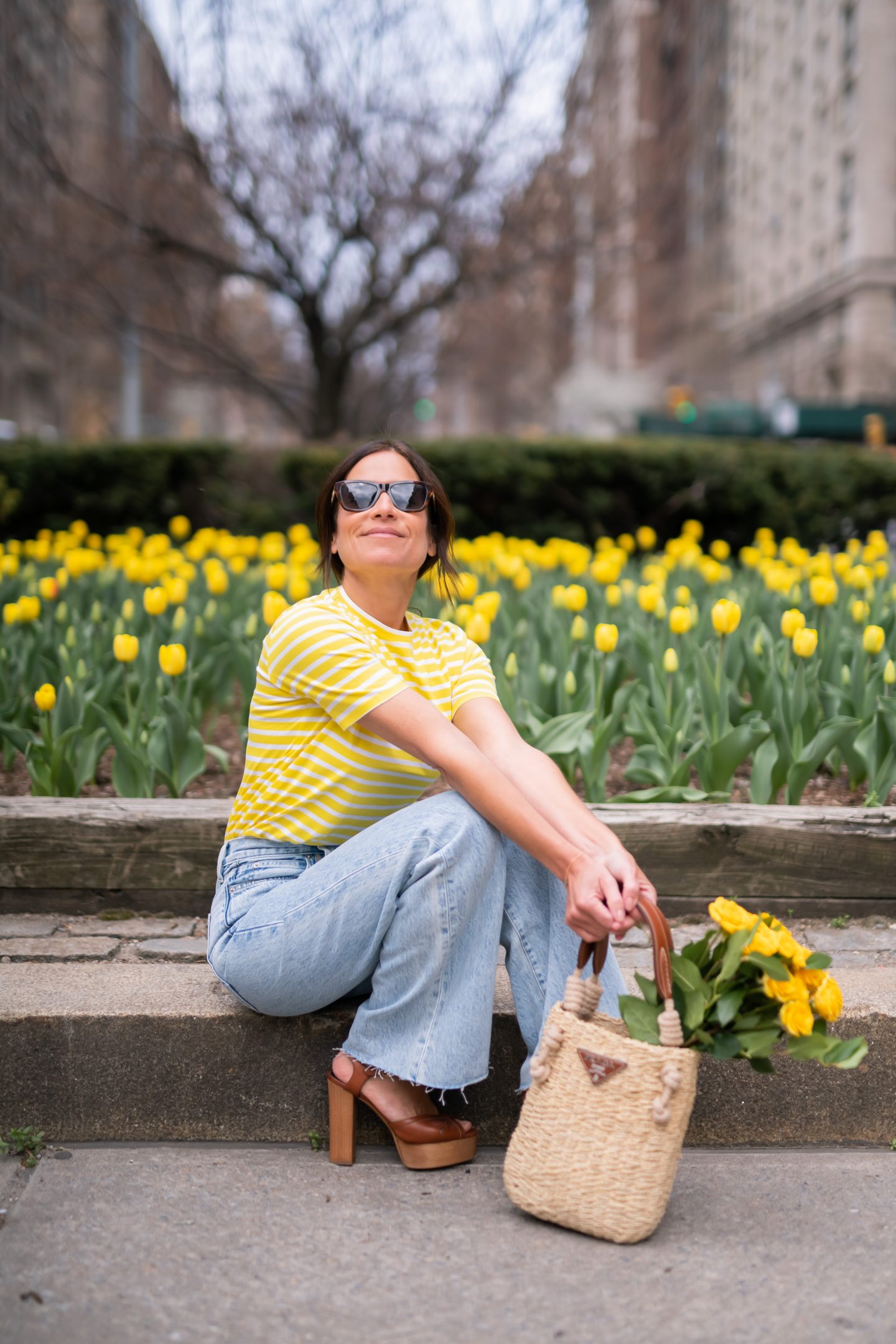 What better way to welcome in spring and summer than with this season's it color – yellow?
I am color-crushing on yellow in a major way. As I write this post, I am actually wearing a pale yellow knit sweater vest from a few seasons ago. Talk about coincidences!
The color yellow is just pure happiness and sunshine. Yellow can be bright and bold but also soft, sweet and demure.
There are so many yellow accessories to choose from. I am particularly fond of Olympia Le Tan's The Great Gatsby Book Clutch. These bags are a statment piece. They're classic, cool and always a conversation piece. Most importantly, theyre actually functional and by that I mean it can fit your phone and (gasp) lip gloss. Olympia Le Tan's Malibu embroidered clutch is just as cool, it's really a matter of personal preference – they're all so good. I have 2 of her clutches that are from many seasons past and they are still just as relevant, so I find these accessories to be a worthwhile investment.
I'm also a fan of any and all of Loewe's bags. There are many styles that include a pop of yellow including this small woven leather bucket bag that has me dreaming about St. Tropez. This 60's style wovem raffia beach bag with a yellow trimmed handle and leather patch is great for the beach or town and this classic is certain to have longevity in your closet. Last but not least, I'm obsessed with this yellow leather (how's that for a tongue twister) trimmed raffia tote.
Another bag I am swooning for is this Bottega Venetta small chevron wooden shoulder bag – a work of art if you ask me.
A couple of fun and flirty affordable options worth checking out are Poolside's Basket Tote Bag with yellow tie dye cotton trim as well as well as Kule's Canvas Wink Face Bucket Bag. Does it get any happier then this?
Shop handbags here:

On to shoes…
All these yellow sandals and sneakers are happy feet guaranteed.
For a must have option, I am swooning over these yellow/white check print Vans sneakers. For a lust have option, this Loewe paneled nylon, leather and suede sneakers are dope – they're just so good and make a statement on its own with just a pair of denim jeans and white tee.
When it comes to high heeled sandals these Aquazzura Bougainvillea floral applique leather sandals and Bottega Veneta Embellished Leather Sandals are at the top of my list.
Shop shoes here:

You know I love a good stripe, add in the color yellow and I'm in heaven. All of Kule's tees are winners – lightweight and relaxed. Of course I have to add a crop option into the mix so let me introduce you to this easy bandeau striped yellow and white top by Rosie Assoulin.
This criss cross floral crepe print blouse by Reformation is the perfect going out for dinner blouse – très romantique.
Shop separates here:

Look no further than this Johanna Ortiz yellow crepe midi summer dress. This convertable number can be worn in multiple ways – talk about getting a bang for your buck!
If you happen to be looking for a gown, this floral silk chiffon piece by Dolce & Gabbana is so etheral and dreamy. The plunging neckline and cinched waist make for a flattering fit.
Please meet this stunning Etro silk crepe mini dress. I love the paisley print, I always love a puff sleeve and it just drapes on the body so beautifully – simply effortless.
Shop dresses & dressy here:

Finally, "follow the sun" with Roxanne Assoulin's playful tie on bracelet .
Pair it with this set of beaded bracelets and sunshine will surely find you!
Shop other accessories here:

Shop the post here: