I have a serious love affair with stripe tees, shorts, dresses, socks, you name it! And… my affinity for stripes seems to only grow stronger (as does my collection) with each passing year. Stripes are simply classic and it just so happens that the Breton stripe shirt first originated in France in 1858 as the uniform for the French navy, so oui, I am très obsessed!
My all-time favorite stripe anything is by Kule. They carry your classic stripe tees and they also carry many fun and bold colorful stripe tees that can brighten anyone's day! I am currently coveting their super soft super lightweight not too cropped tee in white/navy and cream/green.
Shop tees here:

When it comes to blouses, I am a big fan of Etro's cropped striped button-down shirts which come in blue/white, yellow/white, and a multi-stripe pattern. This is what I'd consider a wardrobe staple with an edge that will always be au courant. I have been pairing this shirt with denim jeans but it also works well with other pattern skirts and pants (see IG post here for inspo). Sizes and quantities are limited so grab them if you like and it's worth sizing up if yours is unavailable as they run snug.
This striped blue/white cropped button-down shirt by cool brand Hommegirls is another fave. I love the frayed hem and this Katherin Hepburn-inspired piece would work all year round.
Shop blouses here:

For those who appreciate a lot of prep and just a hint of stripes this Tory Burch vintage sweater is super cool and happens to be on sale! Alex Mill also happens to have this navy/white stripe boucle sweater that is adorbs and also on sale. Last but not least is this peach/orange cashmere blend stripe sweater from La Ligne – super cozy!
Shop knits here:

There are a bunch of cute striped pants to choose from this summer season, including this blue striped seersucker surf style by Apiece Apart. The fit is great and super comfortable. These lightweight linen trousers by Madewell are a must-have version and come in a brown/white and blue/white colorway.
These marigold striped shorts that I'm wearing in the image above is by Faithfull The Brand and are summer perfect. You can pair them with a cropped white tee and kicks or with a white button-down. There is also a matching striped shirt which I am seriously considering as sets are trending these days,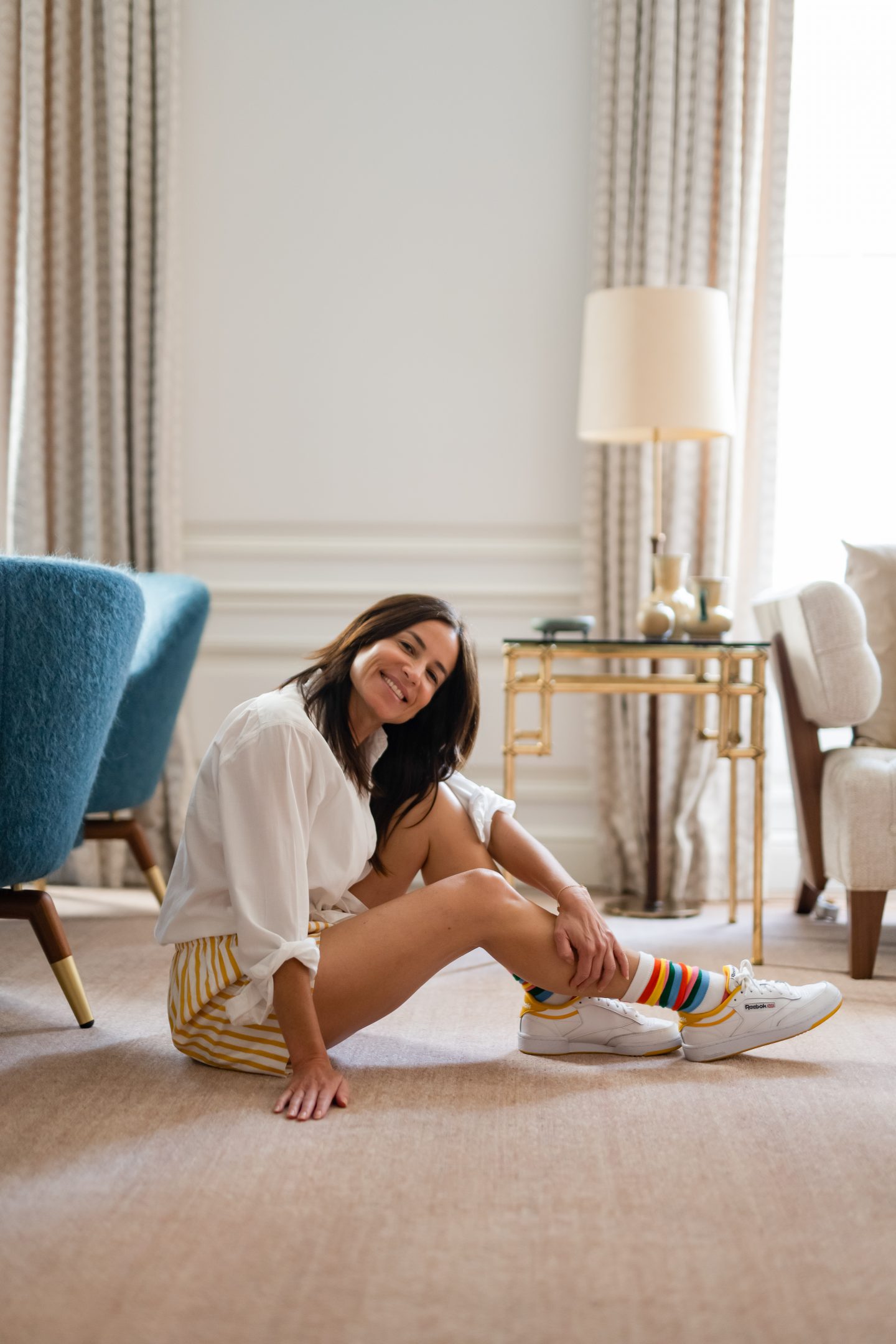 Shop dresses, pants, and shorts here:

I'm swooning over 2 striped bikinis at the moment by Solid & Striped, both of which are bra tops with an underwire that gives great support.
The first set is this retro-inspired multi-color style – think yellow, pink, and orange stripes. The bottom is a high-waisted cut a la full coverage.
The second bikini is more of a classic style. The underwire bra top and bottom have a blue/white stripe pattern and a sweet eyelet type trim with a teeny tiny bow at the center. The "cheeky" bottom as per the site's description is a low rise and the set as a whole has a feminine silhouette.
Shop swimwear here:

If you've ever wondered how to achieve happy feet, look no further than these rainbow socks by Kule which I styled with the stripe shorts above. They're so fun when paired with shorts or even peeking out of a cropped pair of pants/jeans/sweats.
Speaking of happy, the queen of fun and fruity, and stripe accessories is Roxanne Assoulin. For those who love a good ole arm party, it's worth checking out this stack of ten, technicolor stripe bracelets and this set of three fruity enamel and gold bracelets.
Shop accessories here:

Hope you enjoyed my summer stripe round-up and remember… life is always better in stripes!
Shop the post here: