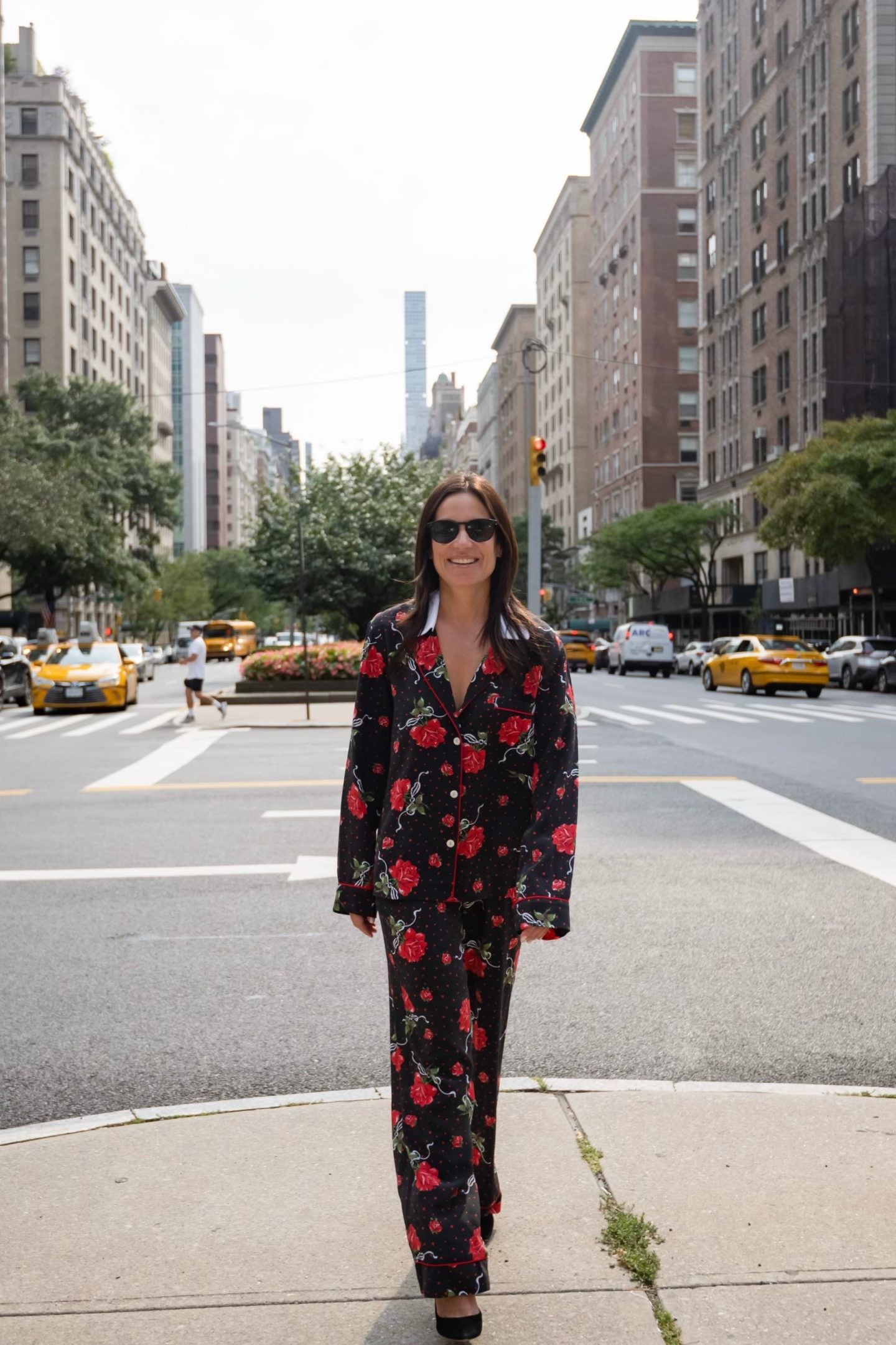 Fall fashion…how I love thee…
I am so ready for cozy sweaters, elegant blouses, chic outerwear, and dressy dresses.
Over the past couple of months, I've been curating weekly edits of my favorite pieces from Mytheresa's "new arrivals" category and then posting a collage on social.
I decided to take it one step further this week and curate my top picks for fall/winter from the past month and post it right here on the blog where it will live forever and evah!
My advice to you is if you see something you like, buy it! I say this because this season there is a limited quantity of any given item and you don't want to lose out. Worst case scenario, if the item doesn't work, you can always return it. Mytheresa makes the process so easy.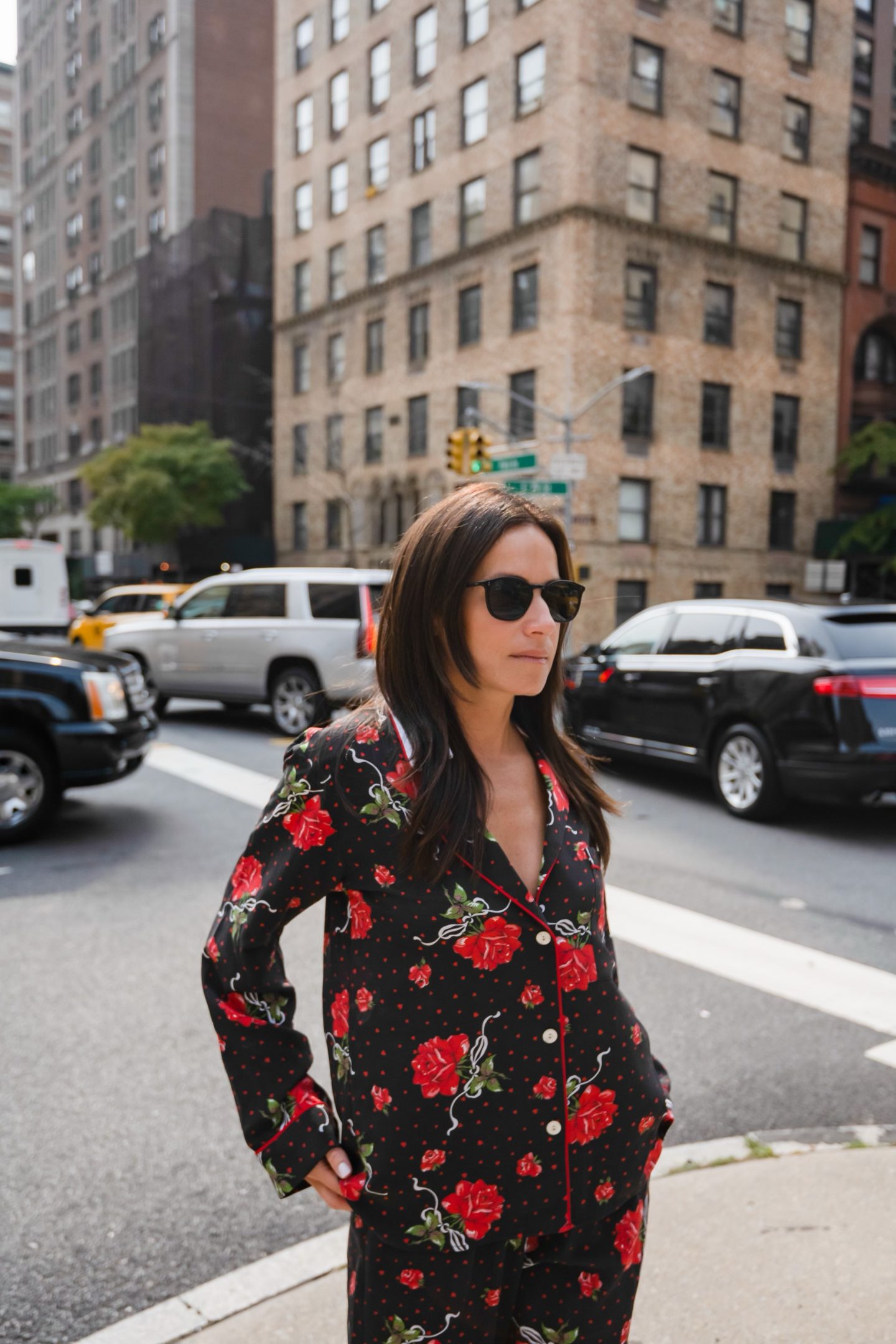 Ok! Let's get to it!
Dress To Impress
First on my list are dresses. I am most excited to wear dresses this season because, man, it's been a while and I am looking forward to dressing up again. This Stella McCartney one-shouldered sexy LBD is smoking and is sure to make a statement this holiday season. It also seems as if you can wear a strapless bra which makes this dress a winner!
For an all-out sparkle option, this Alex Perry brown sequined mini dress is h-o-t. There is a built-in bustier – (it's all about the girls!) which is a plus and it's just so fun and festive. MyTheresa site styled this dress with a blazer layered on top which gives this look an added cool factor.
Next on my dress to impress list is this Gucci black knit midi dress with a flattering sweetheart neckline. This is a timeless dress that can take you to many places this season – a true classic.
Shop dresses here:

I Love A Great Pair Of Jeans And A Pretty Blouse
I tend to wear lots of denim so I'm always on the lookout for elevated fabulous blouses as well as cozy, cute, and casual sweaters.
When I come across any kind of fruit embroidered or print sweater/blouse/dress whatever, it has my heart. Case in point is this Rixo playful pink sweater with a peter pan collar and… wait for it….the sweetest cherry embroidery I ever did see.
I'm also loving this Rodarte black/floral silk blouse that comes with matching pants. Let me just say that I wore this outfit twice last week and it is an effortless and elegant go-to. I love matching pieces because as I always say, they are an instant outfit. The blouse can be worn unbuttoned, with a bralette underneath, and obviously, it can also be worn with jeans. The options are endless!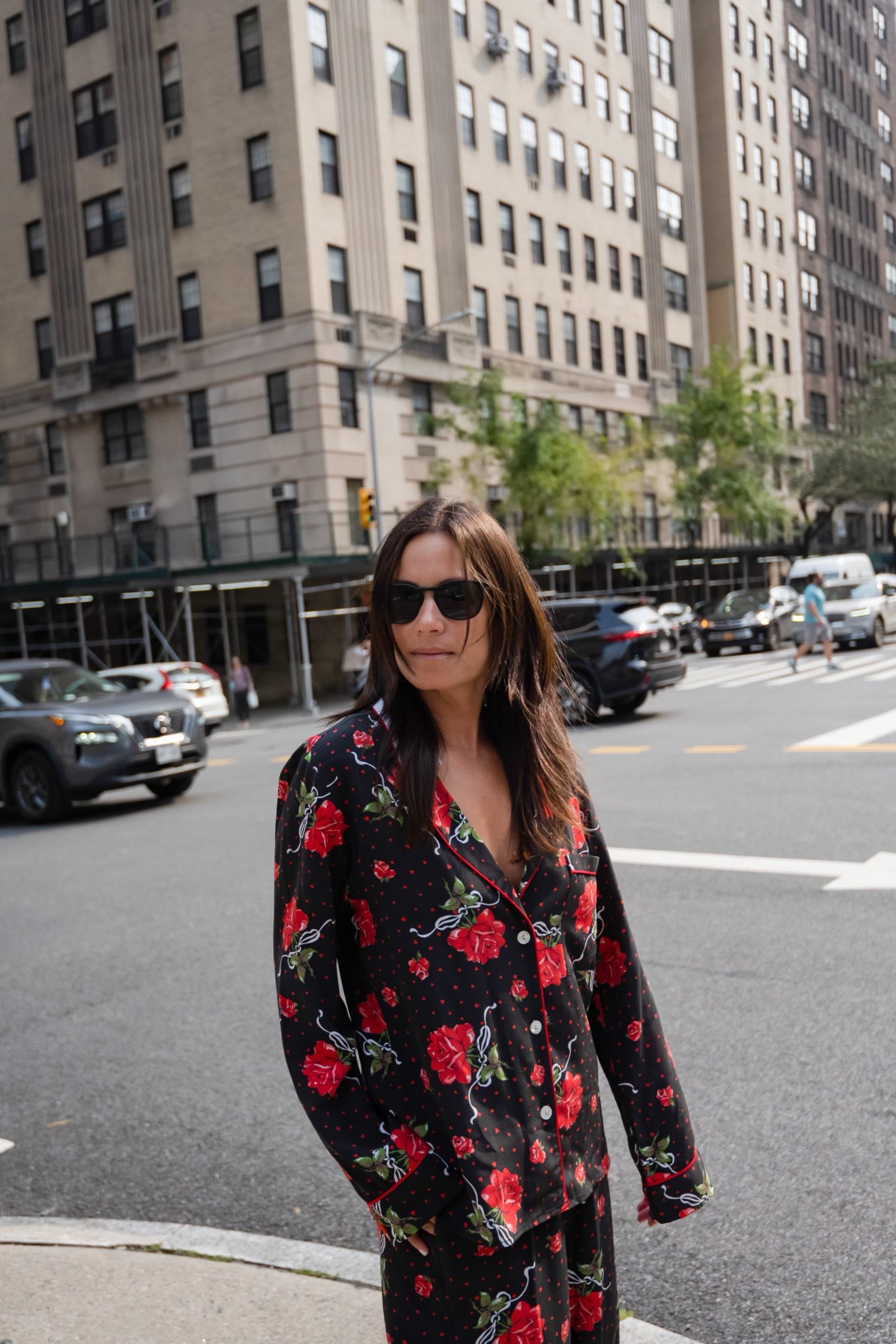 Another top that is on my fall fashion wish list is this Khaite black ruched satin top with a square neckline and internal boning. A super glamourous addition to your wardrobe.
Shop evening/day tops here: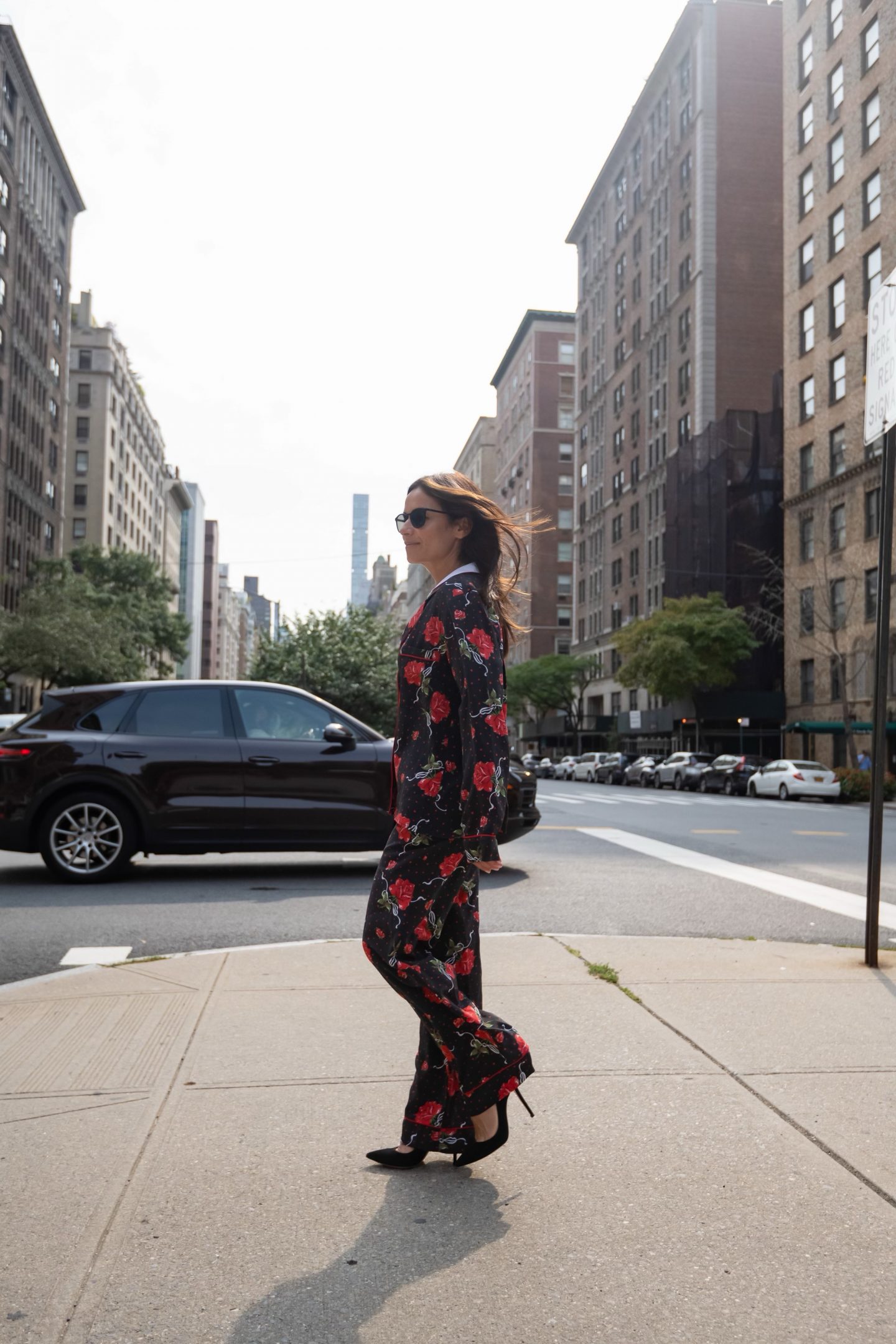 Smarty Pants
It's leather weather and I'm here for it. How chic are these brown high-waisted
straight-leg leather pants by Altuzarra? These can be worn with a white button-down, a tonal-brown sweater, or an ivory cashmere turtleneck. If you dare to bare, you can even try a cropped sweater. These Zeynep Arcay tan leather high-waisted pants with a tapered leg are another fab option – totally digging the voluminous silhouette.
I also have a thing for cords and these Tod's brown straight cotton corduroys have me dreaming about weekends spent in the countryside of London. No, I have never been to the London countryside but yes, I can totally see myself rocking them with a hot totty in hand. Until then, they will work just fine here on the streets of NYC.
Shop pants here:

I'm A Sucker For Jackets
Mother puffer…
Yes, I am particularly on the hunt for a black puffer and black coat this season and this Isabel Marant Etoile puffer coat looks like it will keep me toasty once the temps' dip… plus the belt will make it more fashion-forward. Belt or no belt, this coat is a winner.
If you are looking for a classic black single-breasted coat, Acne's double-faced wool option is super cool. It has a cocoon silhouette which makes it easy to layer over thicker sweaters.
For a more fashion-forward style, this Isabel Marant dark green (the it color of the season) shearling leather jacket is so luxe and the best part is that it's reversible.
Shop outerwear here:

If The Shoe Fits…
Can we ever have enough shoes? not really…
I'm really into these Givenchy black leather ankle boots with a rubber sole. This style of shoe, wish I knew the name, is trending this season, and this one, in particular, looks like a great fit.
It's not always easy to come across a solid wardrobe staple so when I do see one, I need to highlight it. These rich brown leather stilettos by Christain Louboutin are the perfect shade of brown and with their 4-inch heel, you'll be sure to reach new heights.
A few day shoes to check out are the Gucci horsebit leather loafer pumps (obsession), these The Row caramel brown suede sneakers (equally obsessed), and these menswear styled gorgeous mocha brown suede loafers, also by The Row.
Shop shoes here:

Skirting The Issue
I came across a bunch of black skirts which always make for a great investment in one's wardrobe. From this Stouls a-line leather black mini and this Balenciaga asymmetric mini skirt to this classic Saint Laurent classic wool mini skirt, I've got you covered. Well not really entirely covered but covered enough!
For more coverage-ish, Peter Do's high-rise pleated midi skirt with four slits is uh-mazing! It also takes the term pee-ka-boo to a new level and I am so here for it.
I want to quickly highlight one of the many fab features on the Mytheresa site. I love that I can hover over a specific product to see what sizes are available. It's a convenience and yes, one less click does make a difference.

Accessories Make Everything Better
Last but not least are accessories. The Row is just killing it this season with these timeless bags ie, this leather burgundy baguette shoulder bag that works well for the day – especially if you carry minimal items like myself and it works perfectly for nighttime and… this brown leather half-moon small leather shoulder bag, a unique and minimal shape that I have never seen before.
Shop accessories here:

Here you have the latest and greatest from Mytheresa's new arrivals. We've literally got you covered from head to toe!
Shop the post here: