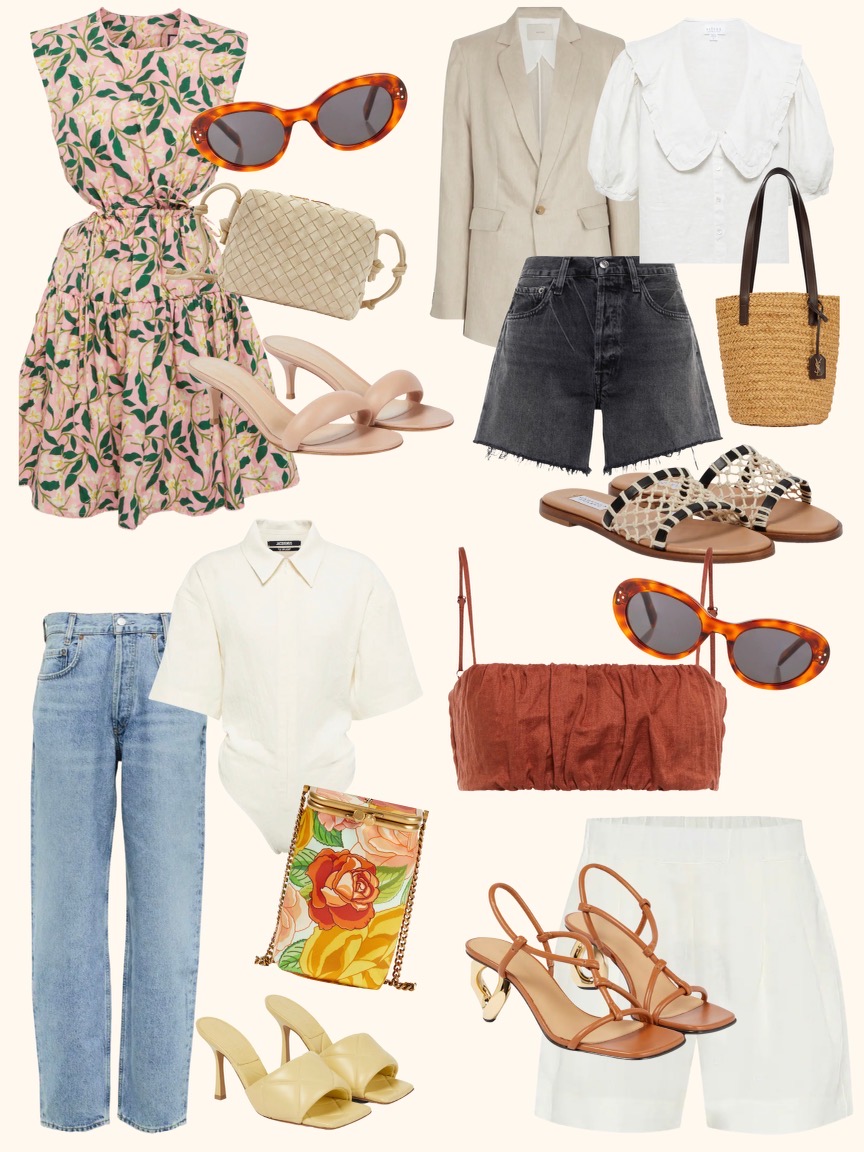 With Memorial Day weekend less than 2 weeks away, the topic of conversation seems to be travel, ie, "where will you be spending Memorial Day weekend?" to "any travel plans this summer?". It's always fun to hear about other people's upcoming vacations and just as much fun to create vacation-inspired outfits for dreamy trips ahead.
Whether you plan to spend the summer months in the city, at the shore, beach bumming, or traveling abroad, here are 5 vacation-inspired outfits to pack for your next get-away or to wear in your own backyard because YOLO!
White On White

Dare to bare in this white bustier with matching maxi skirt by SIR. I love this fresh, classic, and elegant outfit for early evening cocktails al fresco or for an intimate dinner soiree.
Pair this look with these JW Anderson square open-toe brown leather sandals, Celine sunnies, and an Aperol spritz.
When In Doubt Wear White

Consider this next outfit your warm-weather essential go-to. This chic lightweight linen short-sleeved button-down and linen short set by Asceno is an effortless outfit to pack for your next get-away. I bought both the top and bottom in an XS. As an aside, I particularly like these shorts because they hit mid-thigh, ie on the long-ish side which is my preference when it comes to shorts.
You can wear this outfit, casually, during the day for sightseeing and then for lunch in town. Pair this with a pair of kicks or flat sandals and this Saint Laurent small raffia bucket bag. This outfit can easily be transitioned to evening by pairing it with these JW Andersons open-toe sandals with fabulous sculptural meta heels. And…if you'd like to show a little extra skin, why not leave the shirt unbuttoned worn with this Johanna Ortiz brown linen crop top underneath?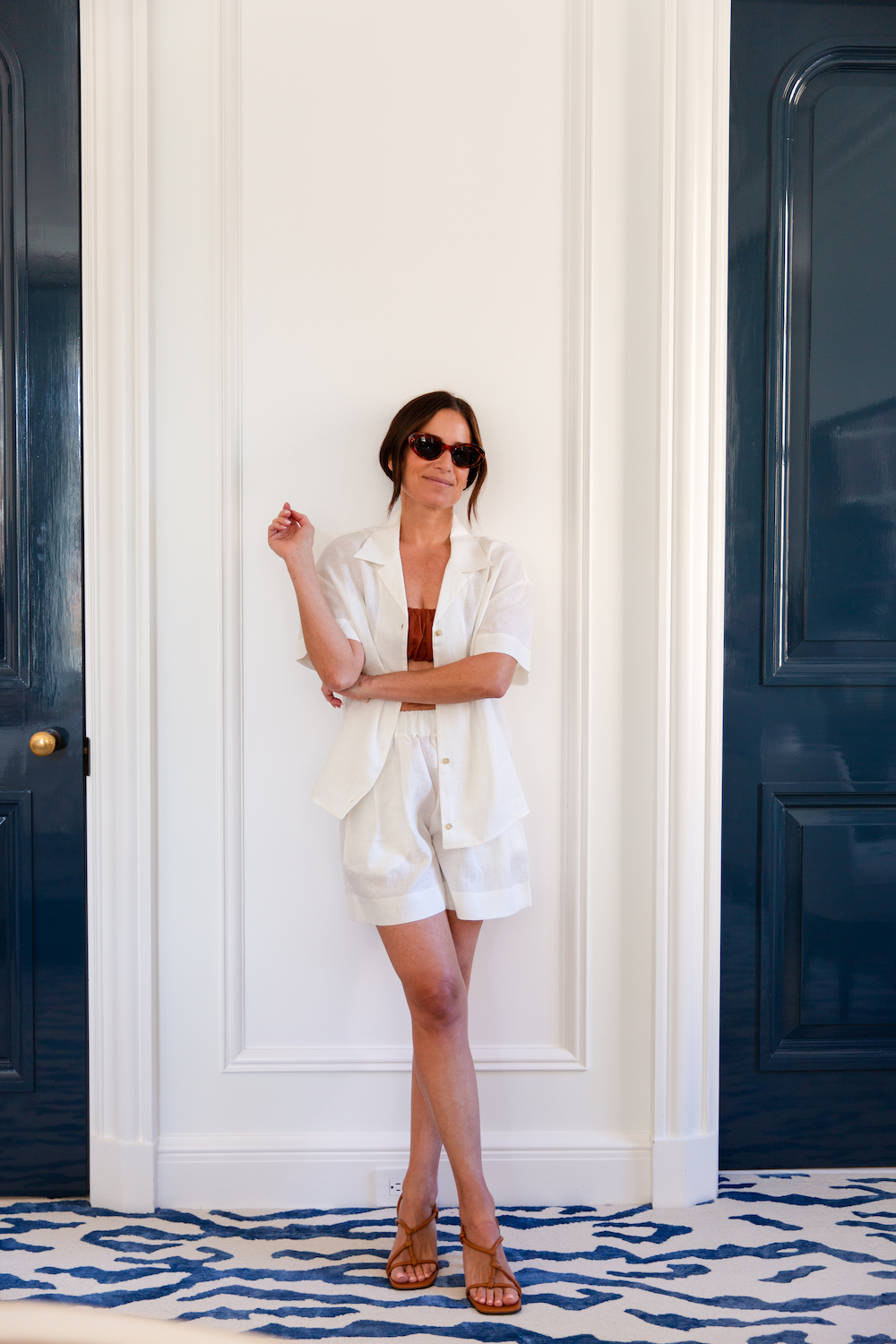 Denim Is A Way Of Life

For a more laid-back vibe, I am a big fan of AGolde's high-rise denim cut-offs with a relaxed fit. These shorts are on the longer side – a score in my opinion.
I bought these denim shorts in a size 25 but as the Mytheresa luxury e-commerce site suggests in their size and fit details (which I failed to pay attention to), they fit large to size so they recommend trying one size smaller. That being said, I opted to keep the 25 and I will either wear a belt or have it cinched in the waist by a tailor.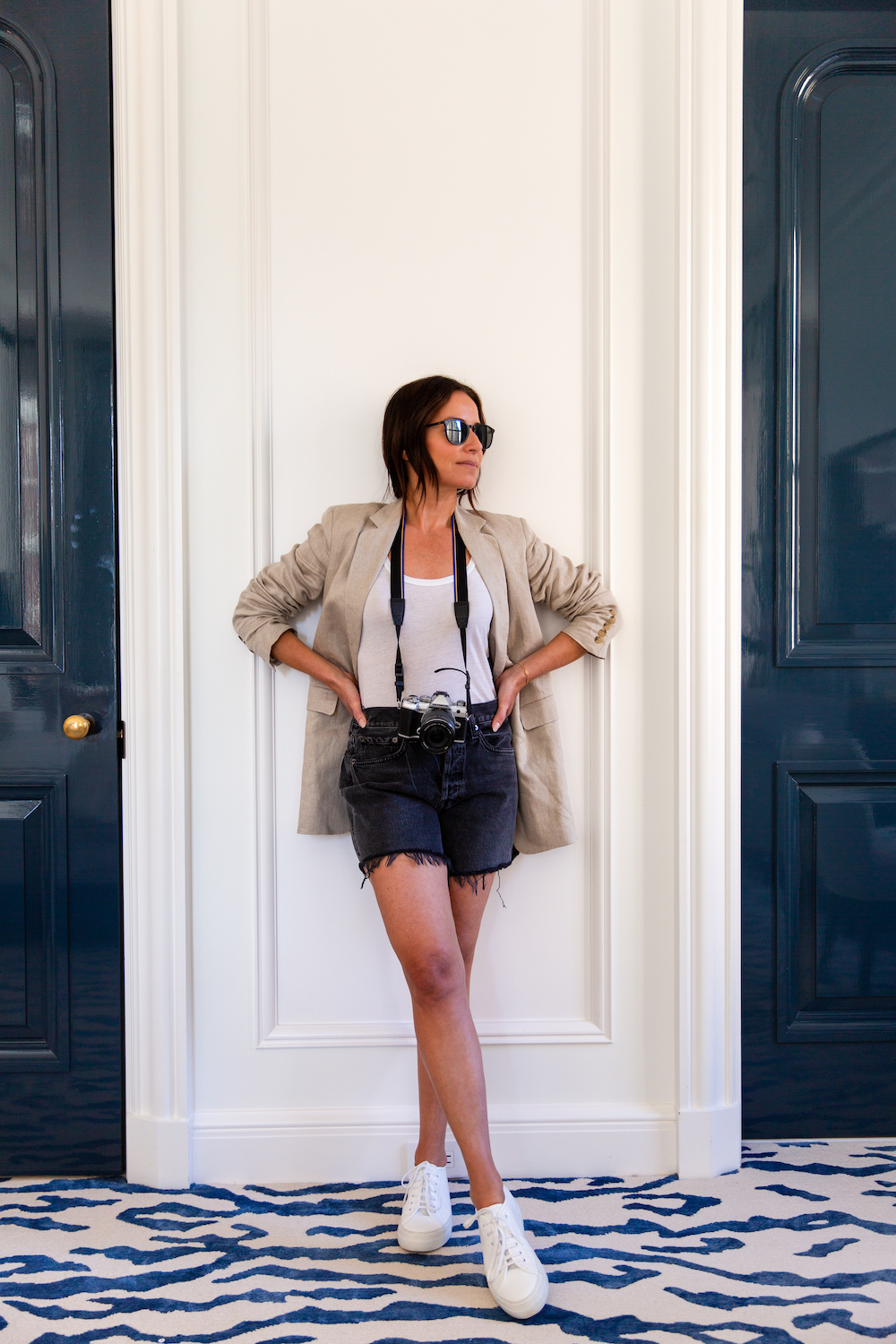 You can pair this with an elevated stripe tee like this one by Saint Laurent and a pair of sneakers or with a white cotton tank and this oatmeal Asceno single-breasted linen blazer, a wardrobe must-have that is simply timeless. You can finish off this look with a black low-heeled open-toe sandal or these Gabriela Hearst black leather-trimmed sandals with a cream-knotted rope mesh.
Happiness Is Wearing Your Favorite Dress

Does this floral cotton mini dress excite you as much as it excites me? There is something so cheerful about this dress from Agua by Agua Bendita. Could it be the floral print? Yes. Could it be the A-line silhouette with flattering cutouts at the waist? Damn right. How about the open back? Hell yeah!
Though I didn't get the chance to try this on just yet, I did see it in person, and it's just as adorable in real life. The material is also lightweight and overall an effortless feminine dress to take along on your next getaway. I love this dress paired with these fabulous + flattering Gianvito Rossi 2-inch kitten heel mules in nude, which will pretty much also work with anything in your wardrobe.
If you prefer a high heel, these neutral suede 4.5-inch platform sandals, also by Gianvito Rossi are another flattering option that elongates the leg in a major way and is perfect for dancing the night away.
Girl About Town

This last outfit is perfect for the downtown girl who prefers a martini and a side of sizzle.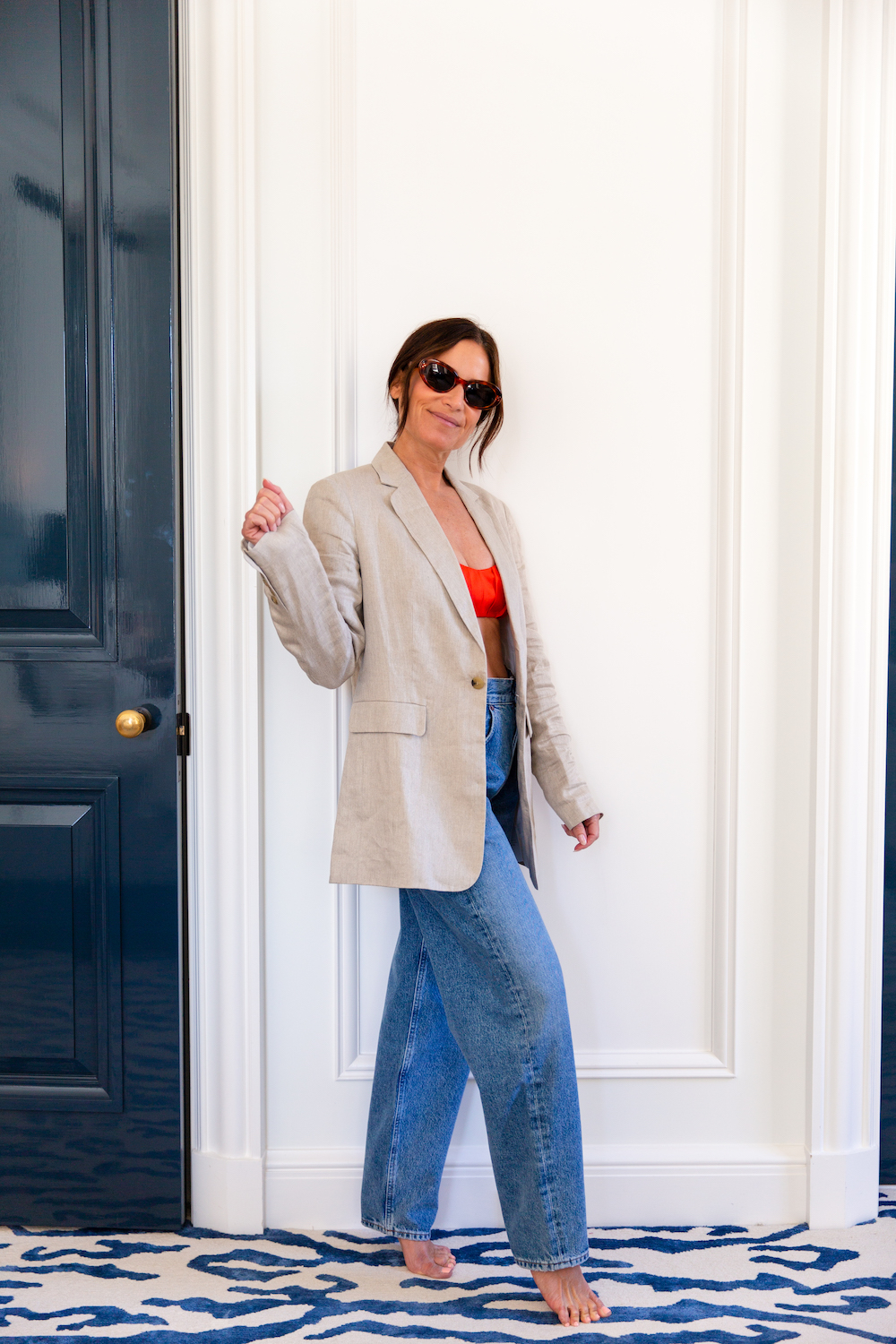 These AGolde high-rise jeans have a wider silhouette and tapered leg. If you are petite like me, I suggest you hem them above the ankle so you can easily wear them with a stiletto or a pair of sneakers. They do run on the larger size so I took them in a 24 as per Mytheresa's suggestion (thank you very much, I did manage to read the details on this one). For a pop of color, I paired these blue denim jeans with this SIR cotton bralette in mandarin red and then layered it with this relaxed style oatmeal linen blazer for those breezy summer nights. To complete the look, I opted once again for these leather sandals with a statement sculptural heel.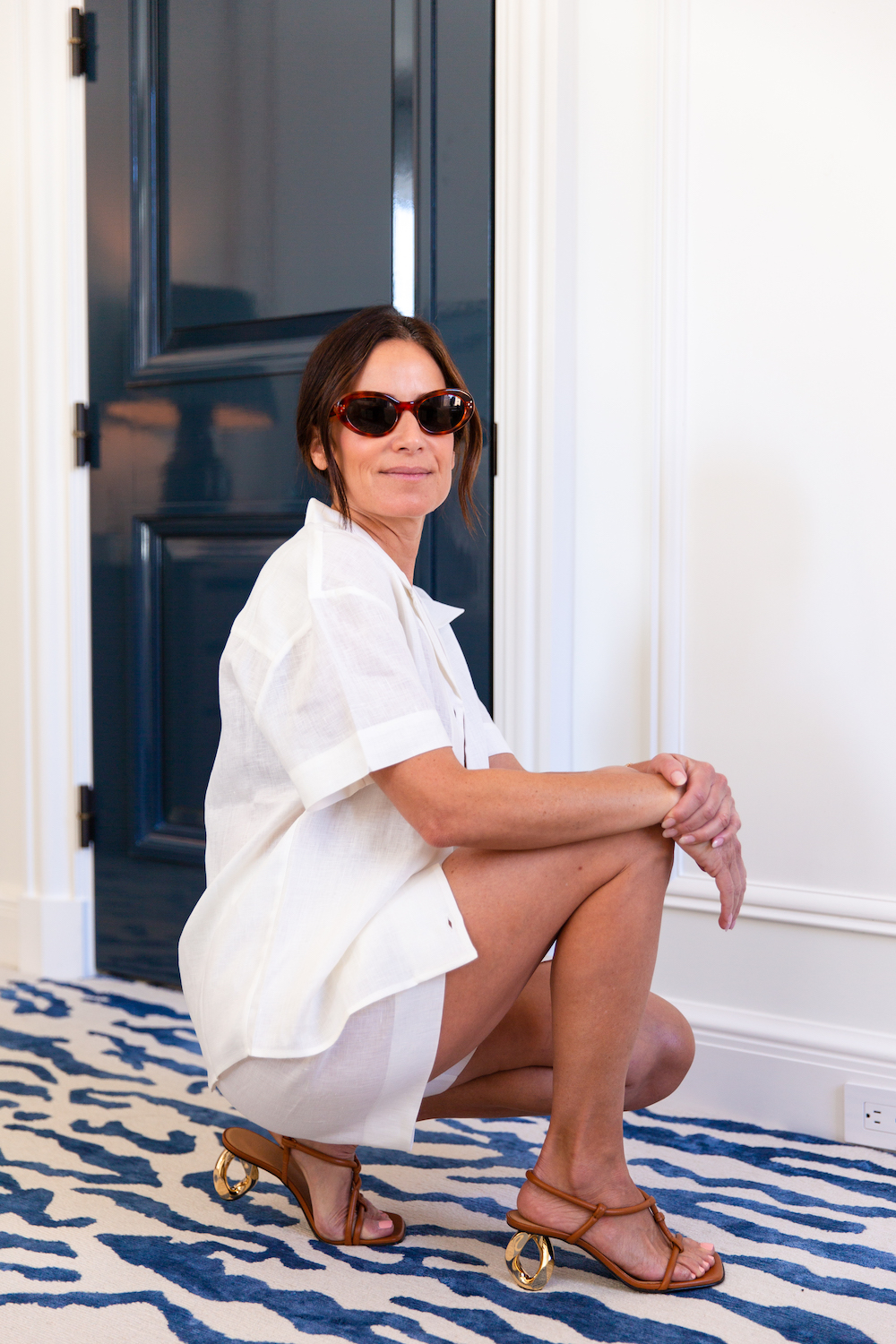 For a more covered and classic look, take a look at this Jacquemus cotton bodysuit. The sleeves are on the longer side, so again, if you are petite like me, you may want to consider shortening the sleeves a bit. I've done this in the past with other Jacqemus short-sleeve styles.
If you love a vintage-inspired moment as much as I do, this charming Saint Laurent small floral crossbody bag with a clasp opening and delicate chainlink strap is on my wish list and can work with either of these denim looks.
Last but not least, I thought I'd add a few more dresses into the mix because why not!

Which outfit would you choose for your next vacation? Please comment below!