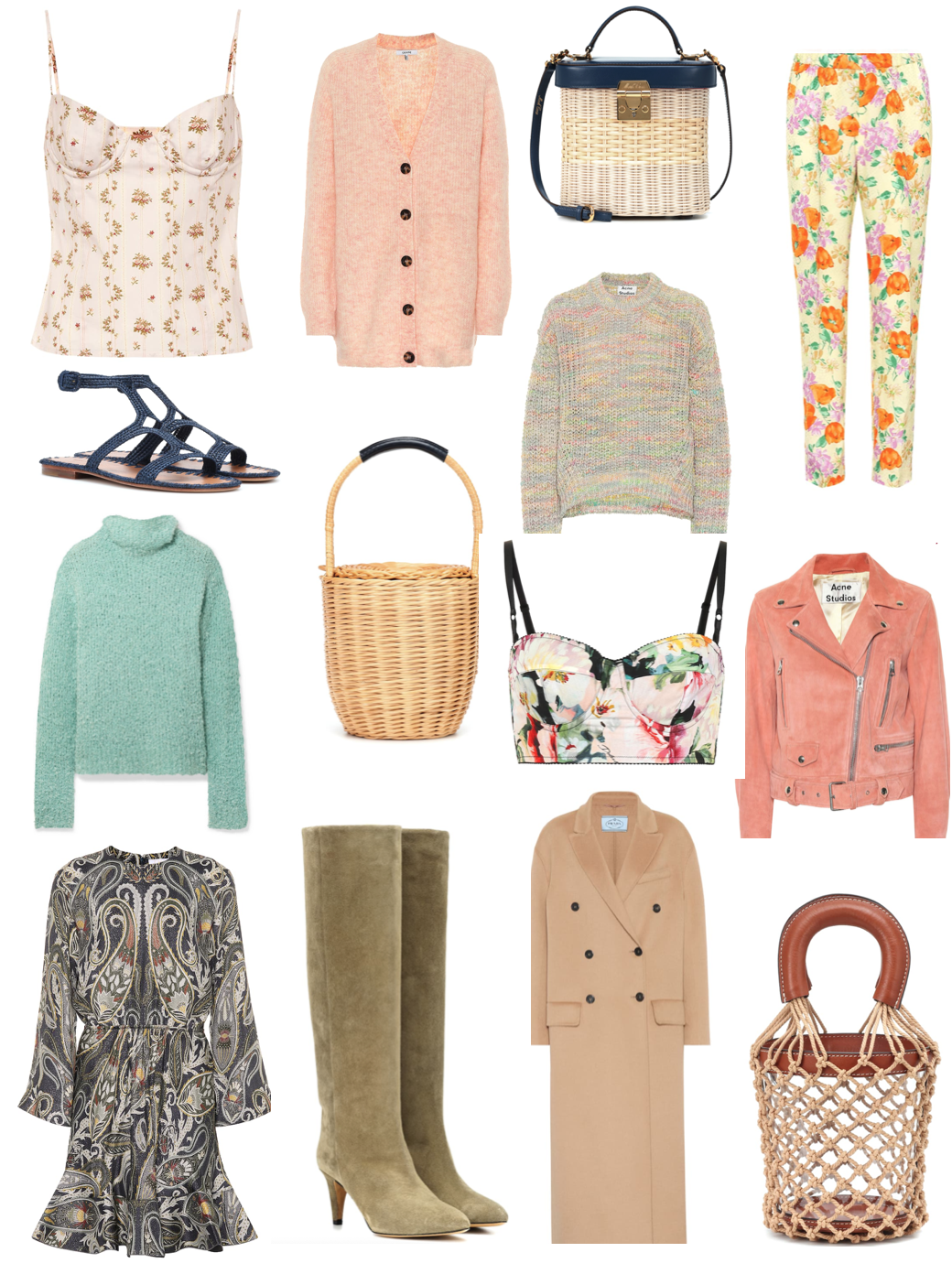 Just because September is (exactly) 3 weeks away, that doesn't mean we need to retire our pastels and florals. Quite the contrary, nothing brightens up my day once I transition into fall, like this silver pink cardigan by Ganni layered over this Brock lust-have cotton top or soft jade hue turtleneck sweater by Sies Marjan. I would pair this turtleneck with navy trousers or dark denim jeans. The best part about all the pieces I've highlighted below is that not only are they on sale on the MyTheresa site, but for today only, they're offering an additional 20% off the sale price!!! Some of these items are from spring/summer and some from fall/winter 2019. What they all have in common is that they are classics and timeless. 
I for one have owned this Acne multi-colored pastel sweater for  2 or 3 seasons now, and it continues to be a part of this brand's collection season after season. I also own a version of this Mark Cross wicker bag and continue to wear it on the daily through spring and summer. Some fashionistas dare to wear their wickers year round which is very Jane Birkin – a la this A.P.C. wicker bucket bag.
The same goes for this Staud Pvc bucket bag which I don't own, but just might snag during this super sale. This bag can be worn through August and then make their way on weekend jaunts to Miami or the Caribbean – the perfect vacation piece.
With an eye towards winter, this paisley Chloe dress has an elegant bohemian vibe to it, and paired with an over the knee leather or suede boot – voila –  it's perfection!
Whatever you choose, these are all definite investment pieces that will have major staying power in your closet. 
Happy Shopping and be sure to use the code MYXTRA19 at checkout to receive your additional 20% off the sale prices!